Patch Notes Breakdown 2.09
Welcome to our Valorant patch breakdown! We'll be discussing all the buffs, nerfs, and adjustments related to agents, guns, maps, and more for every patch.
This means that we won't be covering any changes that aren't related to gameplay.
Our goal is to help make your transition to new patches as smooth as possible so you can be ahead of the competition.
We suggest following along with the official patch notes for more insight on their explanations related to game design.
Lastly, this breakdown is written by an Immortal player, so valuations and opinions on the commented patches are viewed from a highly skilled player's perspective.
Patch 2.09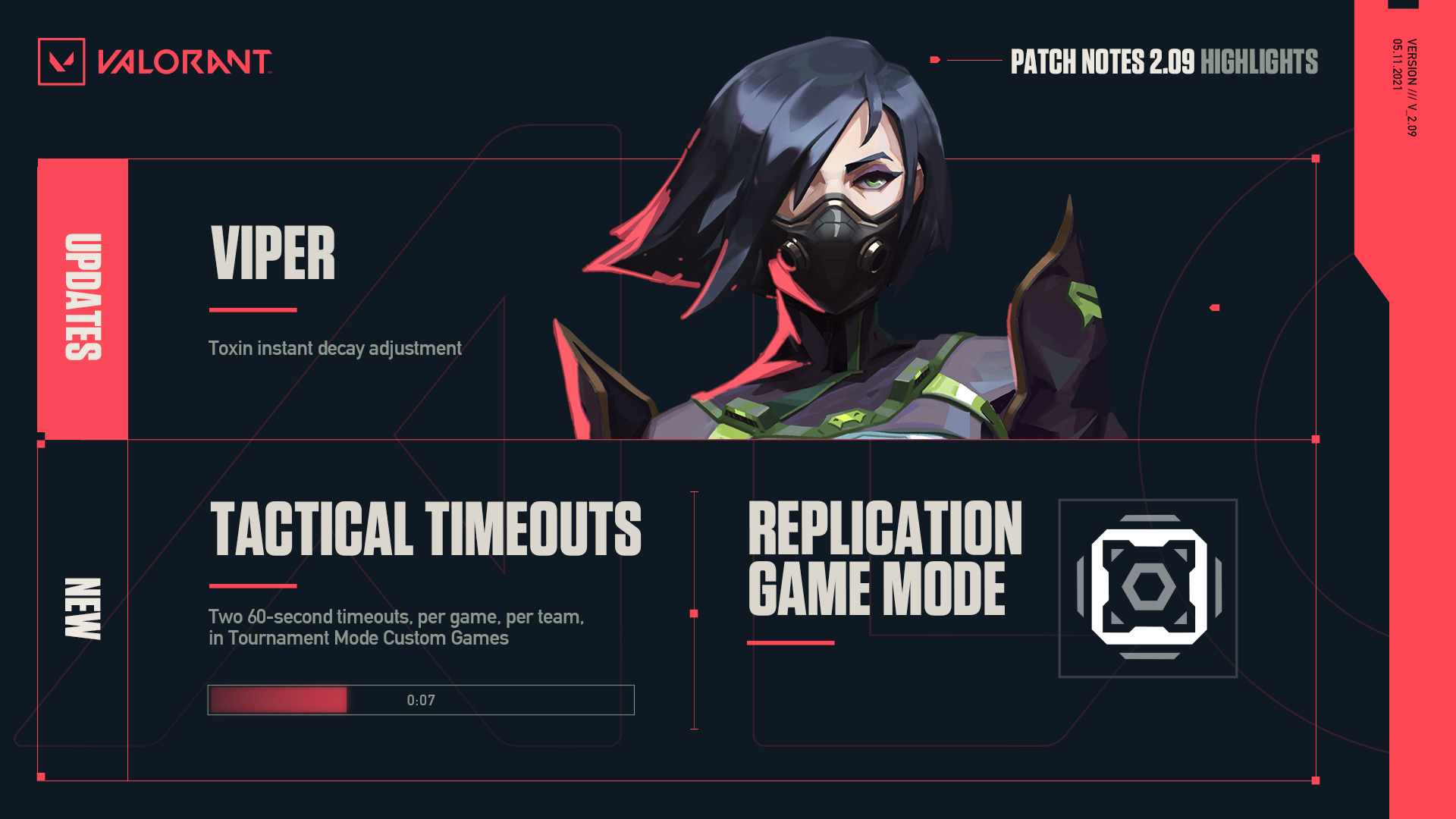 With VCT Masters Stage 2 on the horizon, the developers decided to not bring any crazy, balance-shifting changes into this update.
As you can imagine, until the Masters event in Reykjavík is finished, Valorant's current state of gameplay will not receive some general overhaul to which the professional teams would not be able to adjust in time for the first international tournament.
With that being said, one particular agent was still necessary to be reworked slightly before meeting the big stage: Viper.
In addition to a change to Viper's total damage output concerning her abilities, both a new map and a new gamemode is included in today's patch, 2.09.
Agent Updates

Viper
The instant decay inflicted when entering Viper's smoke or crossing her wall, reduced 50 >>> 30
The developers and also most of the community were happy with the development last update to Viper's utility brought. Since then it finally represented a real barrier you couldn't just go through without any harm.
However, this new behavior of her toxin was seen as a bit too punishing and the actual value of Viper's buff turned out to be greater than intended.
In this patch, we finally got a reduction of the instant damage her smoke and her wall did to enemies.
This change doesn't reverse the good things about Viper's recent buff but rather tries to balance it out in hindsight.
Mode Updates
Gear up for VALORANT's newest game mode, Replication. Coming with Patch 2.09. pic.twitter.com/xKg58Jfxcq

— VALORANT (@PlayVALORANT) May 11, 2021
The full details of this new mode in Valorant are listed in the official post linked above.
In this patch breakdown, we are only highlighting the main traits of the new game mode.
How Replication Works TLDR:
Best-of-nine Spike mode
All players on the same team play as the same Agent (e.g. 5 Sages against 5 Jetts)
Abilities, minus ultimates, are refreshed each round
Set amount of credits each round regardless of win/loss
Weapon and shield are reset each round
Being flashed twice within a 4 second window grants "Flashguard" to the player

FLASHGUARD means that you cannot be blinded for 5 seconds

The new mode, Replication is available for two weeks starting today whilst replacing the game mode Escalation for the time being.
Map Updates

Breeze
Blocked vision of the gaps above Mid-Wood Doors and A Metal Doors
Smoothed player collision in various locations
With the release of Breeze into the official map pool, some little adjustments to the map were made.
From now on, you have a chance of playing Breeze in Ranked and to better your understanding of the map by practicing against opponents of your caliber.
For all esports interested folks out there, remember: Breeze isn't yet in the map pool for VCT Masters Stage 2 in Reykjavík.
In communication with the pro teams attending the tournament, Riot agreed to not put such a fresh map into the map pool without an appropriate timeframe for the teams to prepare for it
That concludes our Valorant patch breakdown for 2.09! Be sure to check out to see how these changes affected our Valorant agent tier list.