At Mobalytics, one of our primary goals is to help you go beyond just looking at your stats in order to interpret and really understand what all the numbers mean. To do this, we created a powerful tool that illustrates and explains your unique individual play style – the GPI.
This is the bread and butter feature of Mobalytics, our signature move! As you play, your graph morphs, your scores go up and down, and you're delivered (to an almost spooky level) incredibly relevant advice to how you can improve.
A question we're often asked is – "How is my advice given to me?"
In this article, our goal is to help you understand the processes that ultimately lead to what you see on your screen as your advice. There's many steps and factors involved – it's a ton of fun but a lot of hard work.
This is the life cycle of an advice piece.
Birth: starting with the scores
The creation of an advice piece begins with our eight major skills. If you don't know these by now (you really should though!) you can learn more about them here.
Our eight skills encompass all the possible gameplay factors that can be measured and be related to in-game data (communication/shot-calling for example are big parts of the game, but cannot be measured by current technologies).
Think of each of our eight like a family lineage or bloodline, every advice belongs to one. Like Game of Thrones houses, every score produces advice pieces that have common traits and themes.
In House Aggression, your advice pieces will be related to damage, kills, and dominance (a very bloody house).
House Teamplay on the other hand deals with matters of helping others, healing/shielding, and contributing to your team's collaborative success.
Building blocks: metrics and attributes
The foundations of the Houses – I mean…scores, are built from "metrics", basically the criteria by which we define the score's meaning.
For example, Vision is defined by the metric combination of Wards Placed, Wards Cleared, and Wards Bought. The metrics themselves are broken down into smaller components called "attributes".
Attributes are smaller scores that help define the bigger metrics. For example, the Wards Bought metric is influenced by the attributes of the wards you buy in the early game, wards you buy in the late game, and the wards you buy per minute.
Some attributes are comprised of simple statistics like kills and deaths, while other attributes for scores like Positioning are made of very complex formulas (we can't go into too much detail here!) that our Research and Development team have devised.
Overall, scores, metrics, and attributes are basically the signs the GPI looks at to contextualize your numbers.
Conditions and triggers – why you get the advice
Once the GPI understands statistical context, it needs to have reasons to give each player advice. Conditions and triggers are these reasons.
Think of these as signposts for how the GPI delivers your specific advice. Are you getting ganked often? Are you dying to these ganks?
These triggers send signals to the GPI and the GPI recognizes the signs to send advice types which tell the player that they probably need to ward better and position better.
Once we understand the type of advice that needs to be sent in terms of conditions, we send advice to the next step – the writing process.
Dressing up nicely – how we express your advice
The conditions and triggers tell the GPI what kind of advice concepts to assign, the writing process is how we express these concepts.
Doing the actual writing of the advice is a combination of writing, editing, and finding relevant content. There are two main methods for how we get the content information for writing advice – external and internal.
External
External advice is drawn from the League of Legends community – these are streamers, Youtubers, and pro players.
These are usually videos, articles, and streams that we find are educational and helpful to players, and fit into our advice concepts. In the near future, we plan on curating content submitted from our community of users so keep an eye out if you're interested!
Internal
The other method for writing advice is in collaboration with our Challenger coaches. For advice that doesn't have a good match to existing content, our coaches and analysts step up to the plate. Morïarty and prohibit create the conditions and concept of the advice, and our writing team dresses up the concept into an easily digestible piece.
In the earlier example, where a player gets ganked often and dies to those ganks, the advice concept would be to "prioritize better vision and positioning" in order to solve the problem.
The writing team would create a base advice piece such as, "When you get ganked, you often die. Improve your survivability by focusing on having better positioning and revisiting your Vision advice to improve your awareness."
Onboarding: personalizing your learning
Once we have the core idea for the advice piece, it's time to dress it up nicely.
Remember those questions you answered when you first joined Mobalytics?
Your answers not only help us to know more about you and your journey to improve, but they also serve to make your learning experience more personalized.
For example, depending on the sensei you choose, the voicings of your advice pieces change!
We have the nice and nurturing, the neutral middle-path, and the tough-love styles.
The base advice from above, "When you get ganked, you often die. Improve your survivability by focusing on having better positioning and revisiting your Vision advice to improve your awareness", when given the tough-love treatment, would be changed to something like:
"Unfortunately, it seems like you just never learn. Open your eyes and see that you nearly always die when ganks arrive. Focus on your positioning and lock yourself in a room with your Vision advice if you ever hope to improve yourself."
It's a little harsh (and pretty funny), but some users simply like that sort of delivery to make the message hit home.
In the future we'll only add more customization that will really optimize your ability to improve according to your own preferences.
So for every GPI advice piece, we have them written in different ways that correspond to different user experiences.
As our metrics become better and our data becomes more contextualized, our advice will become better and even more specific to you. For example, if you are a Top laner who plays tanky champs and you're not doing so well in the meta because you focus on farm instead of proper utilization on Teleport, we will be able to tell you that. The problem is telling you that reliably and accurately is not easy, and we don't like being inaccurate and unreliable. This are things we'll be ironing out throughout our Open Beta, so please bear with us as we test things and make our system better.
RITO pls: getting your data (what you see)
Finally, we need your data! This requires you to play games and for Riot's API to us send your data. Our GPI needs at least 20 games in one of your roles (and for now, up to 100 games) to make a read on your play style.
All it takes is a push of that "Refresh" button and the process begins. Our system makes a call to Riot's API and sends it to your GPI.
Here are some of the things we use from Riot's side:
For example, you can see things such as "deaths", "total damage dealt", and vision wards bought in game". These are all measurements that Riot gives us access to. We use these measurements and pull them from your stats and then run them through our GPI. The stats go through our GPI metrics and formulas, and activate triggers and conditions. The triggers and conditions call for the core advice and it matches with your personal Onboarding preferences.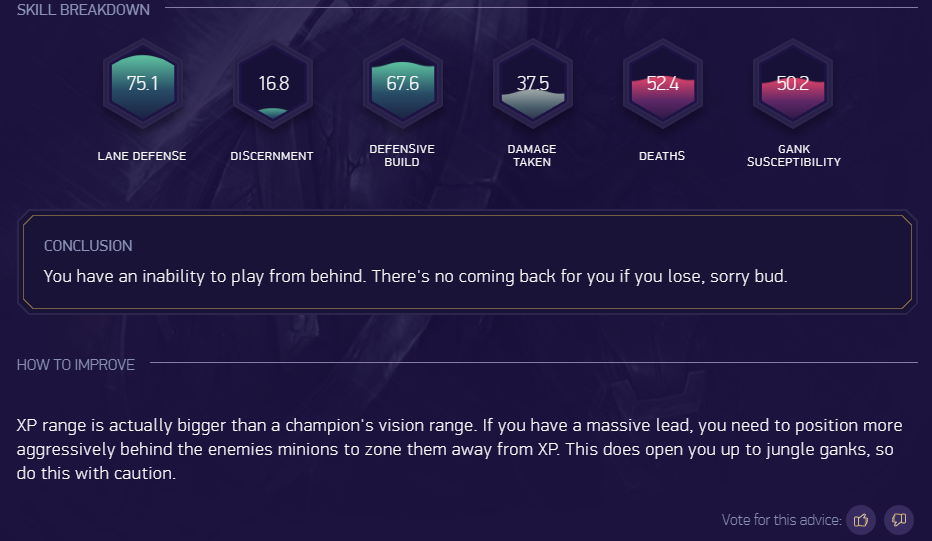 At long last…your advice arrives! You'll see a based on your score and the conclusion brings along related advice pieces. Ready to be consumed and meditated upon!
Thanks for reading, we hope you found this informative and interesting! We shared as much as we could (without my bosses killing me). If you have any more questions about your GPI advice and how we give it to you,  feel free to ask us in Discord!