LS and Nemesis Are Now Co-Owners of Mobalytics
LS and Nemesis Are Now Co-Owners of Mobalytics
The two content creators join the analytics platform's ownership group.
[LOS ANGELES, August 17, 2021] — Mobalytics (mobalytics.gg), an analytics platform and personal gaming companion, today announced world-renowned eSports content creators, Nick "LS" DeCesare and Tim "Nemesis" Lipovšek, joined the company as co-owners.
This move brings them into a larger ownership group that includes T1, Almaz Capital, HP Tech Ventures, Cabra VC, GGV Capital, General Catalyst, RRE Ventures, and aXiomatic.
By bringing a professional eSports coach and pro player onto the team of game experts, Mobalytics aims to leverage their backgrounds to upgrade the platform. LS and Nemesis will contribute to the design and development of new tools and features for hardcore-ranked players and professional teams, to offer an elevated user experience.
This builds upon features such as the Gamer Performance Index (GPI) which has been used for player assessment in Riot's Scouting Grounds and NA amateur ecosystem.
"We are excited to welcome LoL eSports veteran, LS, and one of the world's most prominent pro players, Nemesis, to our ownership board," says Bogdan Suchyk, CEO and co-founder at Mobalytics. "Together we will work on developing and upgrading the platform's next-gen features to please all player categories and to bring Mobalytics to the next level."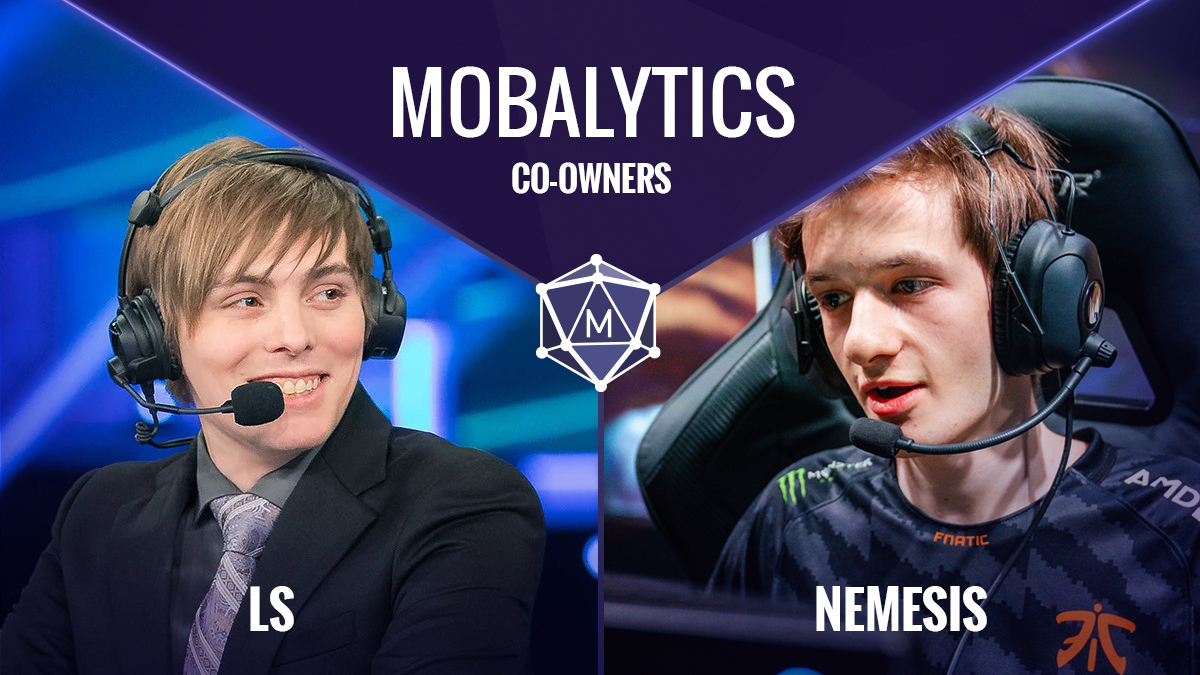 LS and Nemesis will use their knowledge, experience and passion for gaming to help millions of players around the world polish their gaming skills.
"I'm really happy to be part of the Mobalytics team. The GPI and other aspects of the brand-related to analysis make it a great fit for me. As a co-owner, I'm looking forward to taking a more hands-on role in developing new features," says LS.
"With our combined experiences in the pro League scene, we will help Mobalytics solidify itself as the best League of Legends tool out there. I'll be showing off everything it can do during my games on stream, including previewing new features before they release," adds Nemesis.
In addition to collaborating with Mobalytics in creating new features, LS and Nemesis will both continue to create content on their respective channels.
About Mobalytics
Winners of TechCrunch Disrupt Battlegrounds, Mobalytics is the ultimate gaming companion that has everything you ever need to win more — all in one place. Mobalytics partners with leading game publishers and esports organizations to leverage its patent-pending Gamer Performance Index (GPI) technology to analyze in-game data to improve player performance.
Mobalytics investors include some of Silicon Valley's VC elite and professional Esports organizations.
In June 2020 Mobalytics raised $11.25 million Series A led by Almaz Capital and Cabra VC. The other investors participating in the round include HP Tech Ventures, General Catalyst, GGV Capital, RRE Ventures, aXiomatic and T1 Esports. For more information or to register for your free account, please visit w​ww.mobalytics.gg​.
About LS
LS has spent time as both a coach and analyst in the scene. He is one of the premiere League of Legends content creators for Twitch and Youtube. He is most known for his pro match "co-streams" and podcast features. LS's peak viewership in 2021 was almost 30k.
About Nemesis
Nemesis, the former starting Mid laner for Fnatic from 2019-2020, became a full-time content creator in 2021. Since then, he has had one of the fastest-growing Twitch channels among League of Legends streamers. Nemesis's highest viewer count for 2021 was 26k.
Media Contacts:
Julia Laznuik (US & Europe)
[email protected]
Sarah Mawji (US)
[email protected]