Share Mobalytics, Win Prizes!
We know that getting better and climbing is always more fun with friends.
Since our launch, our community has been built by players recommending their squadmates, and we couldn't have done it without you.
Our new Referral Program and sharing giveaways are designed to give back and give you rewards for helping our Mobalytics mob grow!
It's super easy and you can give it a shot every month.
Here are some handy details you should know.
How Our Referral Program Works
By inviting your friends directly to join Mobalytics, you'll be able to earn Mobalytics Plus subscription time and have a chance to win RP and Collector's Edition swag!
Doing so is super easy. If you're logged in, you'll see an "Invite Friends" button at the top right of our platform, next to our drop-down menus.

Click on it and you'll be brought to your Referral Program dashboard where you'll be able to see your personal referral link, referral stats, leaderboard, and raffle results.
All you have to do is share your link with friends and have them sign up. Once you do so, you'll immediately earn Plus and get a raffle entry.
At the end of the month, we'll select 10 winners for prizes up to $2000 in Riot Points. The more raffle entries you have, the more likely you'll be to win.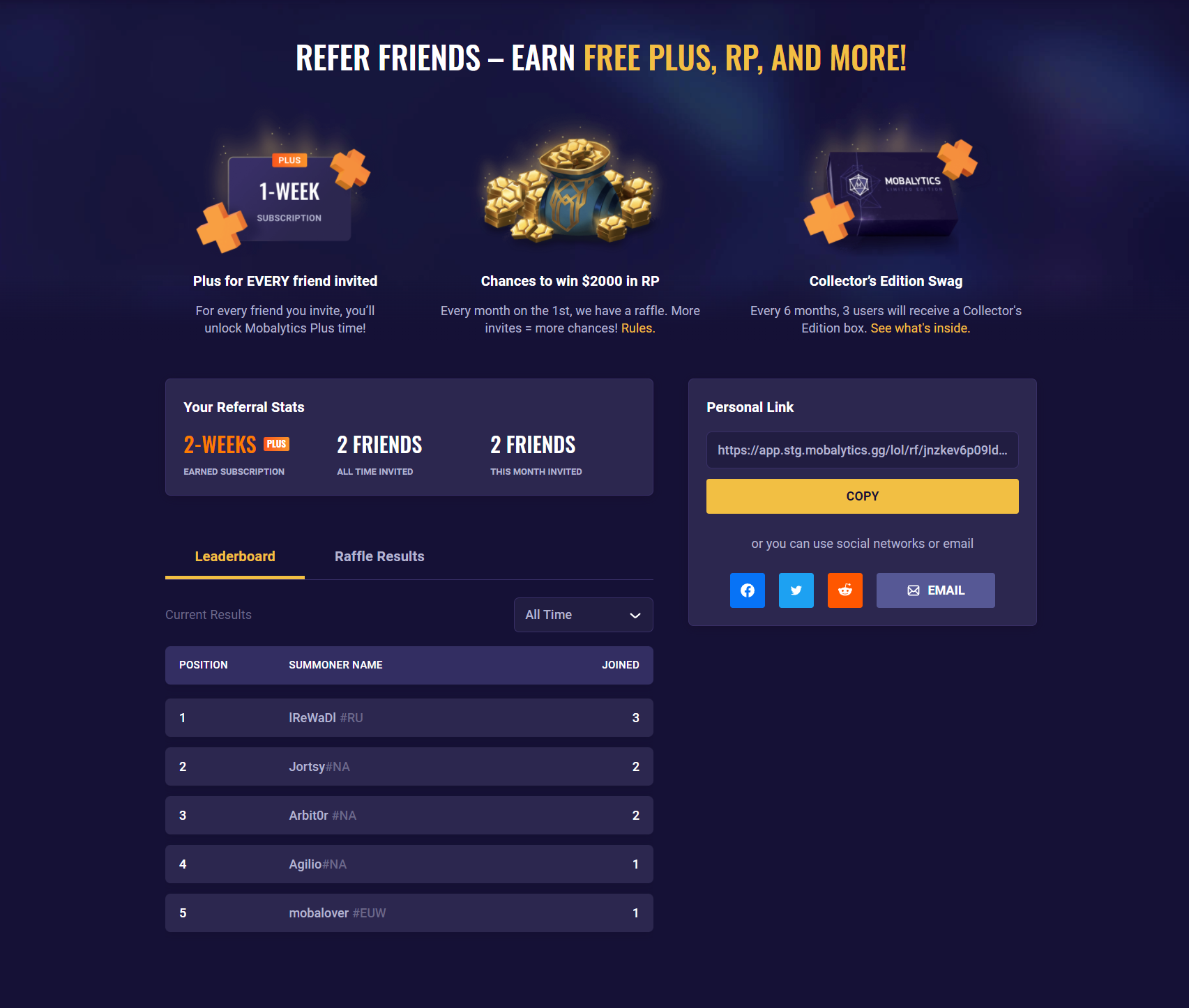 In addition, every 6 months, we'll be giving away rare Collector's Edition boxes that contain rare loot like Mobalytics jerseys, hoodies, and much much more.
Besides sharing your link, you can also invite friends by email as well as social networks like Facebook, Twitter, and Reddit.
The leaderboard tab (shown above) lets you see all-time leaders and leaders from last month. Meanwhile, the Raffle Results will show who won RP and how much.
Now that we've covered the basics, here are some nitty-gritty details of how the raffle works.
Details
Every time a friend uses your referral link, downloads the Mobalytics Desktop App, and verifies their account, you will gain a raffle entry.
A friend using your referral link must launch their League app with the App open and your summoner account must be at least level 10+.
Once your referred friend verifies their account, they will also gain entry into the raffle.
At the end of each month, 10 entrants will be randomly selected to win.
To see the winners of a monthly raffle, visit the Referral Page and look for "Raffle Results".
If you win, you will also receive an email from Mobalytics so keep an eye out for that.
How Our Sharing Giveaways Work
Every month, we'll give away $1000 in RP to five winners for sharing a TFT comp.
To enter, choose a comp, whether it's made by you or a community member, and then hit the Share button.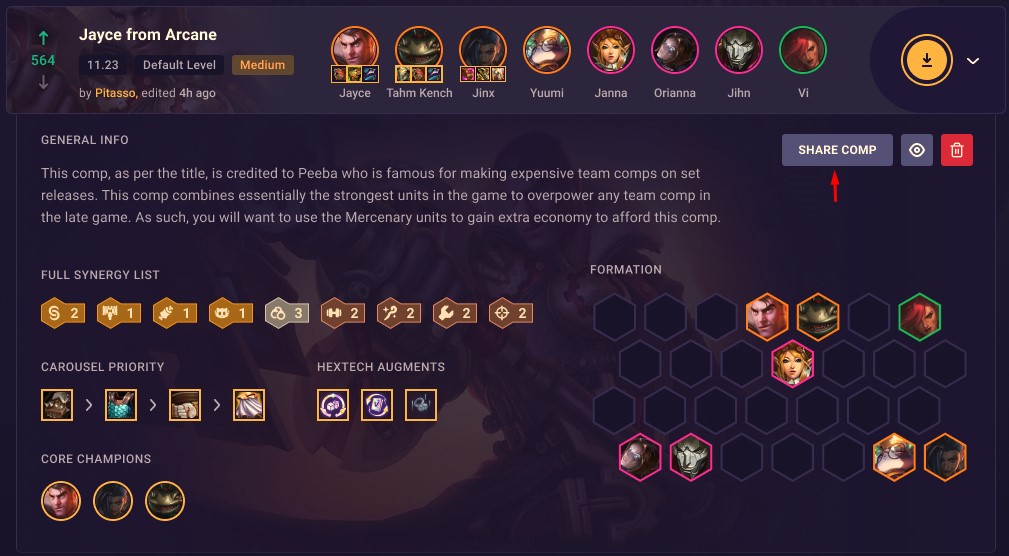 Once you're there, select an option between Twitter, Facebook, or Reddit.
If you choose Twitter or Facebook, include the hashtags #MyMobalytics #TFTComp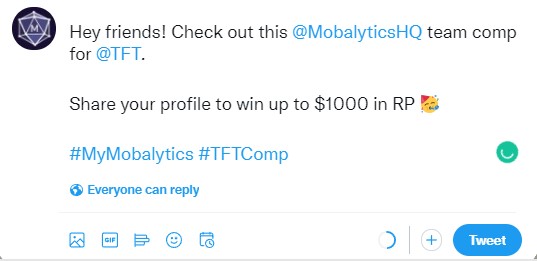 Next, just wait until the end of the month. Winners will be emailed and announced on social channels.
Details
Winners are chosen at random and have 72 hours to respond before another winner is chosen.
Besides Garena, this monthly giveaway is international but prizes can only be granted to regions that accept RP PINs or Paypal payments.
Shares that do not have the hashtags #MyMobalytics and #TFTComp will not be detected
Cheaters will be disqualified and banned from future giveaways
If you have any additional questions that weren't covered in this article, head to our Discord server.