Everything You Need to Know to Watch the 2020 Honda Scouting Grounds
We're excited to announce that Mobalytics is once again the trusted data partner for Riot's 2020 Scouting Grounds event!
The event's broadcast eventually begins Nov 10th and continues until the final draft on Saturday Nov 14th.
This article is designed to help new viewers understand how it works and why you should tune in.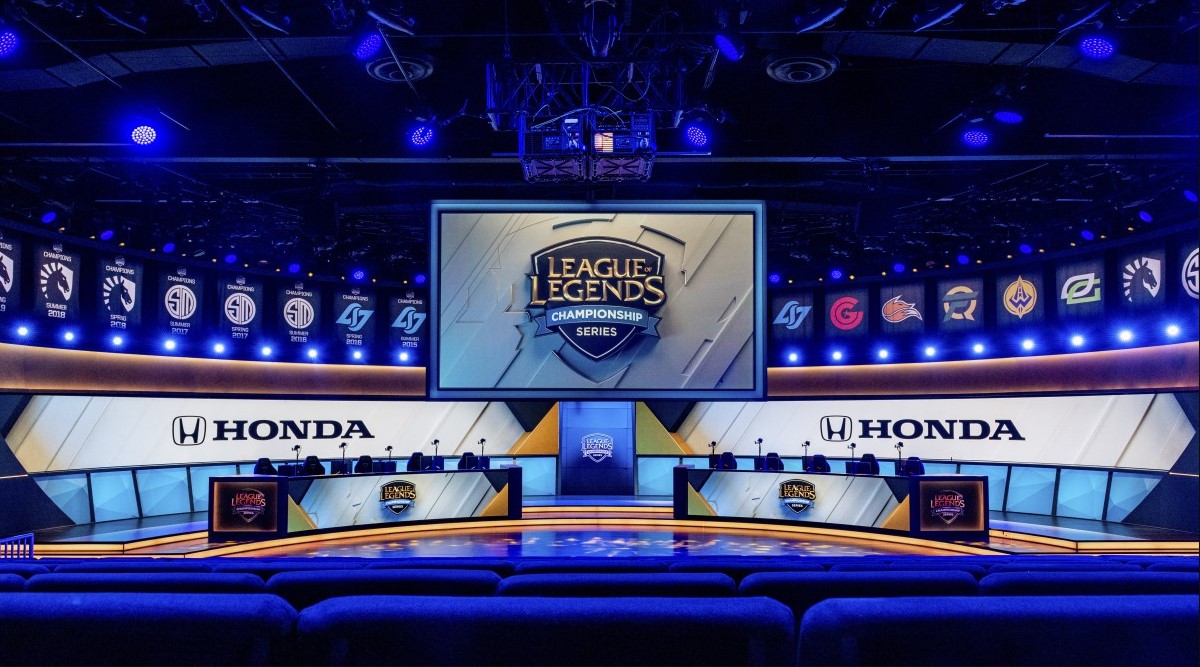 What is Scouting Grounds?
Scouting Grounds is an annual event where twenty players from NA are invited to showcase their talents in the hopes of being picked up by LCS teams.
To put it simply, it's sort of like a draft combine for the NFL or NBA where players can be evaluated by their individual skills, ability to play in a team environment, and many other qualities teams may be looking for.
During the event, the twenty players are placed into four teams and play a mini-tournament.
Once the tournament concludes, LCS teams are able to draft players for the rights to sign them (draft order is the reverse order of the Summer 2020 standings).
In the past, players were invited to play live at the LCS studio, but this year they will be participating remotely due to COVID.
How do players qualify?
There are two main ways to qualify for Scouting Grounds: either through FACEIT's Scouting Grounds Circuit or through solo queue.
In both cases, players must be 16 years old by January 14, 2021 and cannot have played "more than two League matches at the semi-pro
or academy level in the two previous splits and/or more than two League matches in a professional league during the previous six splits.
A "professional league" is defined as any league that sends teams to Worlds. A "semi-professional league" is defined as any league that feeds into a professional league, such as NA Academy or EU Masters.
In addition, the participants must not have appeared in three or more of the past five Scouting Grounds.
FACEIT's Scouting Grounds Circuit
FACEIT's Scouting Grounds Circuit is basically an amateur league where teams play through a qualification system of smaller tournaments that narrows down to a final 8-team tournament.
The two final teams from the top eight are qualified for the Scouting Grounds event – this year, these are the players from ANEW Esports and 100 Next.
Solo Queue
From June 24th to September 30th this year, Riot took snapshots of the ranked ladder. Based on where players ranked, they earned points: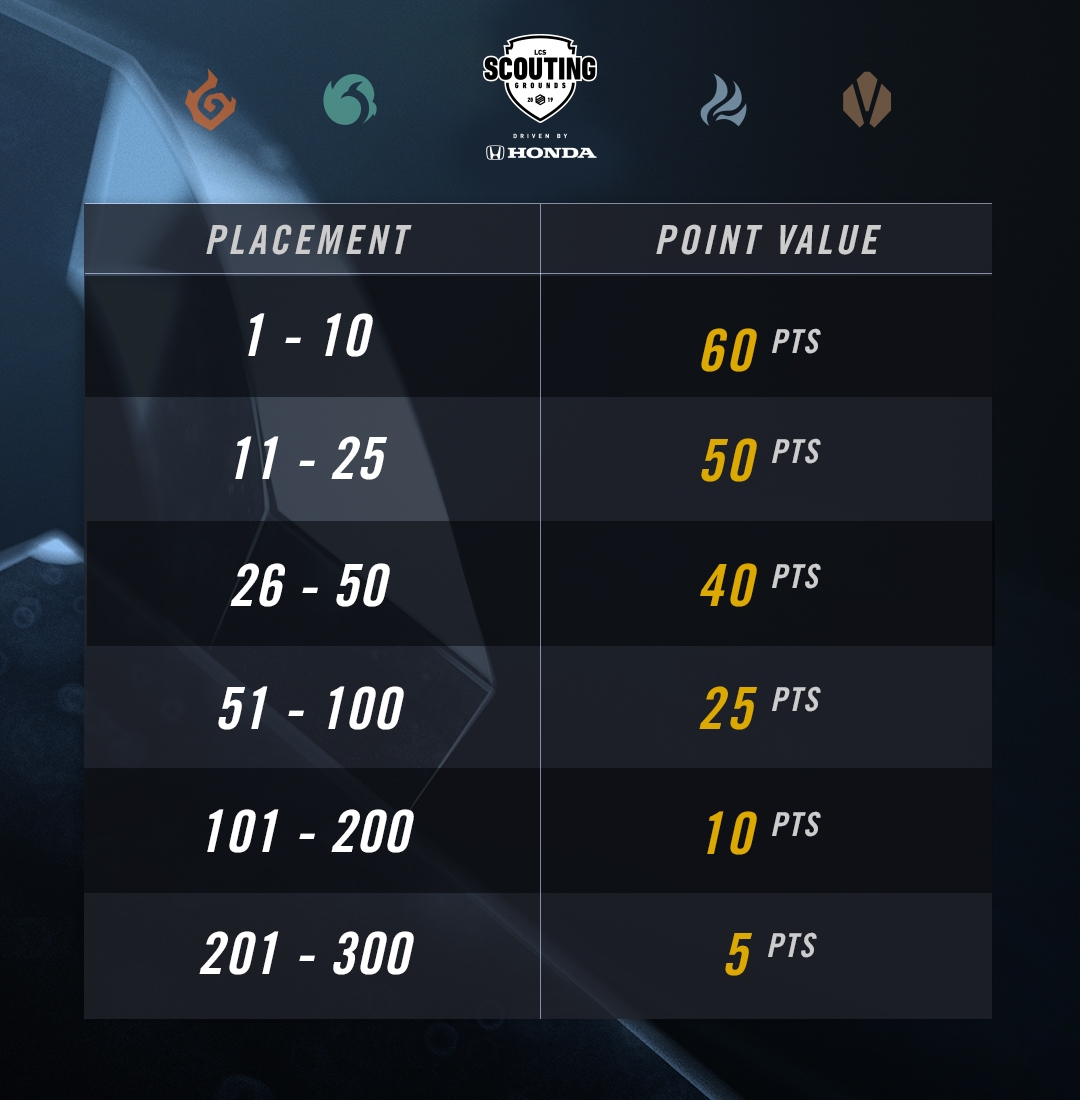 There are some other subtleties involved, but to simplify things, the top two players in each role with the most amount of points are invited to Scouting Grounds.
If the players that are invited cannot attend or decline, the next players in line with the most points are then invited as backups, and so on.
In addition to maintaining a high ranking on the ladder, players must have a minimum of 25 games on 4 champions, in order to ensure that the players aren't one-tricks.
Since this is a first-timer guide, that's all you need to know for now but if you want to know every detail for how players qualfiy from solo queue, head here.
Who are this year's players?
The twenty players of Scouting Grounds 2020 were revealed on November 4th with the tweet below:
We are excited to announce the twenty players who will be attending the 2020 #LCS @Honda Scouting Grounds! pic.twitter.com/W9OceMf1Ys

— LCS (@LCSOfficial) November 4, 2020
We'll be adding a dedicated section to our website with insights like stats, interviews, and power rankings on the first day of the event so be sure to check back to learn more about all the players!
How many make it to pro?
Just like any sport, only the best of the best of all the great players who try to become pro will make it as starters.
Here are some of the former Scouting Grounds attendees who are now big names (if you follow pro play you'll probably recognize them):
Blaber
Tactical
Spica
Vulcan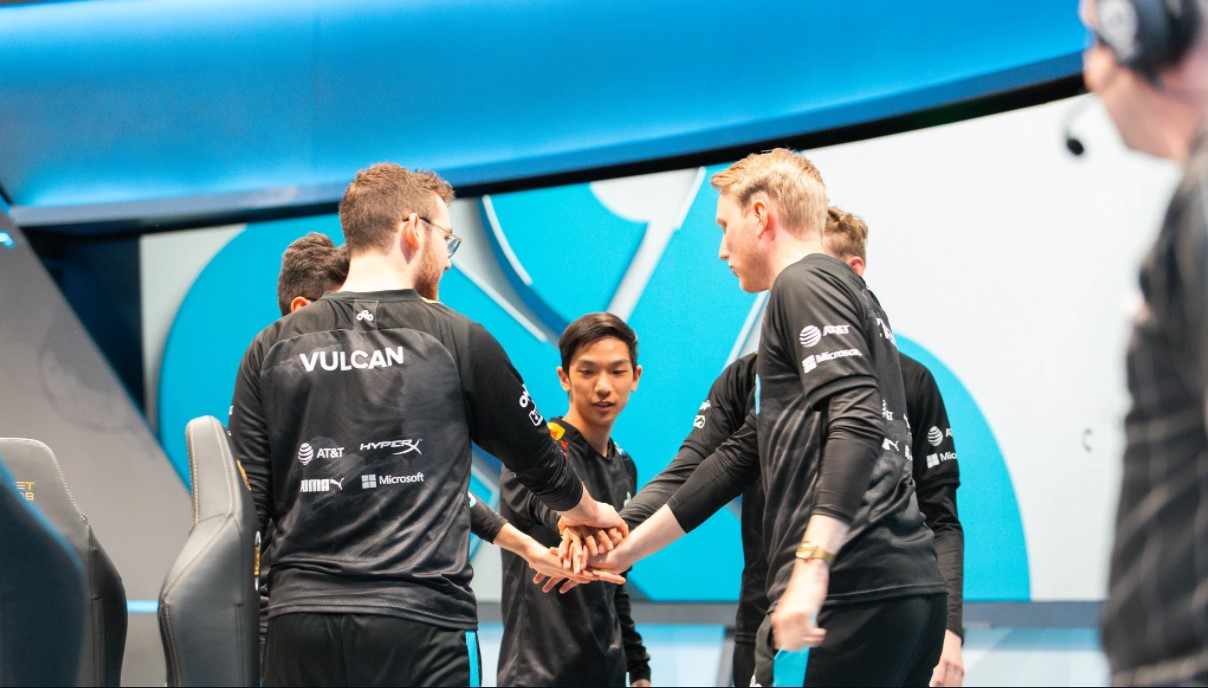 After these four stars, you have players that are currently in the Academy system but have spent time as starters:
Deftly
Fakegod
Kumo
Soligo
Beyond this tier of players, there are many Academy players who were former Scouting Grounds attendees, still developing and waiting for their opportunity to find a starting spot.
When and where can I watch?
Be sure to follow the official LCS Twitter for the latest updates in regards to the event's schedule, such as when the games will be live and which teams are playing.
Most of the matches (some will not be shown live) will be streamed on the LCS Academy Twitch channel starting on Tuesday, November 10th at 4PM Pacific and every day until the finals on Saturday, November 14th.
If you're unable to catch the broadcast live, no worries, just head to the LoL Esports VODs and Highlights Youtube channel where the matches will be uploaded soon after they're played.
Recommended from Mobalytics

League of Legends Tier List Patch 13.23. Best League of Legends Champions to Climb with in Solo Queue
See more recommendations
Subscribe to our newsletter:
Don't miss out on all of the latest LoL content!