Dev Blog: Smart Highlights – Identify Your Crucial Moments Automatically
We're kicking off 2022 with our newest Plus feature…Smart Highlights!
This feature is powered by an algorithm that we've been working on for years and it's finally ready for us to launch its Alpha.
Smart Highlights Highlights analyzes every action you take throughout a match and then identifies your most impactful moments so you can learn from them.
This includes game-changing clutch moments, mistakes that threw the game, and everything else in between.
In this dev blog, we'll cover everything you need to know about it so stick around!
As a quick note, although this feature is primarily designed for our Plus community, there is a free version that identifies one clip for you instead of five if you have Plus.
Want to join the Smart Highlights Alpha and unlock a ton of other awesome features? Sign up for a free trial or subscribe to Mobalytics Plus!
Why we made Smart Highlights
Being able to clearly understand the most important plays of your matches can be difficult, especially when there's stress and emotions involved.
It's no surprise that it's something that many players and teams hire coaches and analysts for.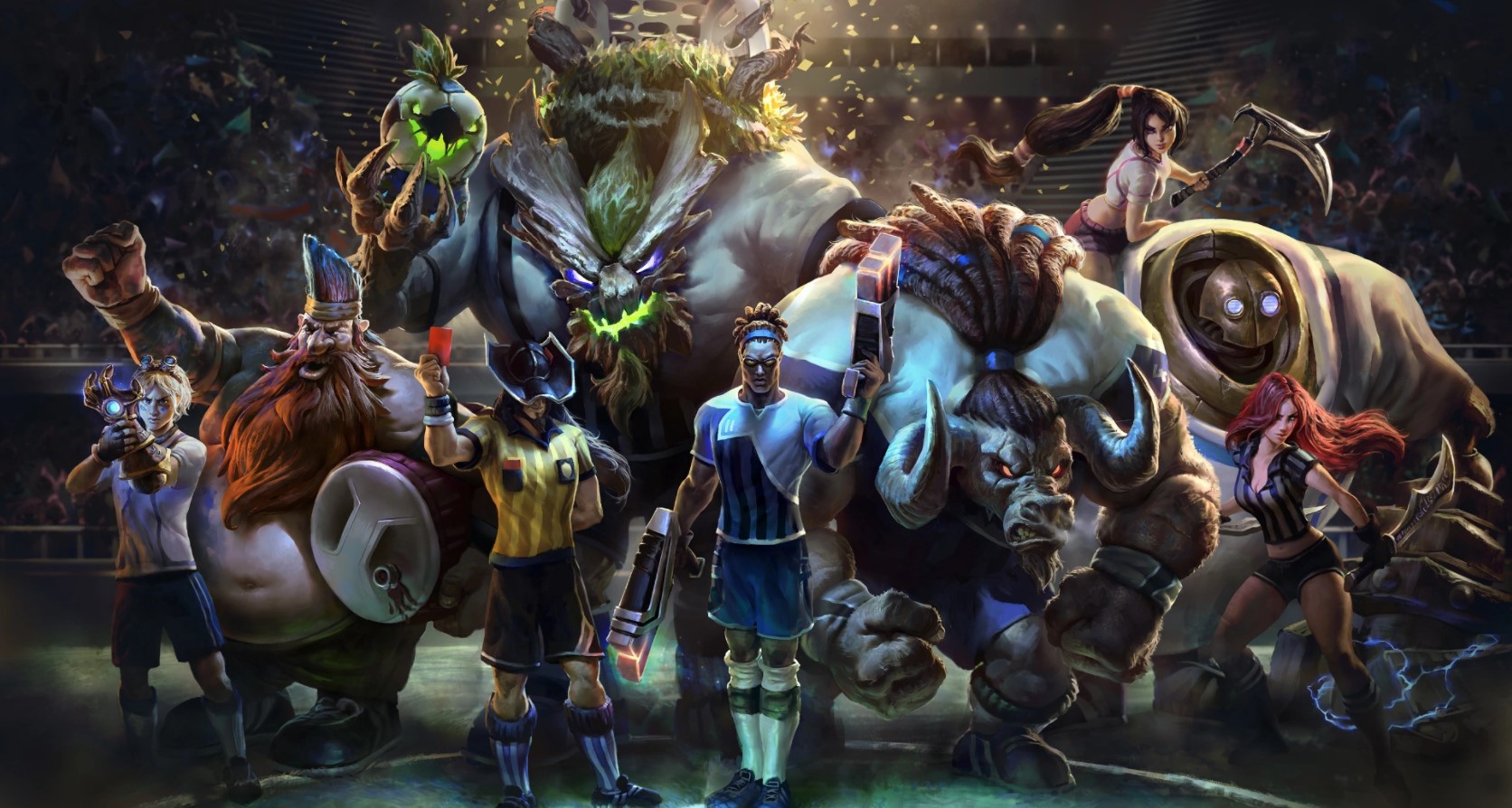 With Smart Highlights, our goal is to make this sort of insight accessible and effective for all players.
Our feature is designed to automate this process, giving you a personal coach over shoulder that identifies these crucial moments for you.
Besides providing helpful analysis, you'll even be able to share your best plays (or bloopers) with your friends!
How Smart Highlights work
The magic behind Smart Highlights begins as soon as you enter Summoner's Rift.
While you play (make sure you have your Live Companion activated!), our algorithm tracks your performance and the impact of the plays you were involved in.
Every CS, level up, kill, death, and much more is analyzed with the overall context and flow of your game in mind.
Once your game ends, you'll be brought to your usual Post Game Stats. You'll notice that now, there is a new second tab called "Performance Overview". Click that to find your highlights.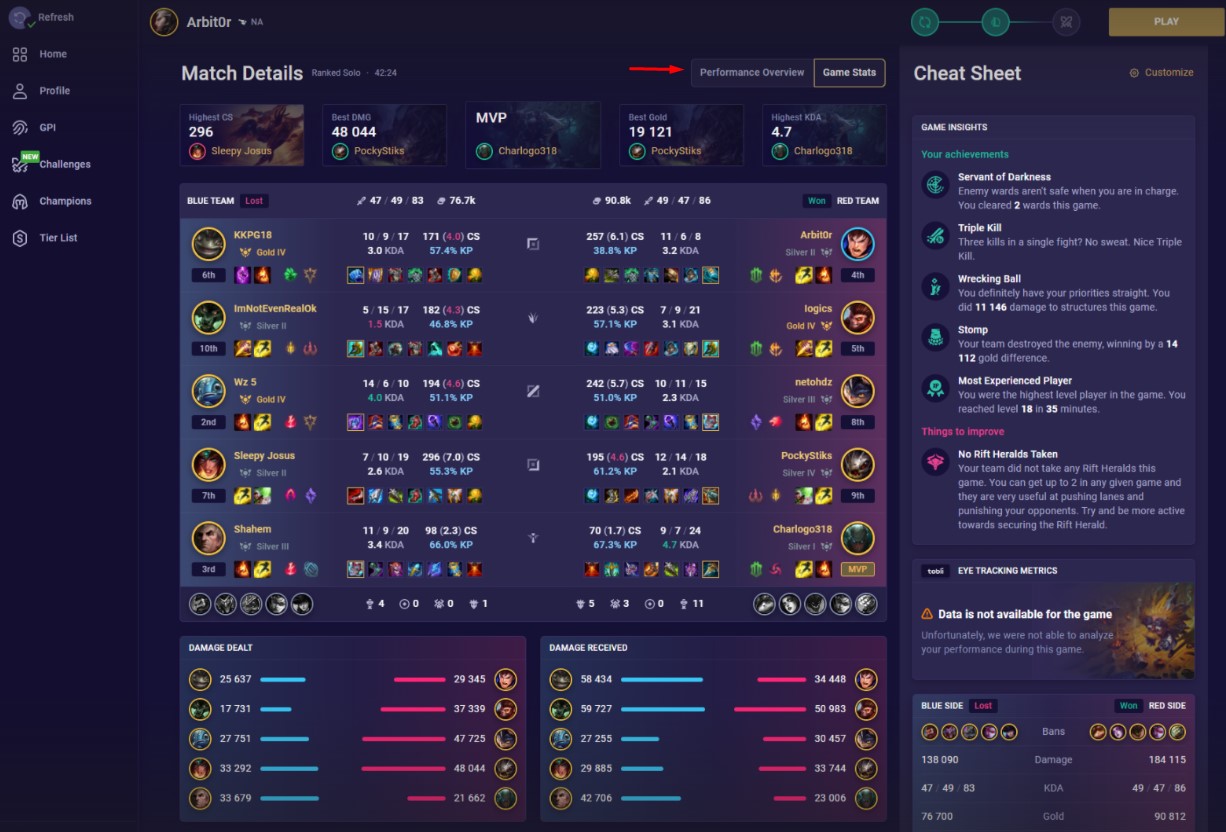 Within this tab, you'll see your five most important highlights (or lowlights) as defined by our algorithm. This is currently a Plus-only feature but in the future, the non-Plus version of Mobalytics will display one free highlight.
For each highlight, you'll see its exact timing along with labels such as "Ganked", "Gold Swing", and "Item Advantage" to give you more context.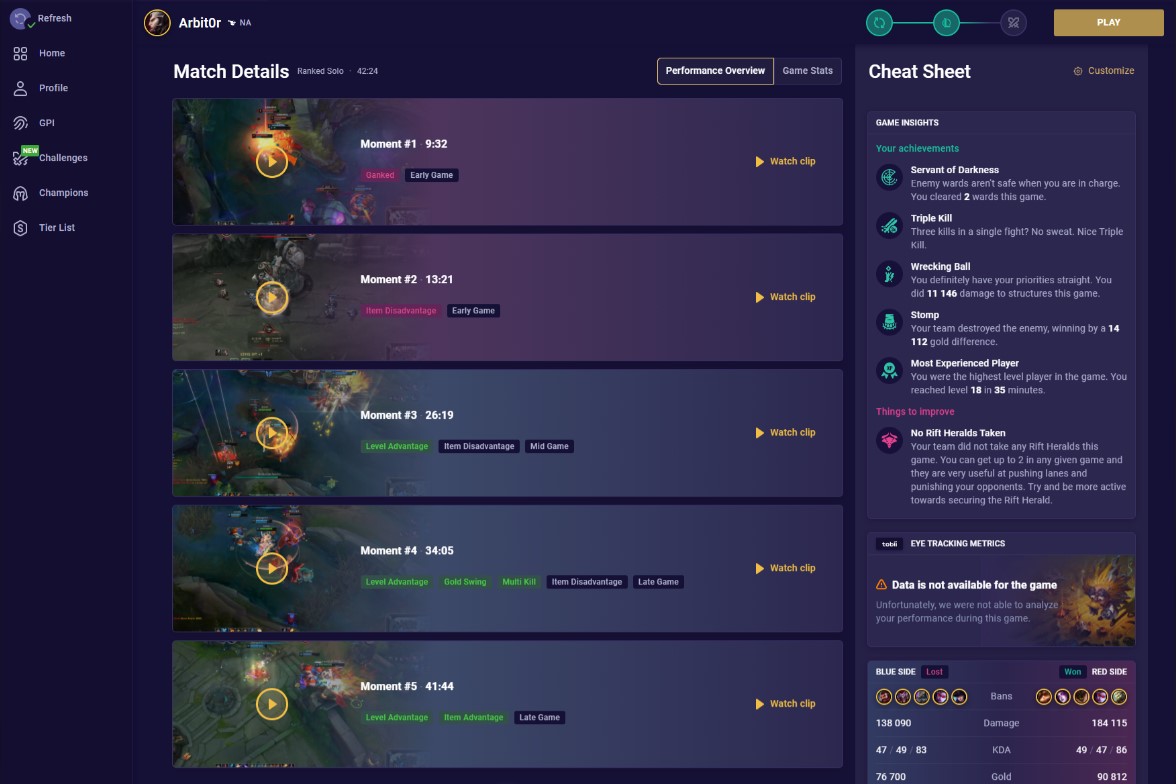 Once you click on a clip, you can replay it and get more details such as which champions were part of the play, their level, and items.
By giving you these moments and details, you'll be able to understand whether you were contributing to big plays that turned the game in your favor or causing blunders that ended up leading to your team's demise.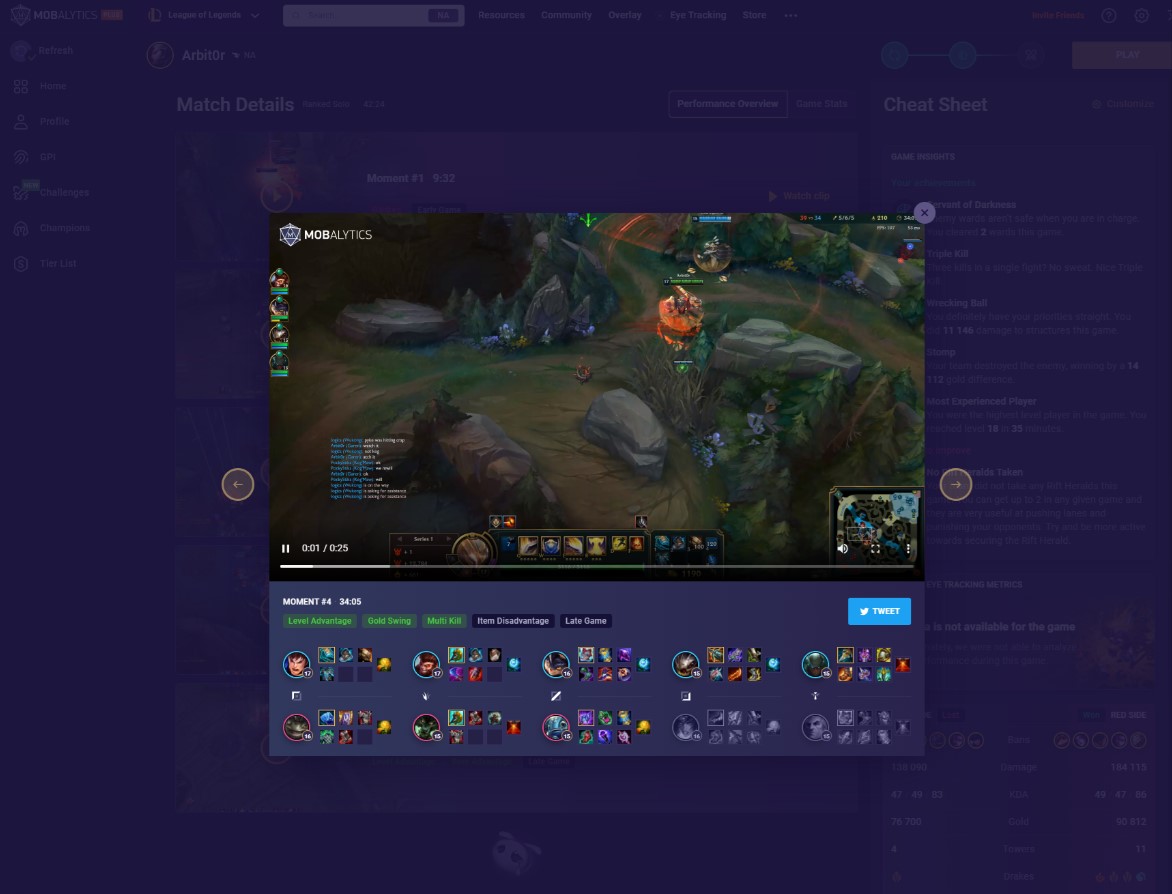 Either way, remember that everyone has good and bad plays, but not everyone learns from them. Be a player that does!
Want to revisit past highlights? You can do so by heading to your Profile and finding a specific game within your match history.

Just click the Match Details to bring up your Post Game pop up. It's easy!
One last thing we want to reiterate is that Smart Highlights and its algorithm will be constantly evolving over time. As it's currently in Alpha, we need your help to make it as accurate and relevant as it can be.
Based on our Alpha testing, our algorithm has shown to be very accurate but there have been some outlier cases every once in while.
If you feel like we missed a big play, please let us know. You can easily give us feedback with the form below the five clips.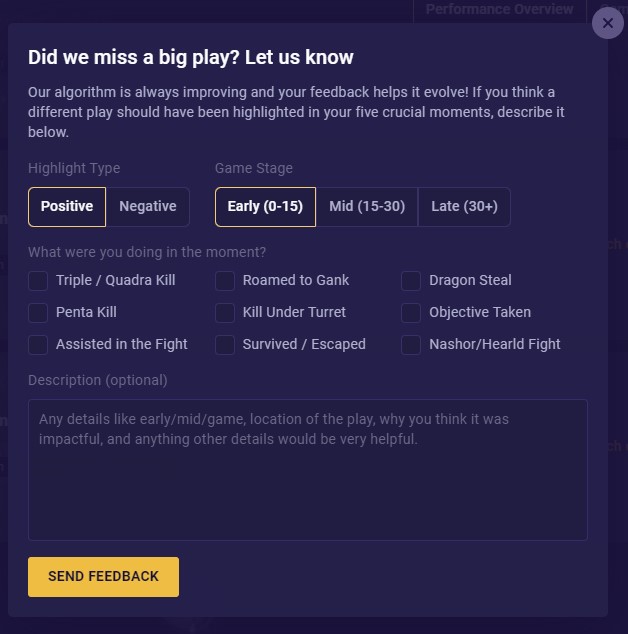 All feedback is appreciated and will only help us make it better for you and the other players in our community!
The Future of Smart Highlights
Just like any other Mobalytics feature, Smart Highlights will continue to evolve after the Alpha and beyond!
Here's what we're aiming to release over time:
Descriptive Text for Highlights

We're working on a feedback system that will give you captions that interpret the events of your highlight. This will make it easier to understand why we identified it as an impactful moment.

Additional Tags

League is a complicated game with a lot of nuances for every interaction. Over time, we'll be adding more tags and making existing ones more relevant.

More Ways to Share

In our current Alpha, you can only Share with Twitter due to technical reasons. We plan to add the usual suspects like Reddit and Discord to give you a wider range of options.

Clip Submission Contests and Giveaways

Speaking of sharing, we'll be having fun events, often with partners, to let you submit your highlights to win prizes! Keep an eye out for them.

Feature Integration

Attempting a Challenge? Our Highlights will point out moments where you succeeded or failed in relation to your attempt.

Highlights Manager

One convenient place to browse all your clips so you won't have to search by individual games in your Match History.
Keep in mind that with every roadmap, things can change! Let us know which ones you're most excited about and we'll do our best to prioritize them.
Want to join the Smart Highlights Alpha and unlock a ton of other awesome features? Sign up for a free trial or subscribe to Mobalytics Plus!