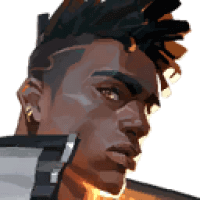 Phoenix 
• Valorant
"Jokes over, you're dead!"
Class
Duelist
c
q
e
x
damage
1 damage every 0.033s (30 dps)
EQUIP a flame wall. FIRE to create a line of flame that moves forward, creating a wall of fire that blocks vision and damages players passing through it. HOLD FIRE to bend the wall in the direction of your crosshair.

Phoenix is an explosive pyromancer who excels at initiating combat for his team.
He can use his flames to not only manipulate the battlefield, but also heal himself.
With a ton of offensive options, he's one of the best 1v1 fighters among the Valorant agents.
Advice
A useful ability combo to have in your repertoire is to use your

c

Blaze

to wall off an opponent and then throw a

q

Curveball

through it to blind them.
After a firefight, smart opponents will know that you may retreat behind cover to heal yourself with

e

Hot Hands

by throwing it on the ground. Depending on the situation, you can use this to your advantage by throwing it away from you so that when they peek to kill you, you can shoot them in the back.
When playing on Bind, you can make creative plays by using

x

Run it Back

in combination with the teleporters.