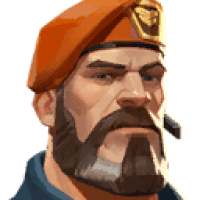 Brimstone 
• Valorant
"Prepare for hellfire!"
Class
Controller
c
q
e
x
effect
15% increased ROF, movement speed, 10% increased reload, equip speed, aim recovery
EQUIP a stim beacon. FIRE to toss the stim beacon in front of Brimstone. Upon landing, the stim beacon will create a field that grants players RapidFire.

Brimstone tips and tricks
Brimstone is one of the most well-rounded agents in Valorant due to his versatile set of abilities that allow him to shine whether on offense or defense.
Two of his abilities involve opening up his minimap to strategically place smokes and airstrikes, so he rewards players with proficient map knowledge.
Advice
Brim's

e

Sky Smoke

is one of the most useful abilities in the game due to the sheer amount of situations you can use it in. For example, one round you can use it to block a sniper angle to help you rush a site. The next round, you can use it to fake that you're looking to attack another site. Regardless of how you use it, be sure to coordinate with your allies to get the most value out of your three charges.
Rapidfire, the buff from Brimstone's

c

Stim Beacon

, is often used as an engage tool but it has other uses. For example, when you hear enemies approaching, you can throw it away from you to make them think that you are in the other corner of a room. When they come in to engage, this can set you up for shooting from behind them. Just be aware that enemies will also receive a buff when within the

c

Stim Beacon

's range.

x

Orbital Strike

is one of the best abilities for stopping a spike plant or defusal due to its large area of effect and its relatively long duration. You can often win a round this way, especially if there isn't much time left.