Welcome to our analysis for TFT Patch Notes 12.21!
UPDATED for 12.21
Set 7.5 Uncharted Realms is now entering another patch cycle.
As the set comes to close, the patches will be extremely small. Expect minimal meta shifts this patch.
Let's get right into the changes and see what we can expect.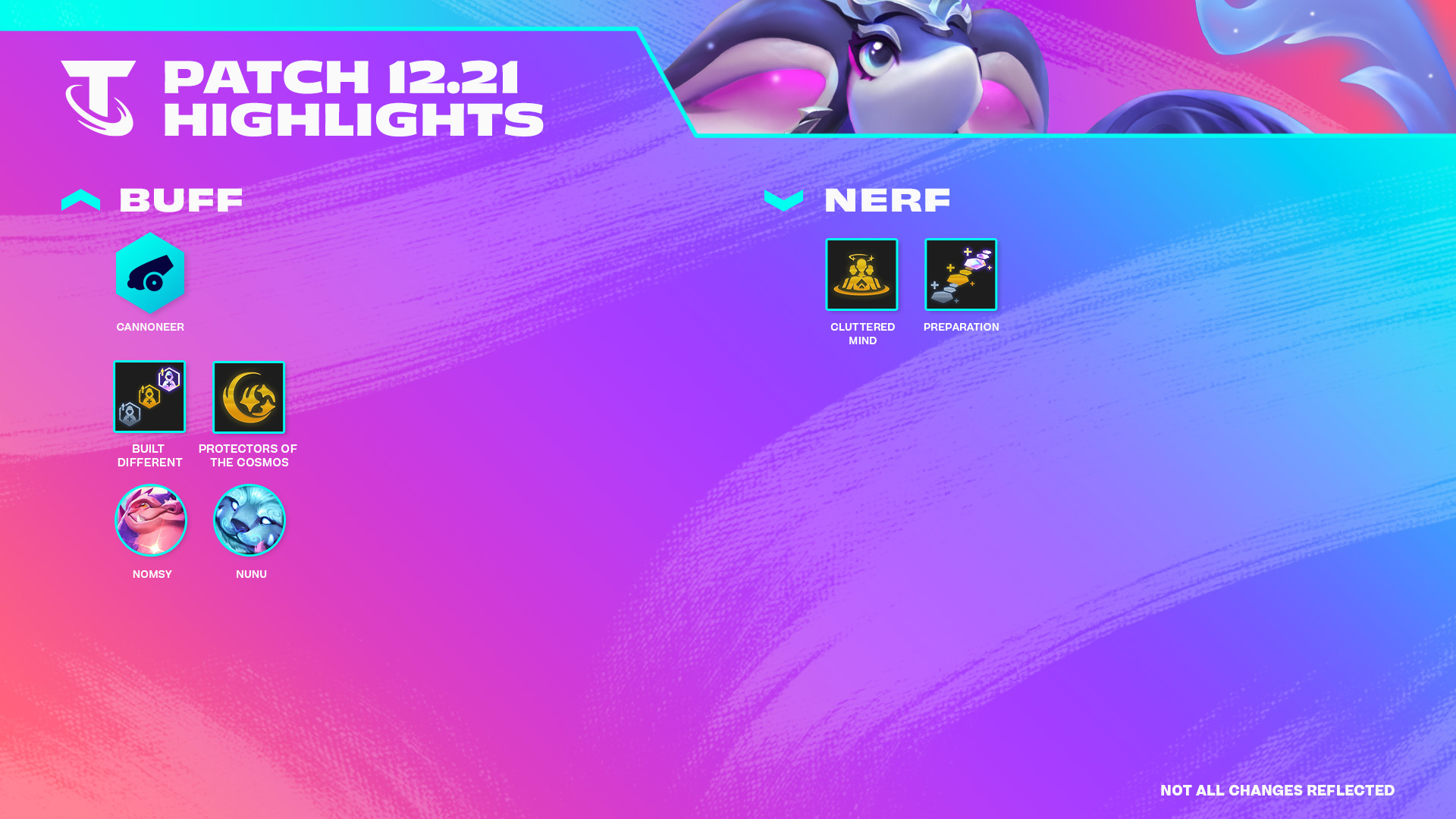 LARGE CHANGES
TRAITS
A small buff to Cannoneer as they've been underused these past few patches.
Cannoneer Cannon Shot Attack Damage ratio: 150/275/450% ⇒ 150/300/500%
UNITS: TIER 3
Mage Nomsy has been the standout Nomsy, and this Evoker buff should help a little bit. Nunu is also getting a small buff, but with the lack of true damage, we don't expect Nunu to be a meta reroll comp anymore.
Evoker Nomsy, Lulu Whimsy targets: 2 ⇒ 3
Nunu
Consume Damage: 350/500/925 ⇒ 375/525/925
Consume damage amplification if target has less Health: 40% ⇒ 50%
ITEMS
There are a bunch of changes to the Radiant items, but these don't affect the meta too much.
Last Whisper (Radiant) bonus Attack Speed: 25% ⇒ 35%
Bulwark's Oath (Radiant) shield duration 4 seconds ⇒ 3 seconds
Bulwark's Oath (Radiant) Armor and Magic Resist: 35 ⇒ 30
Quickestsilver (Radiant) bonus Attack Speed: 50% ⇒ 60%
Absolution (Radiant) missing Health percentage heal: 18% ⇒ 22%
Runaan's Tempest (Radiant) additional bolt Attack Damage ratio: 120% ⇒ 110%
Statikk Shiv (Radiant) bonus Attack Speed: 10% ⇒ 30%
Eclipse Cape (Radiant) bonus Health: 300 ⇒ 200
AUGMENTS
Built Different I bonus Health: 200-350 ⇒ 250-400
Built Different II bonus Health: 250-475 ⇒ 300-525
Built Different III bonus Health: 300-600 ⇒ 350-650
Cluttered Mind Units granted: 3 ⇒ 2
Preparation Attack Damage & Ability Power: 4/5/8 ⇒ 3/4/7
Protectors of the Cosmos Shield strength per component: 30 ⇒ 35
SMALL CHANGES
UNITS: TIER 1
Karma Inner Flame Damage: 210/280/400 ⇒ 200/265/380
UNITS: TIER 2
Lux
Cosmic Flare first strike damage: 325/400/500 ⇒ 325/410/525
Cosmic Flare secondary strikes damage: 175/200/230 ⇒ 175/210/240
UNITS: TIER 4
Xayah Feathers FLY! feather recall Attack Damage ratio: 18% ⇒ 20/20/30%
UNITS: TIER 5
Soraka's tooltip has been updated to show number of stars called down per cast
AUGMENTS
Soul Siphon (Darkflight) can again be offered on 2-1
To learn about the latest new TFT Set, head to our all-in-one Teamfight Tactics Set 7.5 reveal page that covers all champions, synergies, and more!