Welcome to our analysis for TFT Patch Notes 11.21!
UPDATED for 11.21
Set 5 is coming to a close, and many players are excited to try out Set 6 on the PBE. If you haven't seen much about Set 6 yet, make sure to check our Reveal Page, detailing everything you need to know.
This last patch for Set 5.5 is very small, and thus, the meta isn't going to be changing much. Even still, it's important to keep up with everything to get the best advantage you can.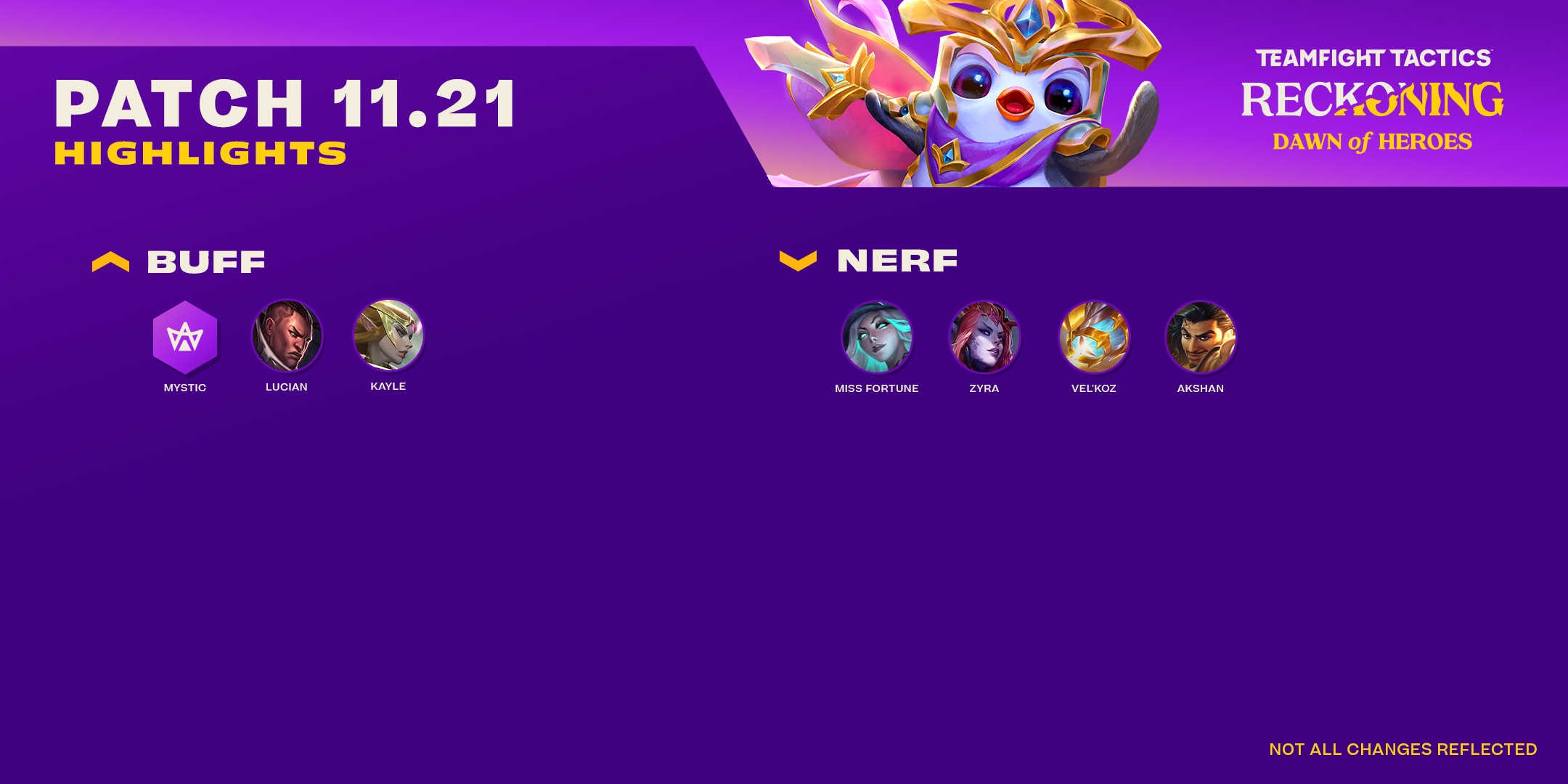 Biggest Changes this Patch
Nothing in Particular: Honestly, this patch isn't changing very much. The meta will largely be the same as it was last patch.
As always, you'll find the info from the patch notes in italics followed by our analysis. Later on, we'll cover buffs in green, nerfs in red, and reworks/powershifts in yellow.
Large Changes
Traits
Buffs:
Mystic Magic Resist: 40/80/150/250 ⇒ 40/80/175/300

Having 4 or 5 Mystic is a tall order, but if you can fit it, this may come in handy.
Champions: Tier 3
Nerfs:
Miss Fortune Make it Rain Damage: 250/375/600 ⇒ 250/375/550
Zyra Grasping Roots Damage: 200/300/575 ⇒ 200/300/525
Two 3-star carry candidates are getting nerfed. Expect more 4-cost carries to be played.
Champions: Tier 4
Buffs:
Lucian Attack Damage: 70 ⇒ 75

Not sure if this buff was necessary as Lucian feels quite strong, but he definitely didn't pack as much of a punch late game compared to other carries.
Nerfs:
Vel'Koz Lifeform Disintegration Ray Damage: 900/1150/4000 ⇒ 850/1100/4000

Squid has been a consistent magic damage carry for a very long time. Vel'Koz still will be strong, just not as strong.
Champions: Tier 5
Buffs:
Kayle
3rd Ascension Immunity: Every 15th Attack ⇒ Every 12th Attack
Final Ascension Damage: 80/125/4000 ⇒ 90/150/4000

Kayle has been seeing more play with Legionnaires becoming strong, but she still can be quite a liability. These small buffs are nice for the Kayle stall comp, but largely won't affect Legionnaires too much.
Nerfs:
Akshan Health: 850 ⇒ 800

Akshan has been swinging around carrying games for a while now. So a small HP nerf will help bring him down before he swings too much.
Small Changes
As usual, for small changes, I won't be commenting on every change, but only the changes that I believe have a chance to make more than a small impact on the meta.
Traits
Buffs:
Sentinel Attack Speed: 20/80/500% ⇒ 20/80/600%
Nerfs:
Abomination Stage Health and Attack Damage Scaling: 16% ⇒ 13%
Legionnaire Attack Speed: 25/75/135/250% ⇒ 25/70/135/250%
Champions: Tier 1
Buffs:
Poppy Buckler Toss Damage: 150/250/400 ⇒ 150/250/450
Champions: Tier 2
Buffs:
Syndra Force of Will Damage: 250/350/600 ⇒ 250/350/650
Champions: Tier 5
Buffs:
Gwen: 3-Star Gwen's snips now reach a much larger area
Heimerdinger Upgrade!!! Damage: 400/600/3333 ⇒ 425/600/3333
Nerfs:
Akshan Heroic Swing bonus Attack Speed: 70/85/400 ⇒ 60/70/400
To learn about the latest new TFT Set, head to our all-in-one Teamfight Tactics Set 6 reveal page that covers all champions, synergies, and more!