All Datamined Marvel Snap Cards Known From Leaks
Tokens are the most precious currency in Snap and it's important to have a long term plan for what you want to spend them on.
In this list, we've collected all the leaked Marvel Snap cards from datamines.
With each card, we've included some commentary but let us know what you think of each.
Note that many of the cards may have placeholder text and their stats may not be the same when they launch.
All card images are from snap.fan.
Leaked and Datamined Marvel Snap Cards
Black Knight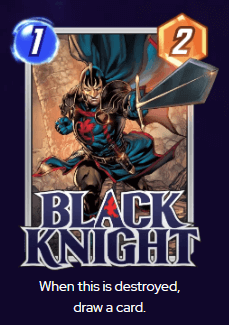 1 Cost
2 Power
Ability

When this is destroyed, draw a card.
Black Knight is interesting. Overall, 1/2 is already a pretty fair statline. If you destroy him with a Carnage, you still get those 2 stats plus a card. Conversely, if the enemy plays Killmonger, you still get to draw a card.
If they Killmonger or Elektra on turn 6, the draw won't matter, but the card is still interesting. He's not very powerful, but I can see him going into Destroy decks in the future as an option.
Blink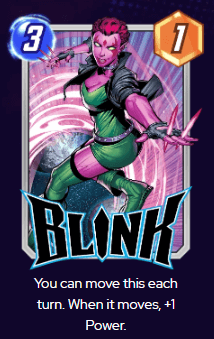 3 Cost
1 Power
Ability

You can move this each turn. When it moves, +1 Power.
To preface, let me say that I am a big fan of the movement archetype. It was the first archetype I used to hit Infinite, and it's a joy to play. That being said, I can't necessarily say it's amazing. In a normal game, Blink turns into a 3/4 after moving 3 times. Those stats aren't great.
Let's say you play a Kraven on turn 2 and get to buff him up to a 2/6 with Blink. That's 10 stats for a 2 and 3 drop, BUT you have to play them exactly on turn 2 and 3. Compare that with say, Lizard, and Mister Fantastic, and you have 11 (conditional) Power on the board.
Movement lets you access difficult locations and do tricky things, but will always be slightly behind just simple raw Power.
Blob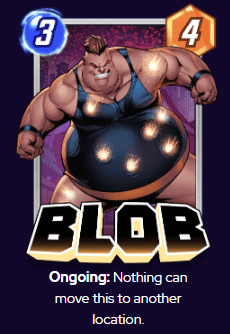 3 Cost
4 Power
Ability

Ongoing: Nothing can move this to another location.
Blob is almost like Colossus, except he doesn't have the "Can't be Destroyed" text. Colossus barely sees any play right now, so I don't expect Blob to see much play either.
Bullseye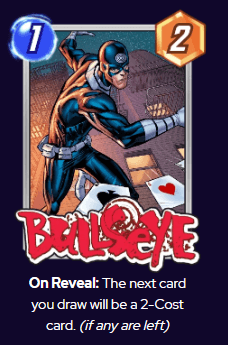 1 Cost
2 Power
Ability:

On Reveal: The next card you draw will be a 2-Cost card (if there are any left).
Bullseye is quite nice as you can potentially use only one 2-cost card in your deck. However, in the many games where his ability doesn't work, (Like if you draw your 2-cost card in your opening hand, or if you don't draw Bullseye on turn 1) he seems like a dead card for the most part.
There may come a time where there is a specific 2-cost card that you absolutely want to see every game regardless of the turn. When this situation comes, Bullseye may see play.
Elsa Bloodstone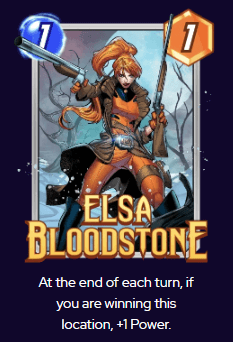 1 Cost
1 Power
Ability:

At the end of each turn, if you are winning this location, +1 Power.
Elsa Bloodstone is simple and effective. In a perfect world, she's the equivalent of a 1/6. The only other cards that can match that are Kitty Pryde or Sunspot. As stronger 1-cost cards come out, we may see Zoo be able to put out enough power to compete with the top decks.
Flatman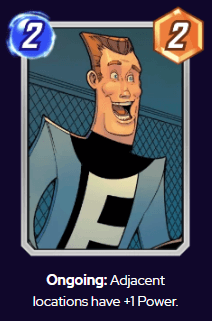 2 Cost
2 Power
Ability:

Ongoing: Adjacent locations have +1 Power.
Flatman is basically Mister Fantastic lite. Overall, he's a 2/4 in terms of Power on the board, which isn't terrible, but not amazing. In decks that want priority, I can definitely envision Flatman and Mister Fantastic being in there, but it's hard to dethrone Lizard and Scorpion in terms of value.
Ghostspider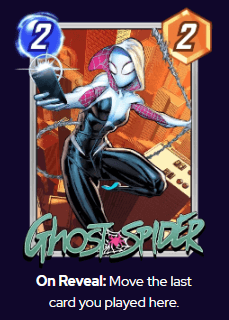 2 Cost
2 Power
Ability:

On Reveal: Move the last card you played here.
Ghost Spider is another move card that I find much more interesting. Ghost Spider plays less into Power, and more into trickery, which is what I think the Move archetype excels at / wants to do.
You can play a big card on turn 5, and move things around with Ghost Spider, or use her throughout the game to move cards like Vulture. Overall, I like Ghost Spider as a card.
Goblin Queen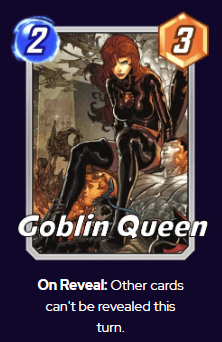 2 Cost
3 Power
Ability:

On Reveal: other cards can't be revealed this turn.
First things first, 2/3 is respectable in terms of stats, but her effect seems very niche. Not revealing cards doesn't seem to be hugely beneficial, unless you are looking to counter things like Galactus or Doctor Octopus.
Even then, you still need an answer for when they eventually do flip. There may be some situations where waiting a turn to reveal your cards is beneficial, so there's some potential. Off the top of my head, though, I can't quite see where she fits.
Gorr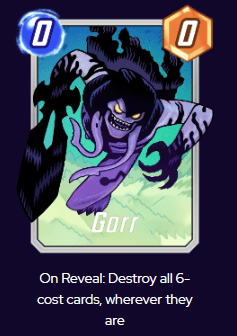 0 Cost
0 Power
Ability:

On Reveal: Destroy all 6-cost cards, wherever they are.
Gorr (the God Butcher) seems quite busted tbh. 0 cost cards aren't too commonly played, but you could definitely run him in a Lockjaw deck that focuses on 5-cost cards. You can play him out on turn 6 as a tech card.
There are a ton of powerful 6-cost cards in the game right now, and Gorr would definitely be a meta staple imo.
Gwenpool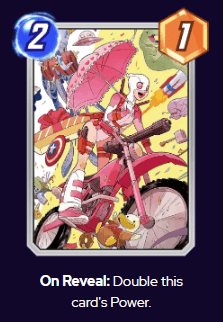 2 Cost
1 Power
Ability:

On Reveal: Double this card's power
Gwenpool makes use of cards that buff up her power in hand, or you can play her with things like Wong, Beast, or even Arnim Zola. Even still, I don't quite think she'll be great. Black Panther fits a similar role, and is very niche. I expect Gwenpool to be the same.
High Evolutionary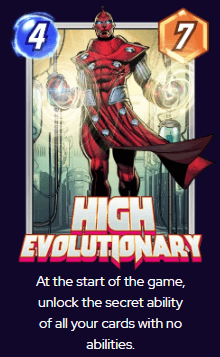 4 Cost
7 Power
Ability:

At the start of the game, unlock the secret ability of all your cards with no abilities.
High Evolutionary transforms all of the basic cards into cards with effects. Outside of Thanos and Galactus, High Evolutionary will probably be the best use of your tokens. There is a ton of potential with the new "no ability" cards, and the depth alone makes him a must have. 4/7 is also pretty good stats already. I expect almost everyone to be saving for High Evolutionary.
Howard the Duck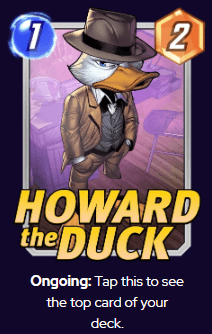 1 Cost
2 Power
Ability:

Ongoing: Tap this to see the top card of your deck.
Being able to always see the top card of your deck is quite interesting. While it may not be super valuable, it can definitely give you the information needed to win or retreat. 1/2 is perfectly fine on a 1-cost, and he synergizes with another leaked card, Iron Lad.
Iron Lad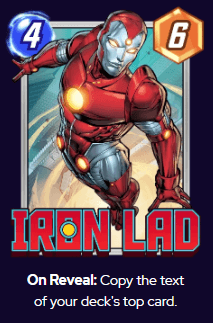 4 Cost
6 Power
Ability:

On Reveal: Copy the text of your deck's top card
First things first, a 4/6 is not bad stats. We see White Queen see some play in Dino decks and she carries her own weight. If you build a deck to only have beneficial On Reveal effects, or Ongoing effects, Iron Lad can definitely be a very valuable 4-cost play. When combined with Howard the Duck, you also have a very strong 4-cost card as you can see what text he will copy.
J Jonah Jameson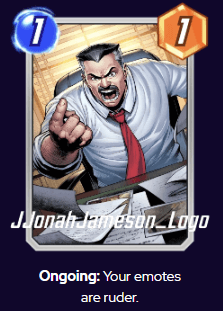 1 Cost
1 Power
Ability:

Ongoing: Your emotes are ruder.
A must-buy. Definitely worth.
Jean Grey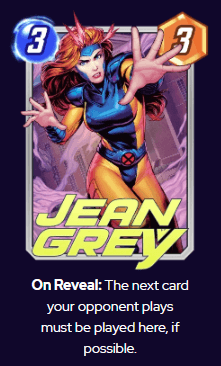 3 Cost
3 Power
Ability:

On Reveal: The next card your opponent plays must be played here, if possible.
Jean Grey's text is somewhat unclear. If you play her in a storm lane, do you lock your opponent out of playing cards, or can they play elsewhere if not possible? Who knows.
Forcing your opponent to play in a specific spot can be quite useful, especially if you have some form of disruption. However, they only need to play 1 card to fulfill her condition, so it's not exactly a hard lockdown like Spider-Man or something.
King Eitri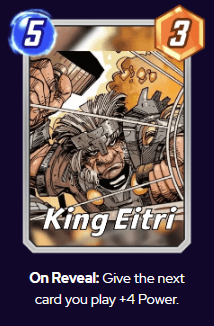 5 Cost
3 Power
Ability:

On Reveal: Give the next card you play +4 Power.
King Eitri is basically a buffed up Forge. You can make Black Panther a 5/8 which turns into a 5/16, or you can make a Brood that represents 18 Power. The synergy with Brood is quite nice, but I don't see too much potential with Black Panther as they are both 5 drops.
Lady Deathstrike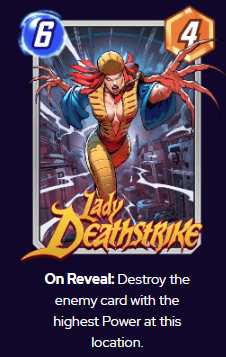 6 Cost
4 Power
Ability:

On Reveal: Destroy the enemy card with the highest Power at this location.
To be frank, Lady Deathstrike seems like a worse Shang-Chi. She has 1 more power, but costs 2 more energy. You are able to snipe cards with 8 or less power, but even then, she represents a 6/12 if you're destroying an 8 Power card. You might as well play Shang-Chi and Magneto for better consistency.
Legion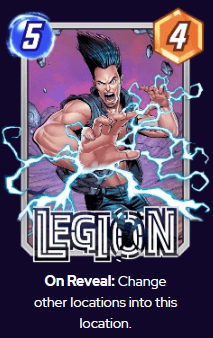 5 Cost
4 Power
Ability:

On Reveal: Change other locations into this location.
Location control effects usually don't see much play as they are too niche, and I expect the same for Legion.
Loki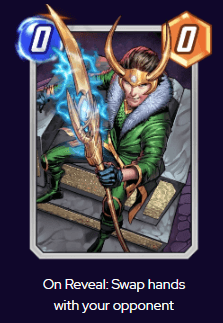 0 Cost
0 Power
Ability:

On Reveal: Swap hands with your opponent.
Loki is a very difficult card to assess. His ability is very powerful, but how often will it be useful? Maybe you can play a deck that just vomits out cheap cards and plays Loki to give your opponent an empty hand. I imagine Loki will be a very good and polarizing card.
Makkari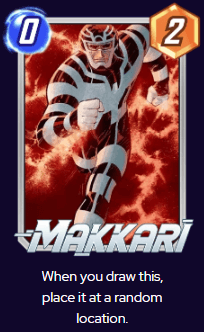 0 Cost
2 Power
Ability:

When you draw this, place it at a random location.
I can't imagine Makkari being too good. You lose a card in hand, for the upside of 2 Power for no energy cost. Maybe in a Jane Foster deck he can provide some free Power, but that's only if you don't draw him by turn 5.
Mephisto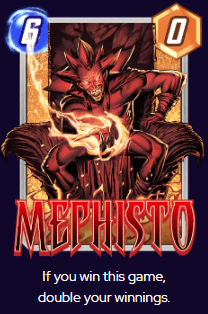 6 Cost
0 Power
Ability:

If you win this game, double your winnings.
Negative decks are inconsistent, but if you can gain 16 cubes off one game, maybe the cube rate will be ok even if your win rate is low.I don't imagine Mephisto will be a meta card, but he will definitely see play in Negative decks.
Mirage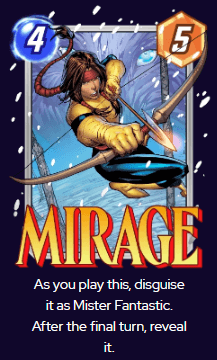 4 Cost
5 Power
Ability:

As you play this, disguise it as Mister Fantastic. After the Final turn, reveal it.
Mirage is a very flavorful card as it's tricky, but it feels a bit underpowered. 4/5 stats is pretty mediocre, and tricking your opponent might not be helpful if you can't put enough Power on the board.
Ms. Marvel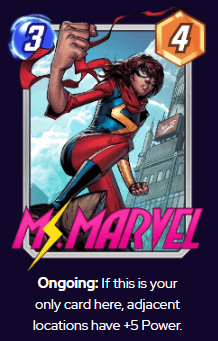 3 Cost
4 Power
Ability:

Ongoing: if this is your only card here, adjacent locations have 5+ Power.
Ms. Marvel seems very strong at first glance. With her ability active, she is essentially a 3 for 14. That's nuts. The limitation is quite big, and can be disrupted easily, but if you can avoid disruption, (from Polaris, Debrii, Enchantress, etc) Ms. Marvel will output an insane amount of Power.
Nebula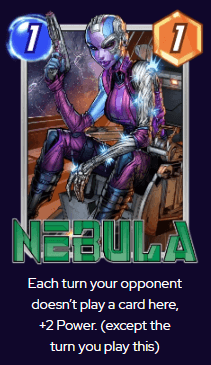 1 Cost
1 Power
Ability:

Each turn your opponent doesn't play a card here, +2 Power (except the turn you play this).
Nebula synergizes well with the Guardians of the Galaxy cards as you incentivize your opponent to play in a certain location. Even if you only proc her effect once, a 1/3 is perfectly acceptable. I imagine Nebula will be a decent card.
Night Nurse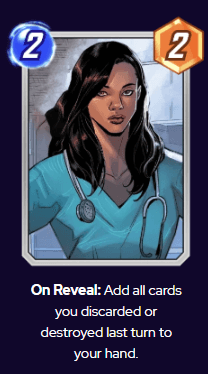 2 Cost
2 Power
Ability:

On Reveal: Add all cards you discarded or destroyed last turn to your hand.
Night Nurse doesn't seem to be too powerful, but maybe she'll be the exact card Hela decks need. With Night Nurse, you can be a little more risky about discarding Hela, knowing you have a way to bring her back. Even still, I don't think she will impact the meta too much.
Phoenix Force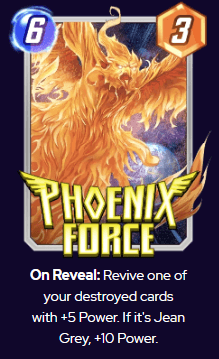 6 Cost
3 Power
Ability:

On Reveal: Revive one of your destroyed cards with +5 Power. If it's Jean Grey, +10 Power.
Phoenix Force is basically like Ghost Rider but for Destroy. The issue is that usually, you want to destroy low cost cards to buff up cards like Carnage. It will be interesting to see if Phoenix Force can make destroying a large card worthwhile.
Random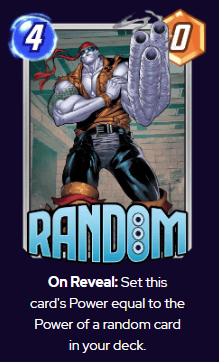 4 Cost
0 Power
Ability:

On Reveal: Set this card's Power equal tot he Power of any random card in your deck.
Assuming you build your deck around Random, you can potentially get something like 20 power off his effect. It seems quite similar to that of Jubilee. Even still, whiffing his ability is a very unfortunate possibility.
Red Guardian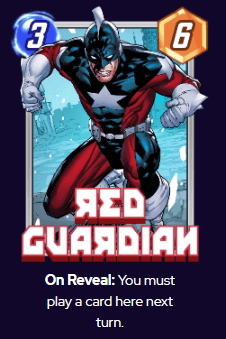 3 Cost
6 Power
Ability:

On Reveal: You must play a card here next turn.
Red Guardian is a very simple stat stick with the drawback of playing another card in the same location. He's similar to Maximus, but I'm not sure he will go in many decks. Even Silver Surfer decks are cutting Maximus in favor of other cards, so unless Red Guardian changes that, I doubt he will see too much play.
Silk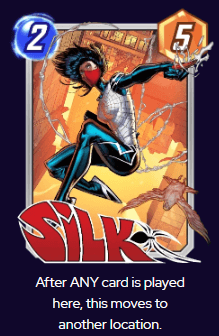 2 Cost
5 Power
Ability:

After ANY card is played here, this moves to another location.
I think Silk is a great card. I don't expect Silk to break the meta or make Movement a tier 1 deck, but having a 2/5 with potential upside is very nice. Silk can be used to trick your opponents, and also has competitive stats for a 2-cost card.
Silver Sable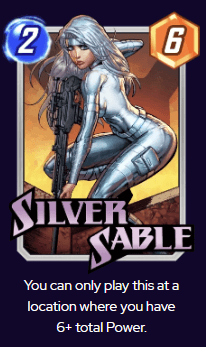 2 Cost
6 Power
Ability:

You can only play this at a location where you have 6+ total Power.
First things first, 2/6 is a lot of Power. In decks with lots of low cost cards, I can see Silver Sable fit in. However, her drawback is quite limiting, and not many decks want to play low cost cards on the latter turns of the game. Even for decks that do (like Bounce or Sera), the space is quite tight for those decks. I struggle to find an archetype that she easily fits into.
Silver Samurai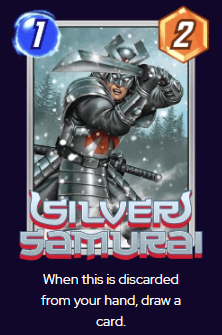 1 Cost
2 Power
Ability:

When this card is discarded from your hand, draw a card.
Silver Samurai seems like a decent addition to the Discard archetype. Usually, you want to discard Swarm off your Colleen Wing, but Silver Samurai can be a nice alternative. He will also prevent you from discarding something like Morbius if you want to play Colleen Wing on turn 2. Will he make it into Discard decks over other cards? I'm not sure. But he's an option.
Stryfe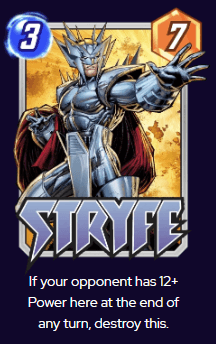 3 Cost
7 Power
Ability:

If your opponent has 12+ Power here at the end of any turn, destroy this.
Stryfe is another high Power card with a drawback, and for the most part, you can almost always assume the opponent can put 12 power on the board. He would pair nicely in a deck with say Armor and maybe Attuma for a similar effect.
Is the higher power enough to win a game though? Not sure. After the nerfs to Leader and Aero, priority based decks that look to simply play efficient high power cards seem to be in the past now.
Surtur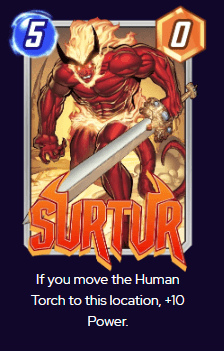 5 Cost
0 Power
Ability:

If you move the Human Torch to this location, +10 Power.
All things considered, a 5/10 isn't terrible, but it also isn't great. 5-cost cards usually aren't about pure power (except Red Skull), and usually provide power along with a powerful effect. While 5/10 is strong, the condition makes it quite unreliable.
The Living Tribunal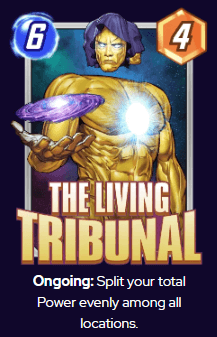 6 Cost
4 Power
Ability:

Ongoing: Split your total Power evenly among all locations.
The Living Tribunal is another very interesting upcoming card. The Living Tribunal allows you to simply play cards that grant the most power, and will split it up for you.
Decks with Tribunal may be weak to other decks that only play for 2 lanes (like Shuri), but overall, I have high expectations for this card.
Toad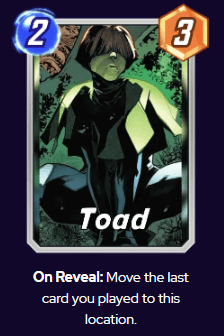 2 Cost
3 Power
Ability:

On Reveal: Move the last card you played to this location.
Currently, Toad and Ghost Spider have the same leaked effect, so just go to my thoughts on Ghost Spider for the same thing.
Uncle Ben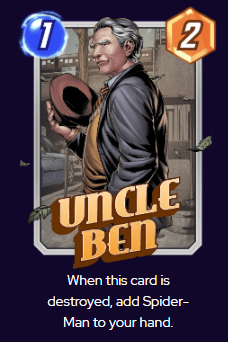 1 Cost
2 Power
Ability:

When this card is destroyed, add Spider-Man to your hand.
I feel like this card has to be a meme that was implanted for dataminers. Even still, Uncle Ben definitely hits the mark in terms of flavor. Destroy decks don't usually need location lockdown, so I don't imagine Uncle Ben will be very playable, but he will be fun to play with.
Viv Vision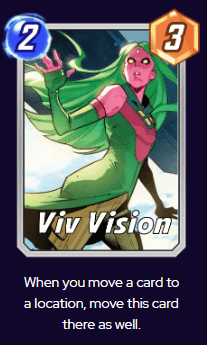 2 Cost
3 Power
Ability:

When you move a card to a location, move this card there as well.
Viv Vision has another interesting move based effect. Obviously, she pairs well with Vision, as with both cards, you can freely move 10 Power into any location. This is a much simpler move effect, but still very powerful at making it difficult for opponents to read your next move.
War Machine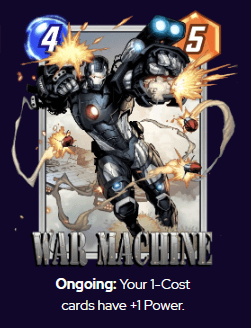 4 Cost
5 Power
Ability:

Ongoing: Your 1-Cost cards have +1 Power.
A buffed Ka-Zar. Blatant powercreep. Kappa. It's probably placeholder text for now, so we'll keep an eye on it.
Witchfire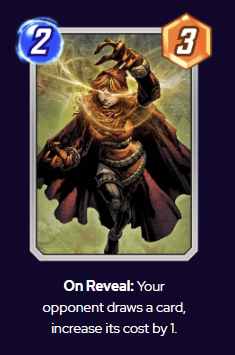 2 Cost
3 Power
Ability:

On Reveal: Your opponent draws a card, increase its cost by 1.
I find it hard to believe that this card will ever see play. Baron Mordo is already a meme card, and his effect is much better. Giving your opponent an extra draw, at the cost of 1 energy seems like a terrible downside. Witchfire also only has generic 2/3 stats as well.
X23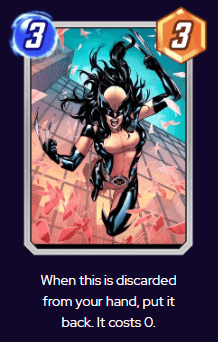 3 Cost
3 Power
Ability:

When this is discarded from your hand, put it back. It costs 0.
X23 is basically another Swarm that doesn't get out of hand. She acts as a discard target that can help buff up Morbius as she can be discarded multiple times. She might see some play in Discard as a way to increase consistency, but I'm not sure she makes the cut just yet.
Yo-Yo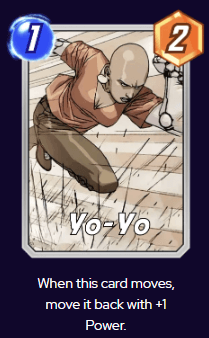 1 Cost
2 Power
Ability:

When this card moves, move it back with +1 Power.
Yo-Yo seems like a worse Human Torch at first glance, but she actually has some merit. One issue with Move decks is running out of space or not being able to play to the right location easily. If you run Heimdall, you often forfeit the right location by playing him. With Yo-Yo on the board, you can clear up space on locations you move to, and also play for the right location.