Legends of Runeterra Meta Statistics: How to Find the Best Regions, Champions, and Decks
We've finally launched our Meta Stats feature, the newest Mobalytics tool for Legends of Runeterra!
Although we have our own meta tier list that provides recommendations from our experts, we wanted to provide a way for all players to analyze game data and come to their own conclusions.
Here's a quick TLDR of some of the things our Meta Stats feature allows you to do:
Explore regions, champions, decks by performance and popularity
Understand different head to head matchups
Discover the best players for different deck playstyles
Find cheaper variants of decks while you build toward the final list
In this guide, we'll walk you through all the different parts of our Meta Stats page.
If you're a stat-head who's used to similar tools from other games, you should feel right at home.
But whether you're a beginner or veteran in regards to exploring stats, stick around!
Quick Disclaimer
Before we move on, please note that the data included in our Meta Stats comes from a combination of games played by streamers who use our Twitch Extension and Deck Tracker overlay.
This means that the data doesn't encompass the entire playing population and may have a more competitive leaning bias since players who use tools like a deck tracker overlay will generally be more serious than casual.
Alright! Let's get to the good stuff…
Meta Stats Overview
Our Meta Stats pages are organized into three major tabs:
For all three sections, you can filter by three different rank groups:
All ranks
Master
Below Master
Just click the dropdown menu at the top right to change it at any time.
Note that this is currently free for you to try now but will become a premium-only feature after some time.
How often does the Meta Stats page update?
The page will update daily and will reset the number of games at the beginning of each patch to ensure that our data set is always as relevant as it can be regarding the current meta.
Region Stats
The debates about which regions and region combinations are the best are about to get more intense!
In Legends of Runeterra's constructed mode, you are limited to building a deck with up to a max of two regions.
When you factor in mono decks (using only one region), this means that there are a total of 28 different region combinations.
Within the Region stats tab, you can quickly see how these 28 combinations rank from 1st to 28th according to:
Win Rate
Play Rate
Matches Played
The "Popular Cards" section shows the top eight cards that are most used in that particular region combination so you can have a general idea of its core cards.
If you don't recognize the cards by the small icon, just hover over it to expand it to its full card form.
When exploring the Regions tab, you'll see all 28 possible combinations by default.
If you want to explore a particular region and its combinations, just click on a region's icon to isolate it.
Here's a quick look at Bilgewater and all of its different combinations:
Here we can see that the Bilgewater + Demacia region combination has the highest win rate at 56.6% and the second-highest play rate at 6.4% among all the Bilgewater combinations, pretty damn good.
We can see by the Popular Cards that this is most likely the Scouts variant of Bilgewater + Demacia.
To learn more about the particular combination, you can click on the "–>" arrow symbol to reveal more information. Here's what you'll see: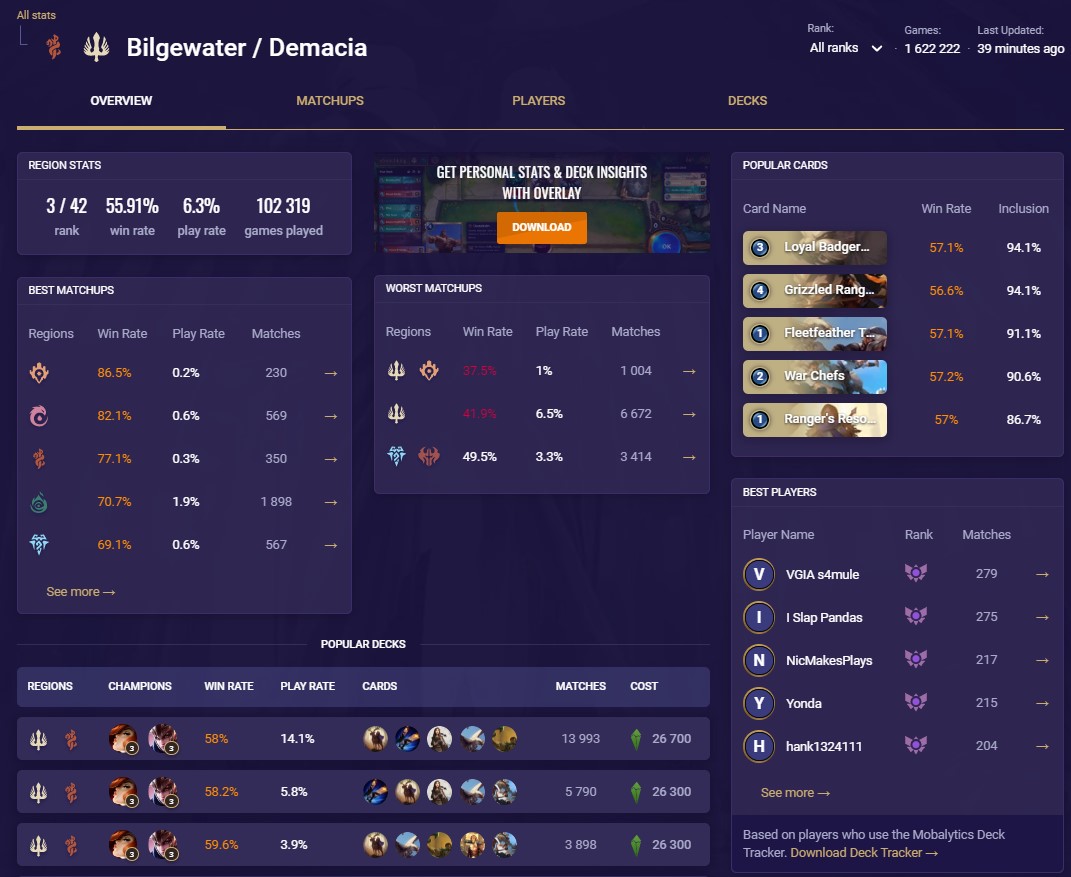 This is a general overview within the particular region combination along with additional tabs for matchup details, top players, and deck variants if you want to dive even deeper.
Matchups
The Matchups tab will show you a region combination's best and worst matchups according to win rate, play rate, and matches played.
This can be a great resource for preparing for a tournament or for finding a counter to a particular popular deck that you keep running into on the ladder.
Here, we can see that mono-Demacia tends to do quite well against Bilgewater + Demacia.
Clicking on the arrow will pull up mono-Demacia's overview page and help you find a deck variant to switch to when Bilgewater + Demacia is running rampant.
Players
Next up, we have the Players tab. This highlights the very best players who play the particular region combination you're looking at.
Here you can track the tendencies of these experts and easily access their player profile.
Since some of the best players are pros or streamers, you can often find their Twitch channels linked to their profiles.
This provides a way to learn even more by watching them or even asking them questions depending on the streamer.
Decks
Last but not least, we have the Decks tab which displays information about the different deck variants within your selected region combination.
Here, you can look for particular champion combinations and even sort by the cost of the deck.
This is a great way to find cheaper budget options for a deck you want to play while you're still expanding your card collection.
If you really want to explore the obscure thing people are trying, you also have an additional filtering mode that adjusts your sample size to include decks below the 0.2% play rate threshold.
By clicking on one of these variants, you can go straight to the most popular decklist within that variant. Let's check out the Fiora + Garen version!
The decklist will pop up within your usual Deck Manager page where you can easily get an import code or copy the deck so you can make adjustments to it within the Deck Builder.
Champion Stats
The second section of the homepage is the Champions tab.
This is your go-to resource for researching everything related to the champions of Legends of Runeterra and the decks they're featured in.
You can filter by any region or champion combination with the dropdown menu, let's see how our friend, Fizz, is doing.
Ouch! Unfortunately, he doesn't seem to be too successful right now – at least with the most popular decks that players have been trying him in.
Similar to the Decks tab we mentioned earlier, the Champion tab allows you to expand your search by including results with a lower play rate threshold (by default you'll see decks >0.2%).
To turn this on, just check the "Show all" box at the top right:
Now we can see more options and try to find possible better variants that people are trying.
Although the sample size isn't the greatest, maybe we can explore Twisted Fate + Fizz's Bilgewater + Ionia variant since that seems to be the best out of the bunch at a 50% win rate.
We'll head to Deck stats to learn more.
Deck Stats
The third section of the Meta Stats page is the Decks tab. This tab works the same way as the one we mentioned above within the Region stats section.
Let's continue our quest of finding a Fizz deck by using the filters of Twisted Fate + Fizz for champions and Bilgewater + Ionia for regions.
As you can tell, we're getting to the really obscure section of exploration as the sample size is now incredibly small.
The "0%" results indicate decks that are below the 0.1% threshold (we'll eventually be adjusting our decimal range to display lower than that but just note that for now).
The #2 result looks interesting with a 54.4% win rate and 285 games played. Again, this is a very small sample size but we're really trying to find a diamond in the rough.
By clicking on it, you'll be brought to the Deck Manager so you can easily export it to your client or edit it.
With this feature, we hope that players will be able to really find underrated and interesting options that may not be discussed often due to their lack of play rate.
Conclusion
We're can't wait to see all the theorycrafting and debates that players will have when using the Meta Stats page as a resource.
Please feel free to let us know your thoughts in the comments below, on socials, or in Discord.
All community feedback is always considered every time we upgrade a feature or launch a new one.
This is just the first version of the tool and we have some new additions coming to it very soon!