Genshin Impact 3.0 The Morn a Thousand Roses Brings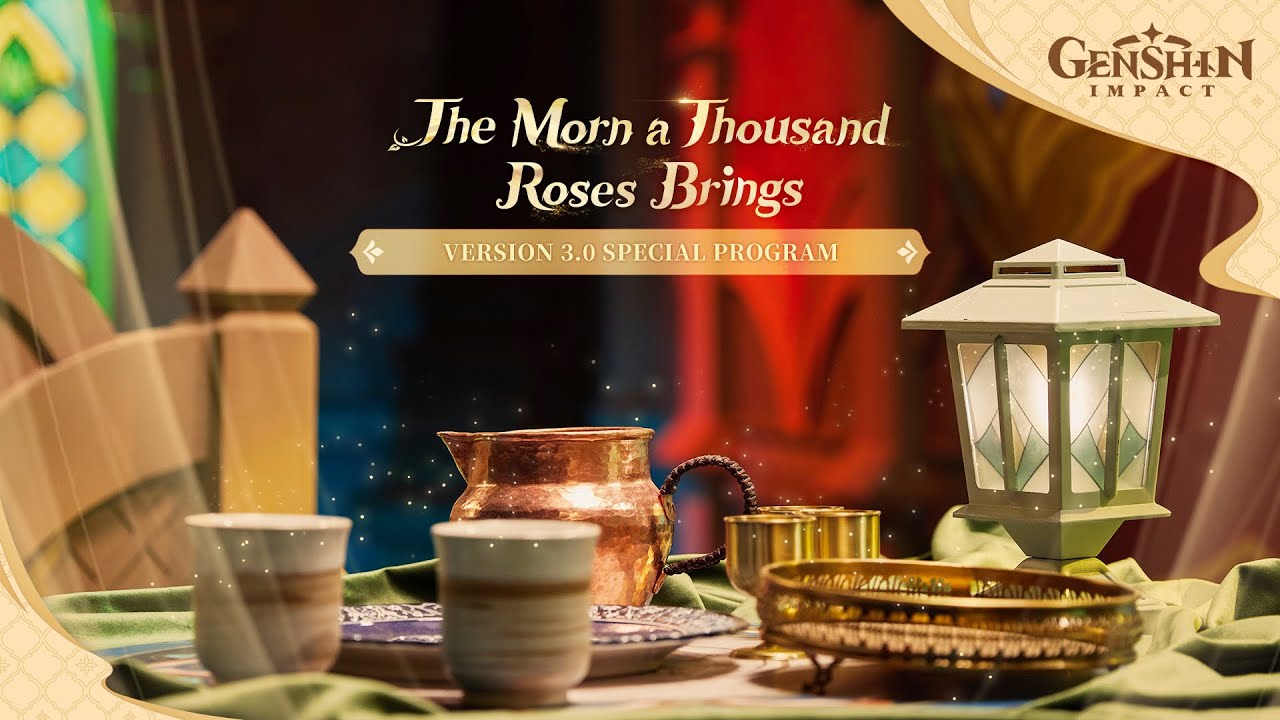 Version 3.0 is coming out very soon on August 24th, and everyone is very excited to see all of the updates coming with the long-awaited Sumeru update.
This article will be covering everything we know about the upcoming Version 3.0, including events, characters, banners, new artifacts, and more. As usual, this recap is based off the Special Program Video.
3.0 Redemption Codes
Before we get into the news, be sure to redeem these redemption codes. They expire very soon, so make sure to get them in before it's too late.
Here's a quick list to get them easily.
8ANCKTWYVRD5
EA7VKTFHU9VR
KT7DKSFGCRWD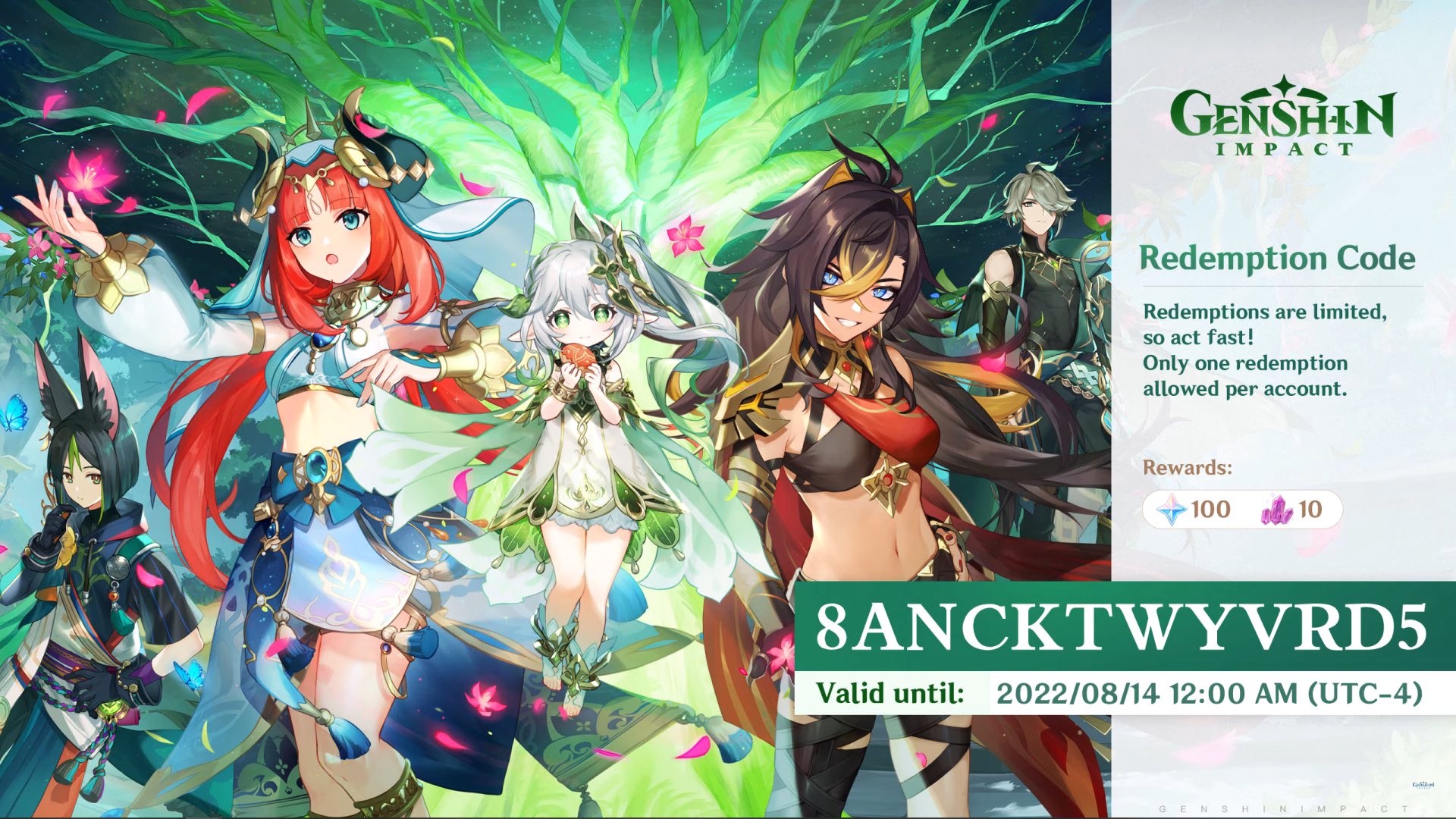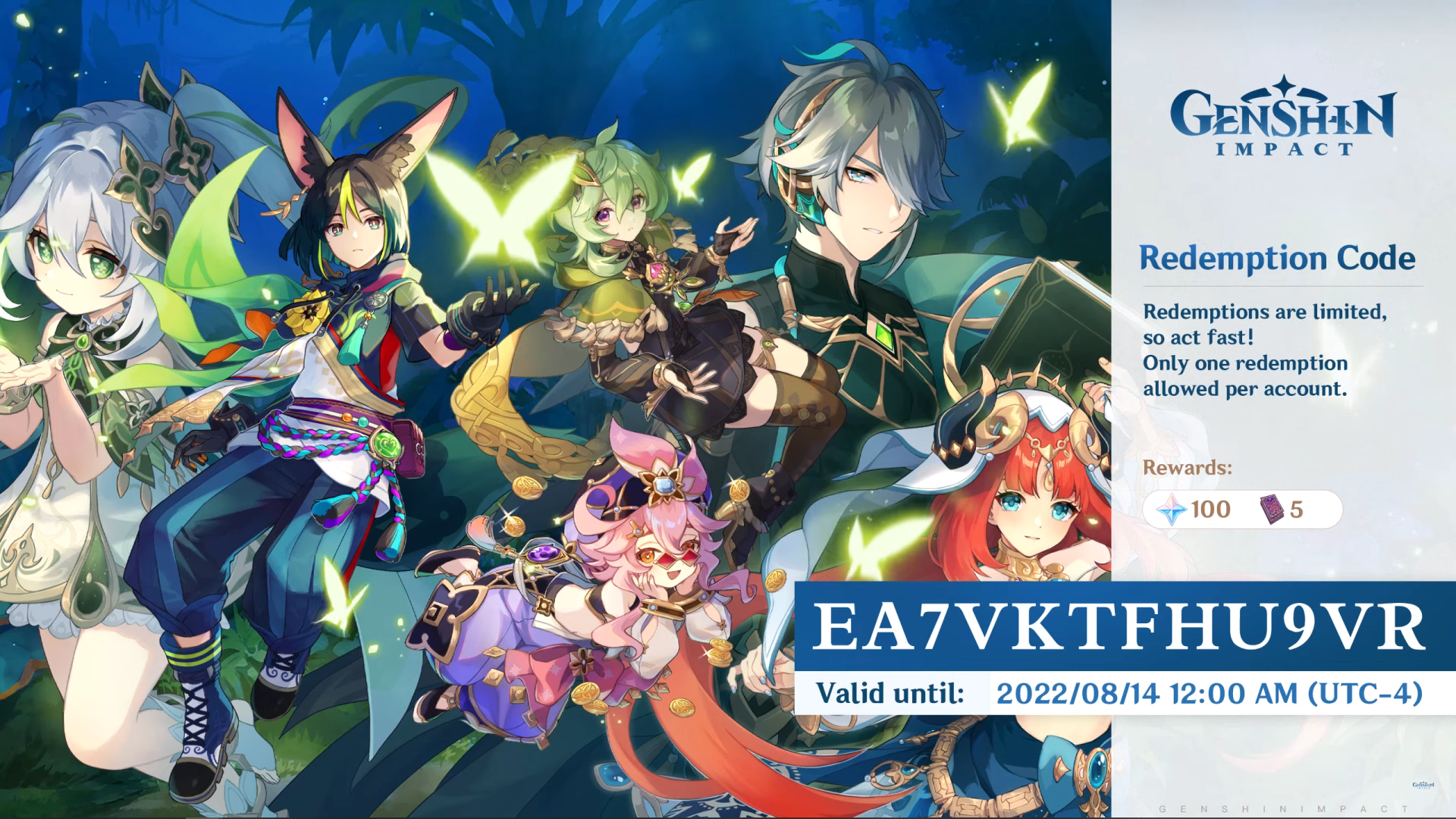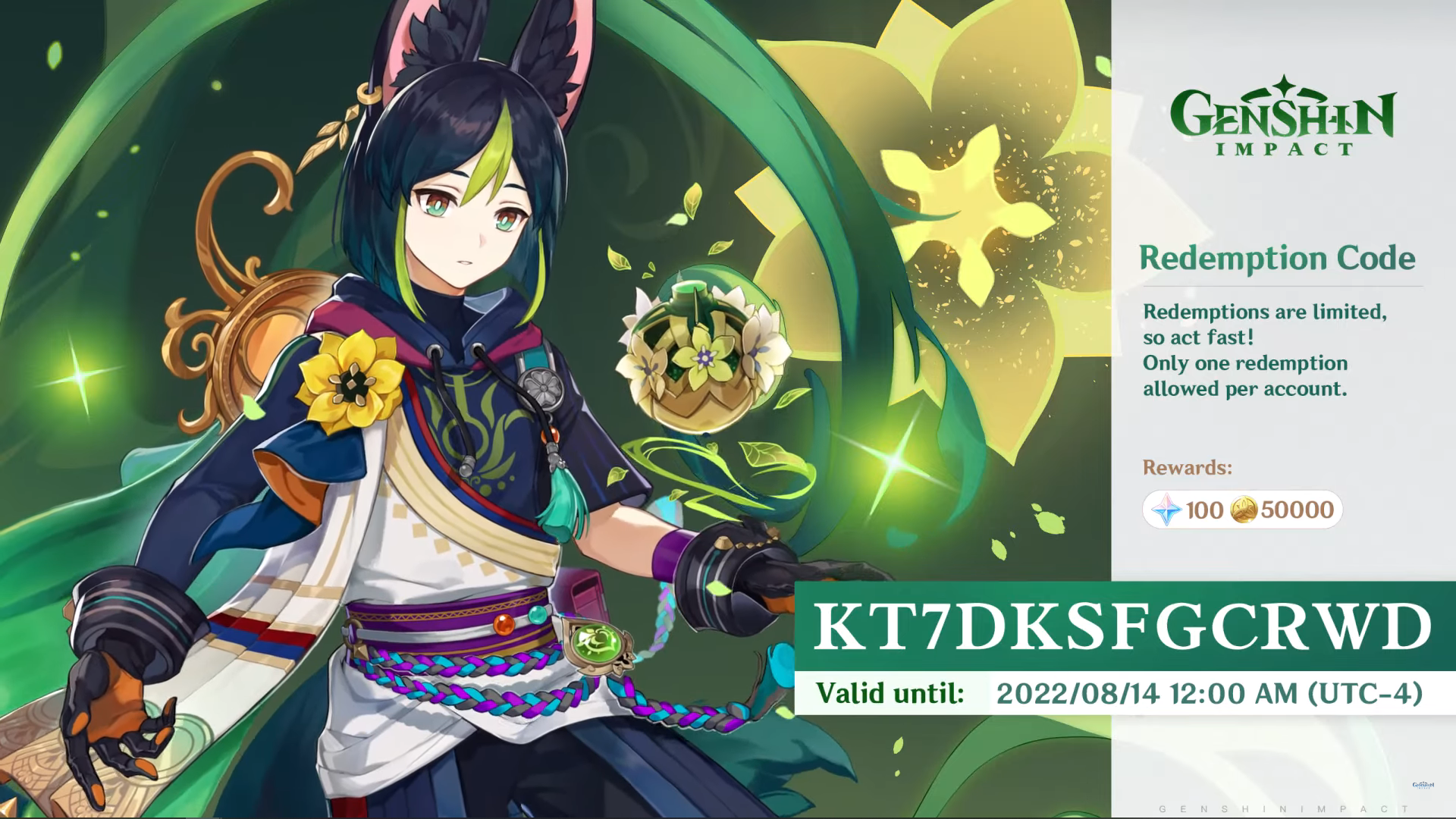 Version 3.0 New Characters
Tighnari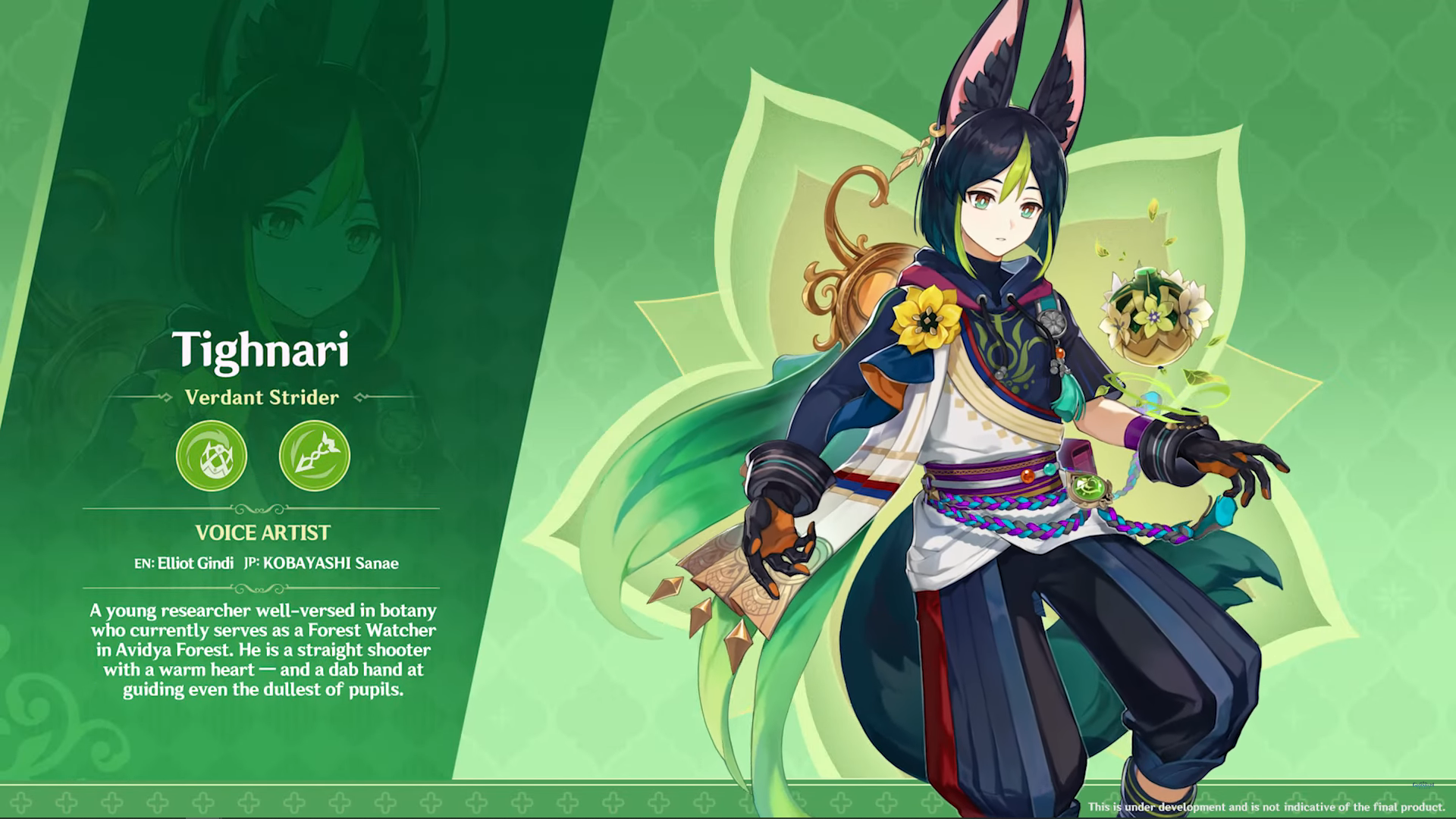 For the 5 star release, we have Tighnari, a Dendro Bow user.
Collei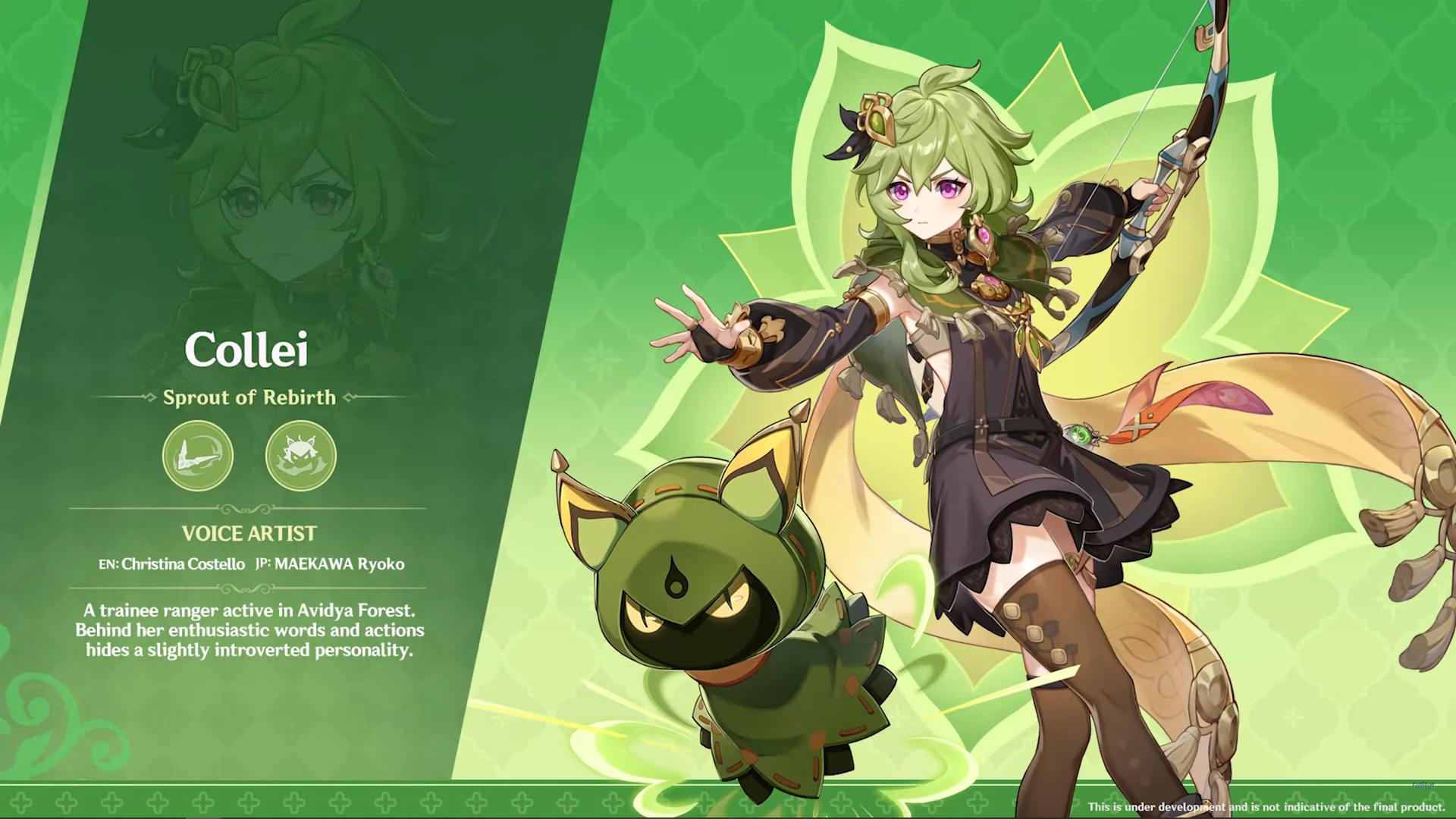 The 4-star release alongside Tighnari will be Collei, a 4-star Dendro Bow user.
Dori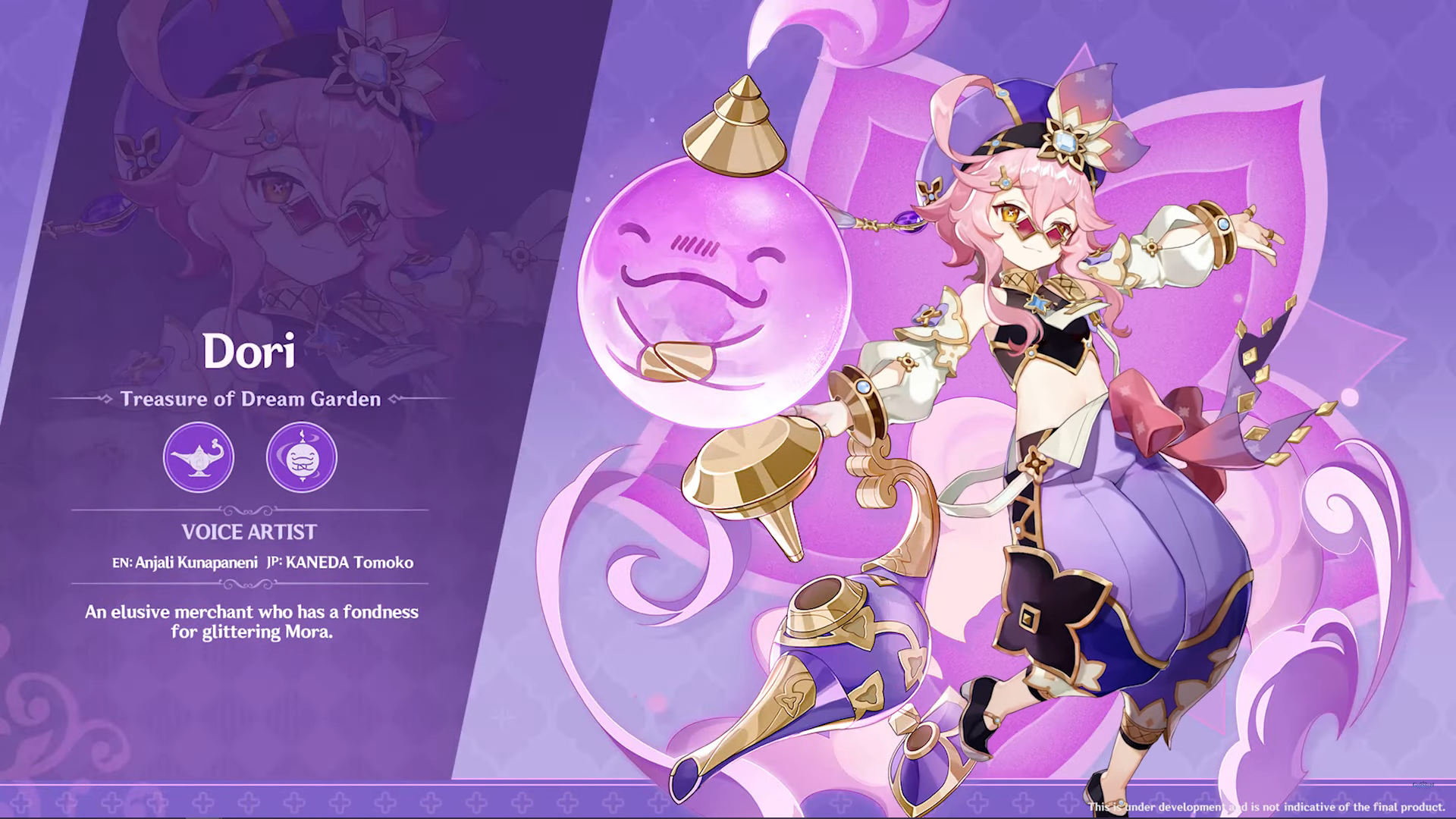 Lastly, we have Dori, a 4-star Electro Claymore user.
3.0 Banners and Reruns
Tighnari and Zhongli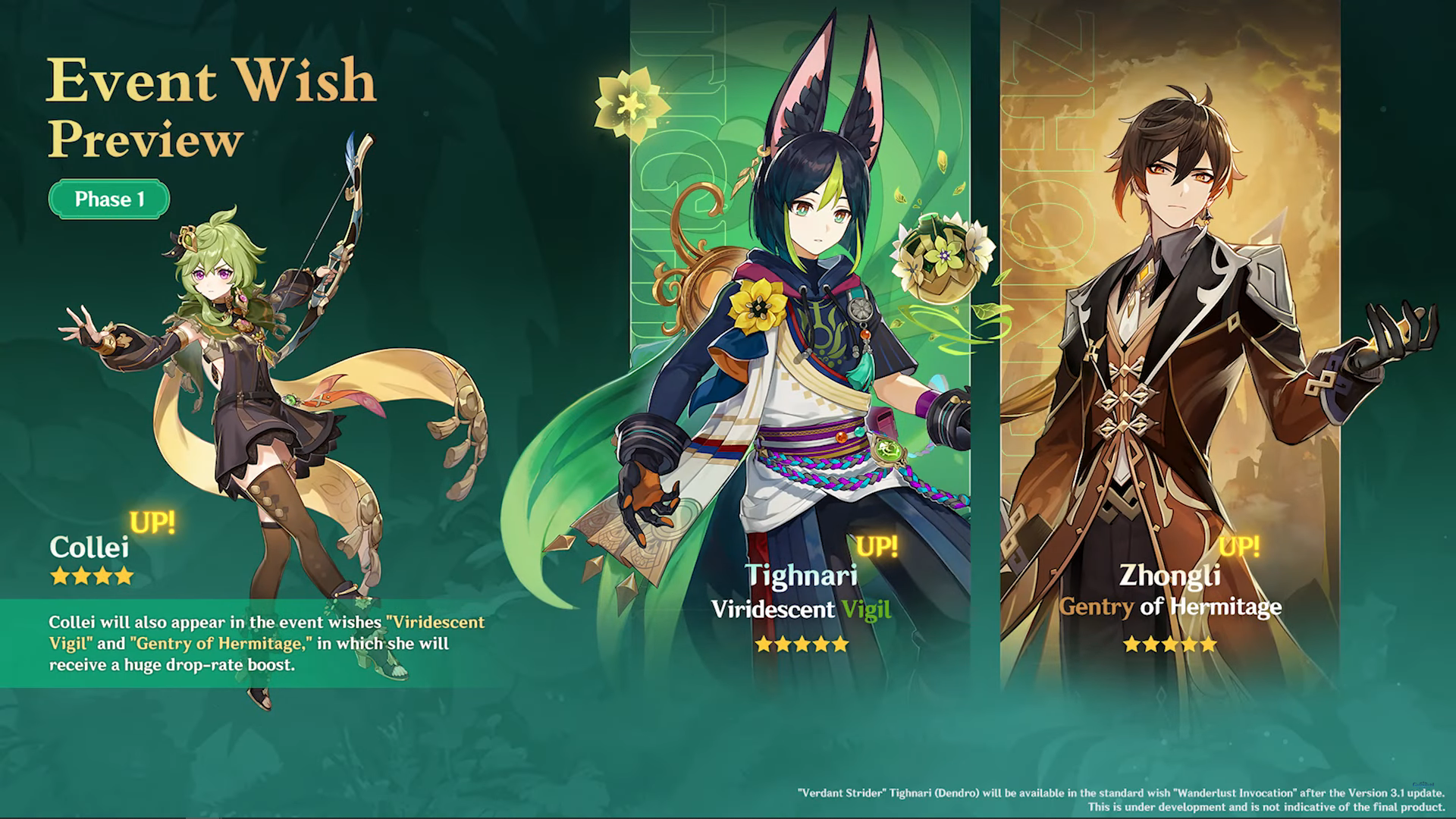 Tighnari will be releasing on part 1 of Version 3.0 alongside a rerun of Zhongli.
Collei will also be featured as one of the 4-stars on these banners, and will also appear in an event reward as well.
Ganyu and Kokomi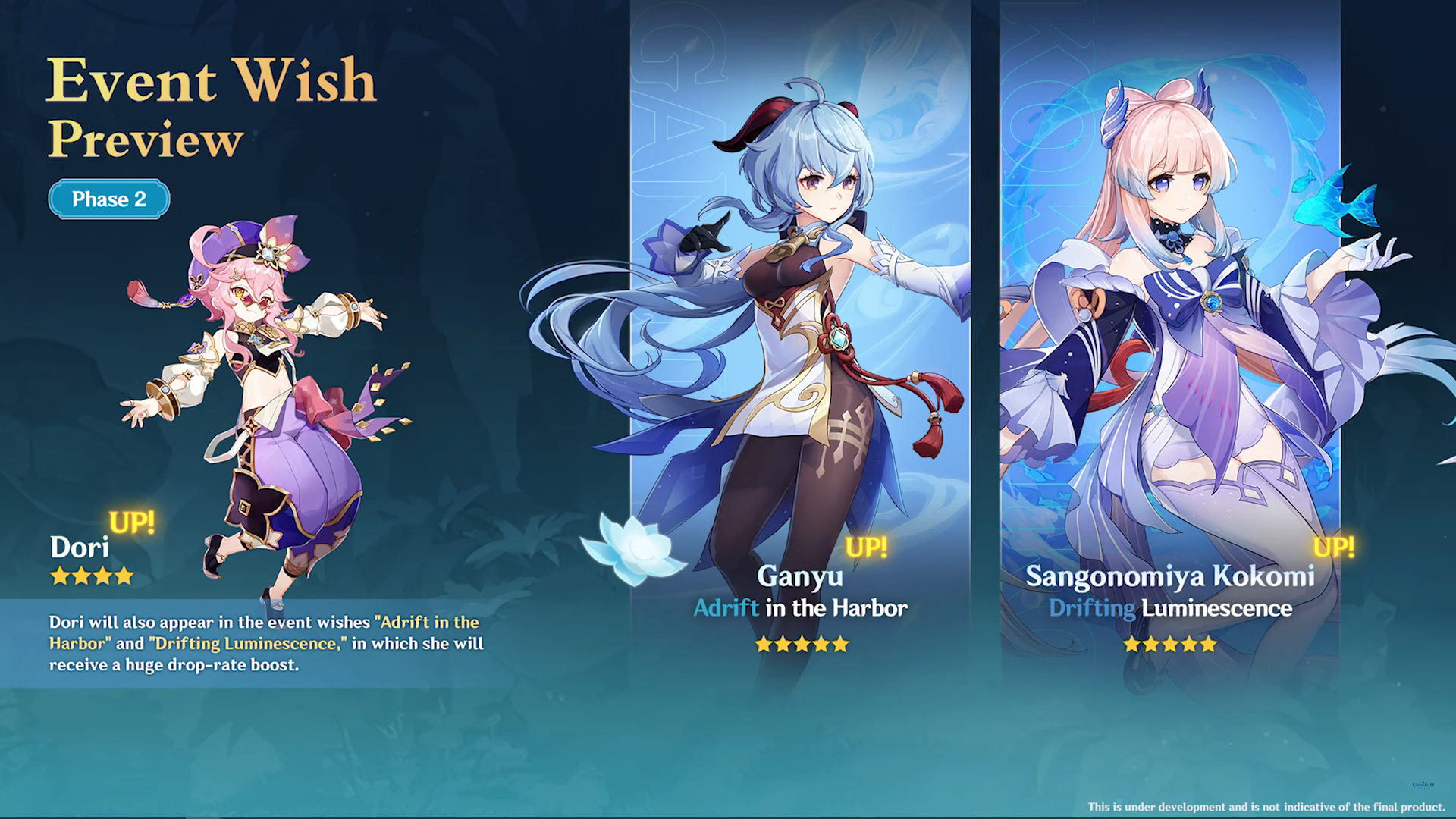 In the second half of 2.6, we will be getting a rerun of Ganyu and Kokomi.
Dori will be one of the featured 4-star characters on these banners as well.
New Weapons
Hunter's Path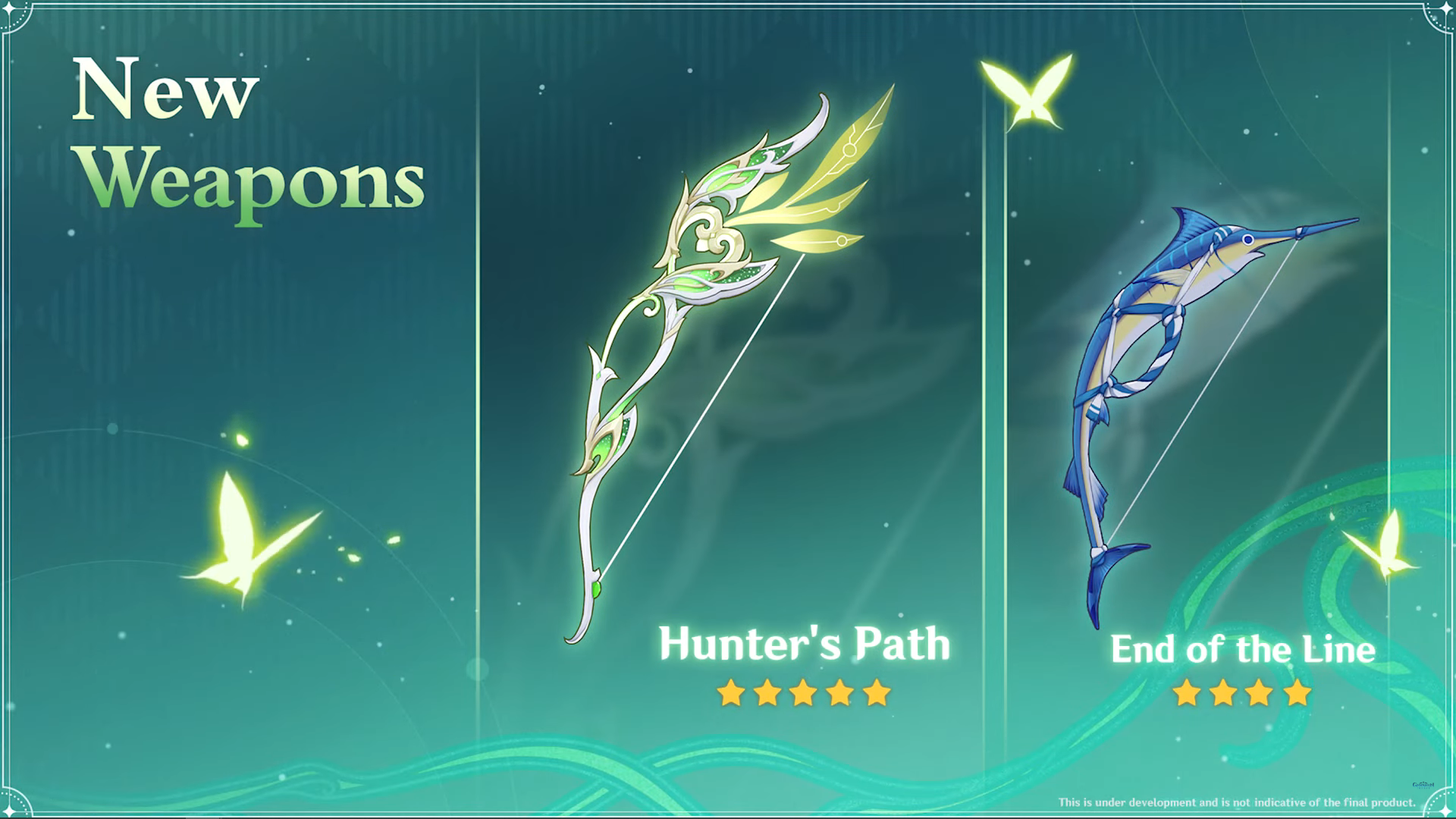 With a new limited character comes a new limited weapon as well. We don't know the exact details of this weapon yet, but hopefully it's a good one.
Since we know that Zhongli will be rerun alongside Tighnari, we can assume the weapon banner will be Hunter's Path and Vortex Vanquisher.
The second half of 3.0 will also follow suit bringing the signature weapons for Ganyu and Kokomi most likely.
New Forgeable Weapons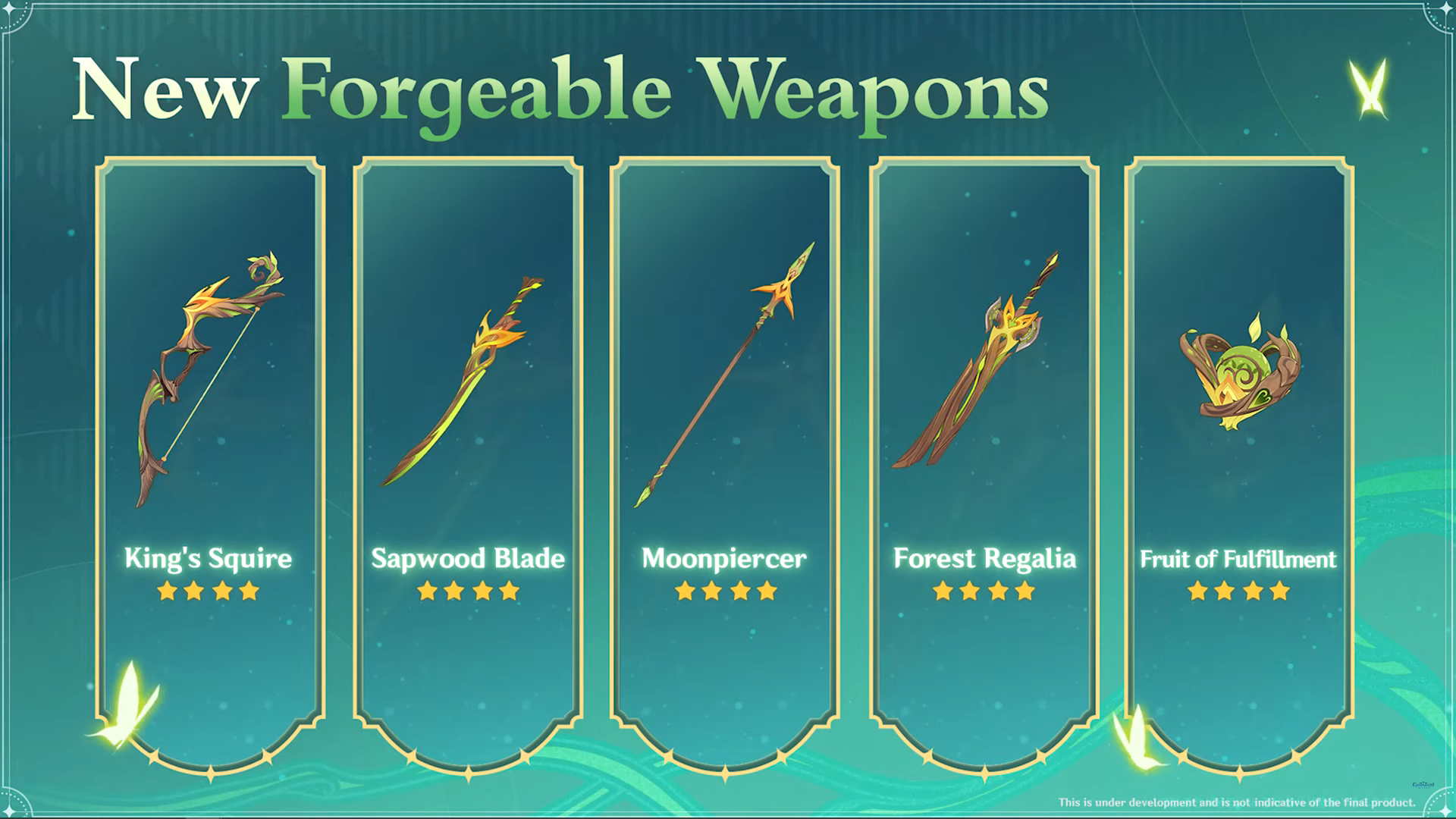 We've been teased the new forgeable weapons for the new region. Hopefully these become solid meta picks.
Tighnari Story Quest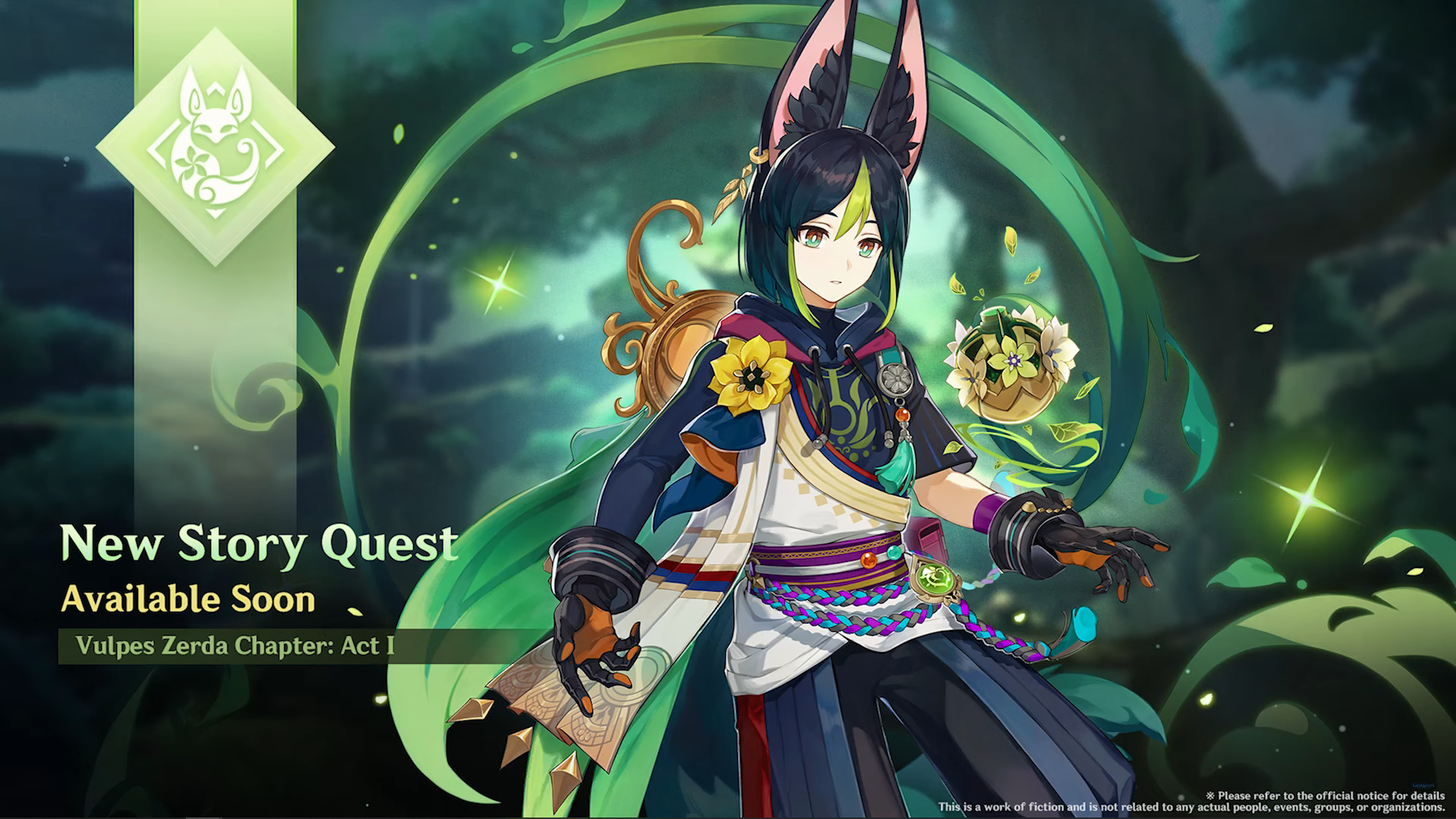 Of course, along with a new character will come a Story Quest to accompany them. Make sure to have a Story Key ready for this new quest.
Sumeru
Of course, the main attraction of Version 3.0 will be the new region Sumeru. There's going to be plenty of new content in this new region. Here are some pictures teased in the Special Program.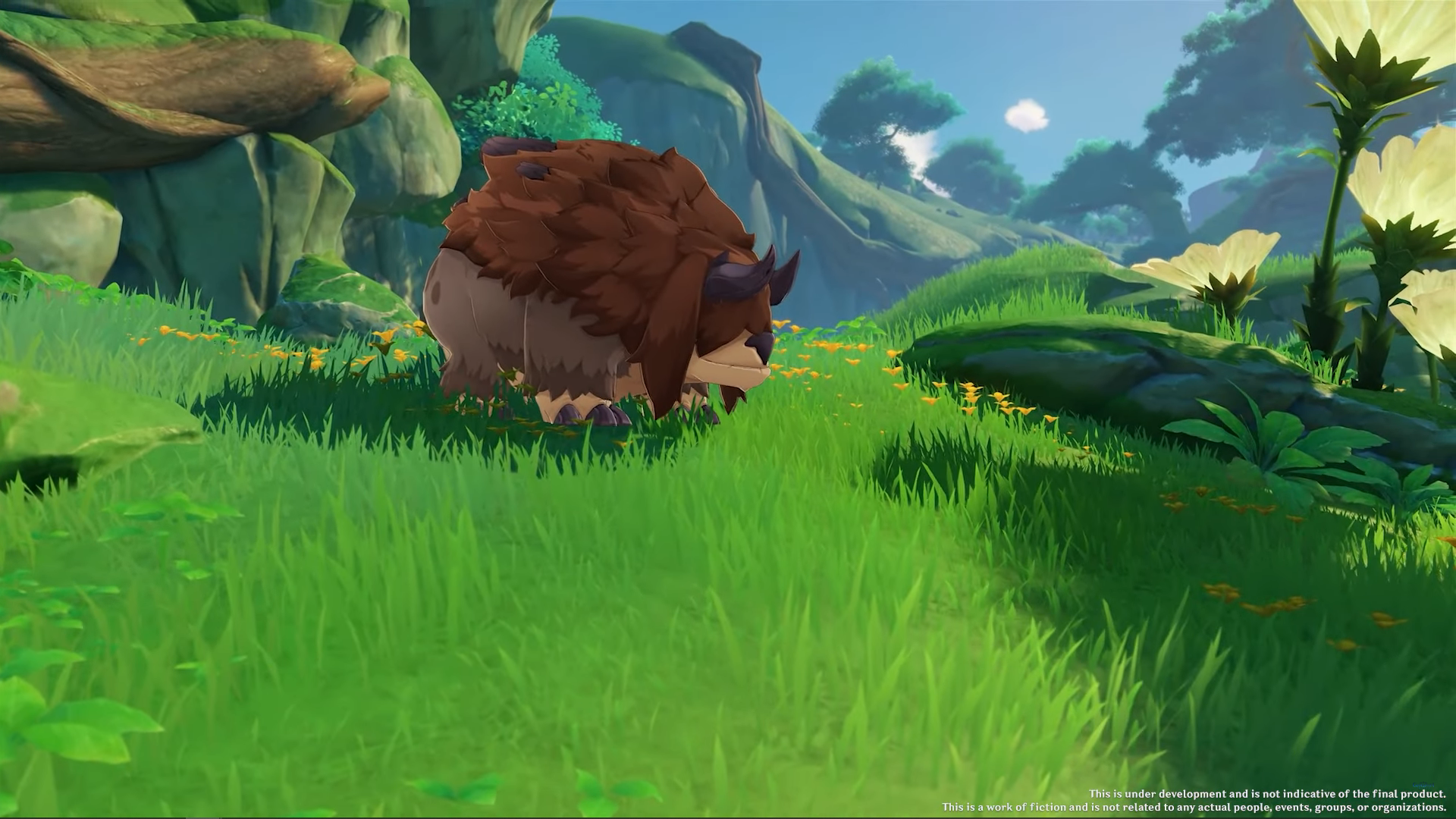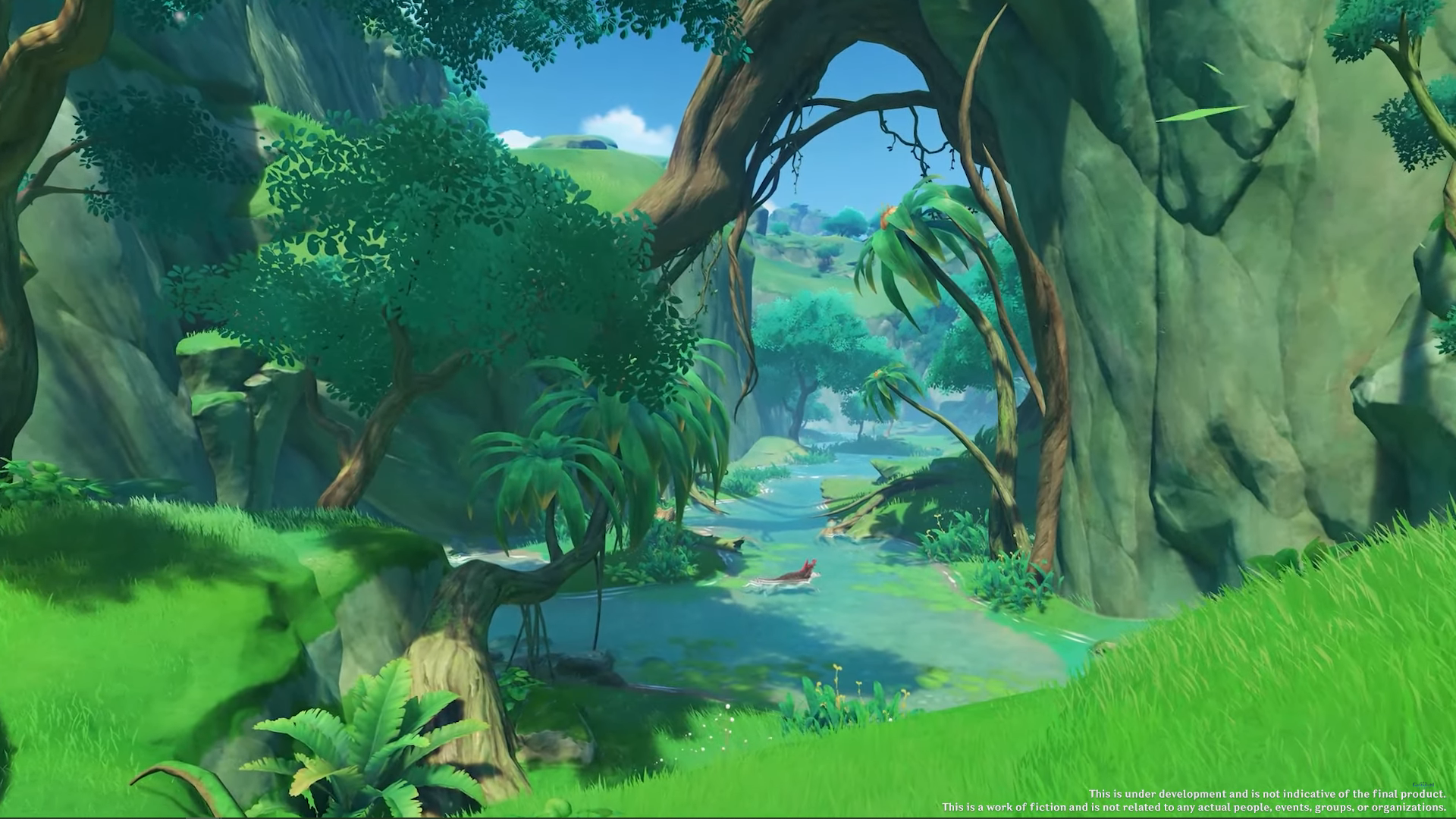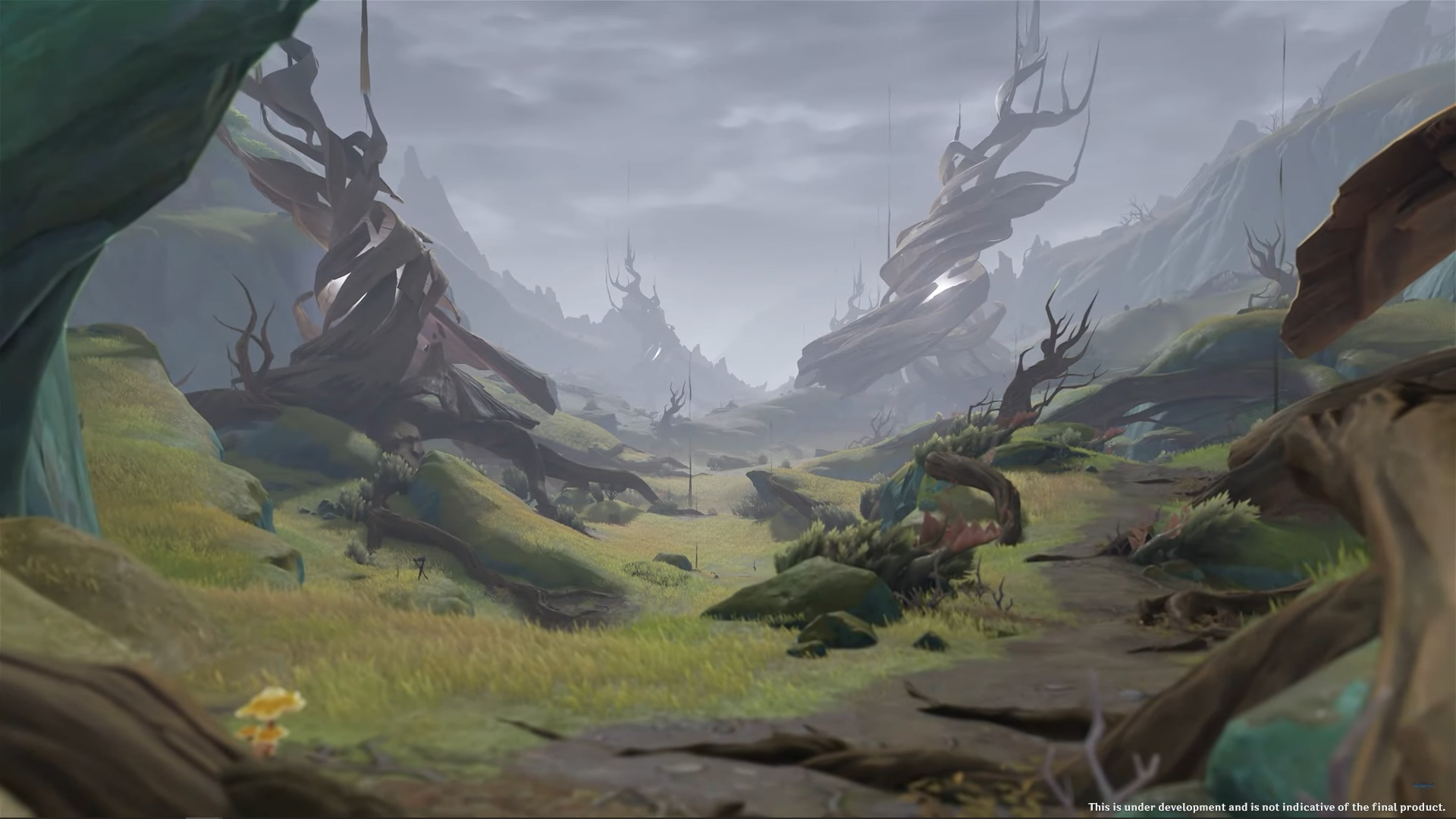 New Artifacts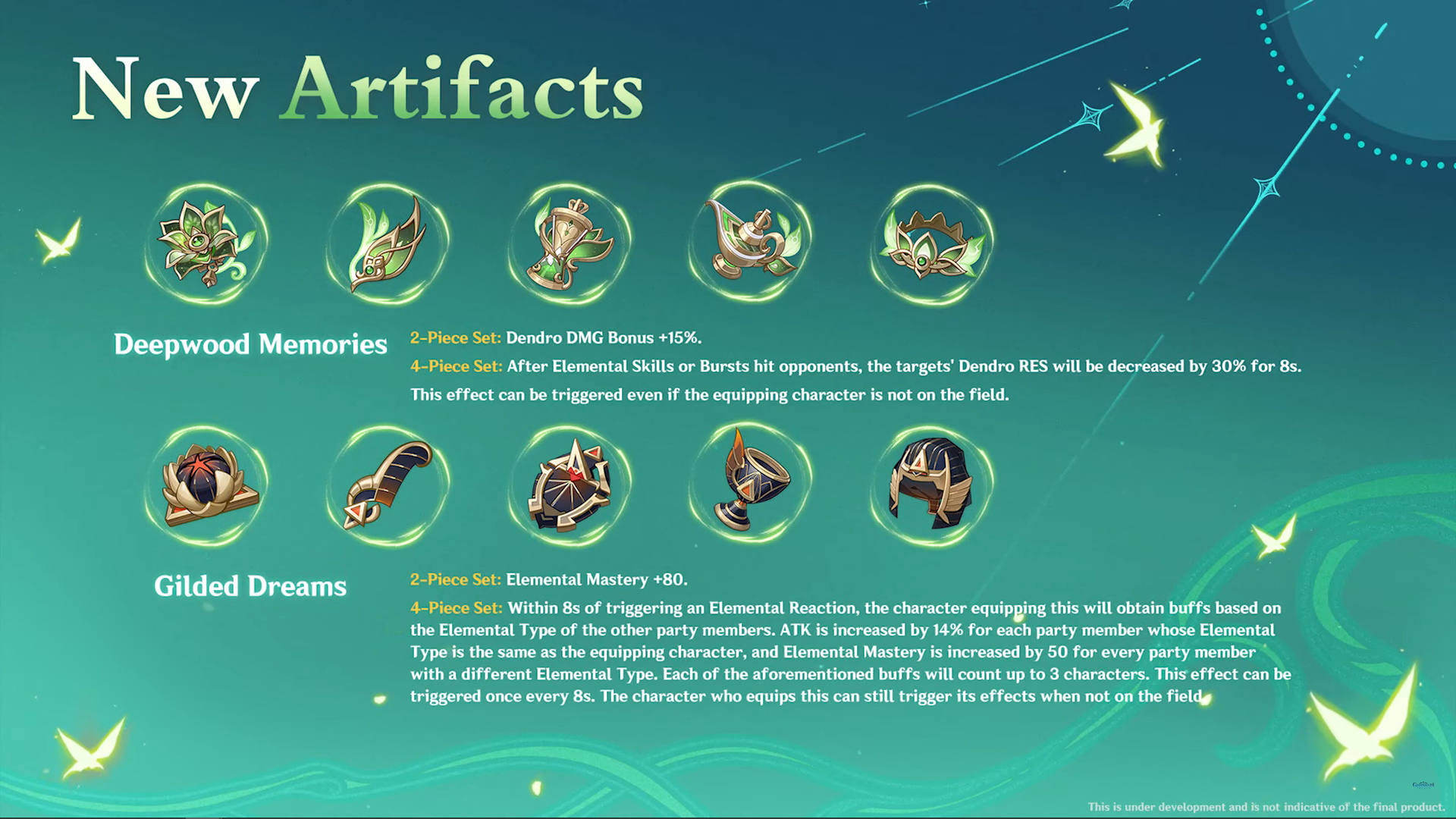 Sumeru will also introduce a new Domain for us to farm artifacts. These two new sets are very intriguing, and it'll be interesting to see how good they are on characters.
Deepwood Memories
2-Piece Set: Dendro DMG Bonus +15%
4-Piece Set: After Elemental Skills or Bursts hit opponents, the targets' Dendro RES will be decreased by 30% for 8s. This effect can be triggered even if the equipping character is not on the field.
Gilded Dreams
2-Piece Set: Elemental Mastery +80
4-Piece Set: Within 8s of triggering an Elemental Reaction, the character equipping this will obtain buffs based on the Elemental Type of the other party members. ATK is increased by 14% for each party member whose Elemental Type is the same as the equipping character, and Elemental Mastery is increased by 50 for every party member with a different Elemental Type. Each of the aforementioned buffs will count up to 3 characters. This effect can be triggered once every 8s. The character who equips this can still trigger its effects when not on the field.
New Archon Quest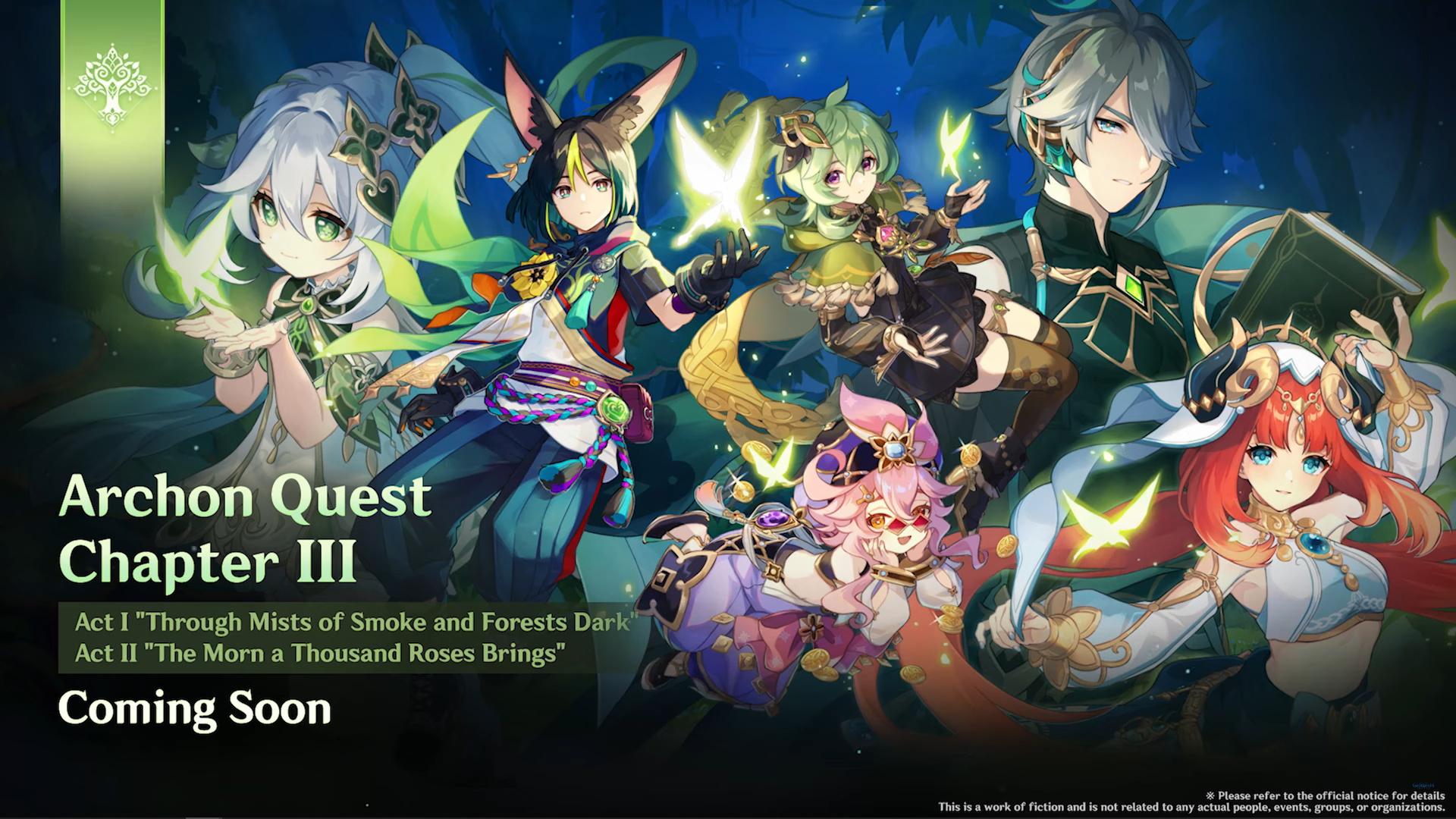 Of course, with a new major update, we will have a continuation of the Archon Questline.
New Bosses
With the new region, we have two new boss monsters to farm materials for ascensions.
Jadeplume Terrorshroom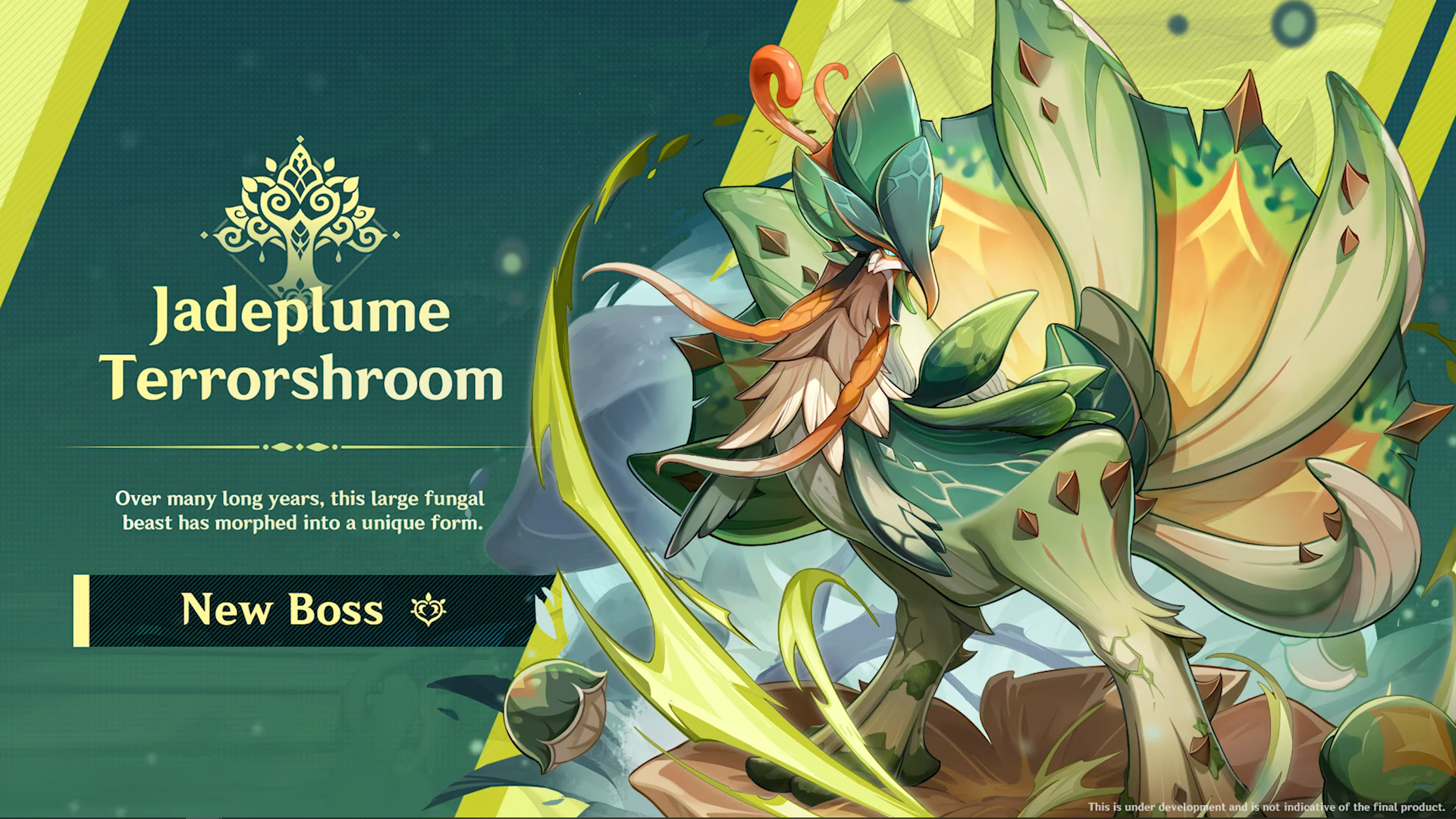 Electro Regisvine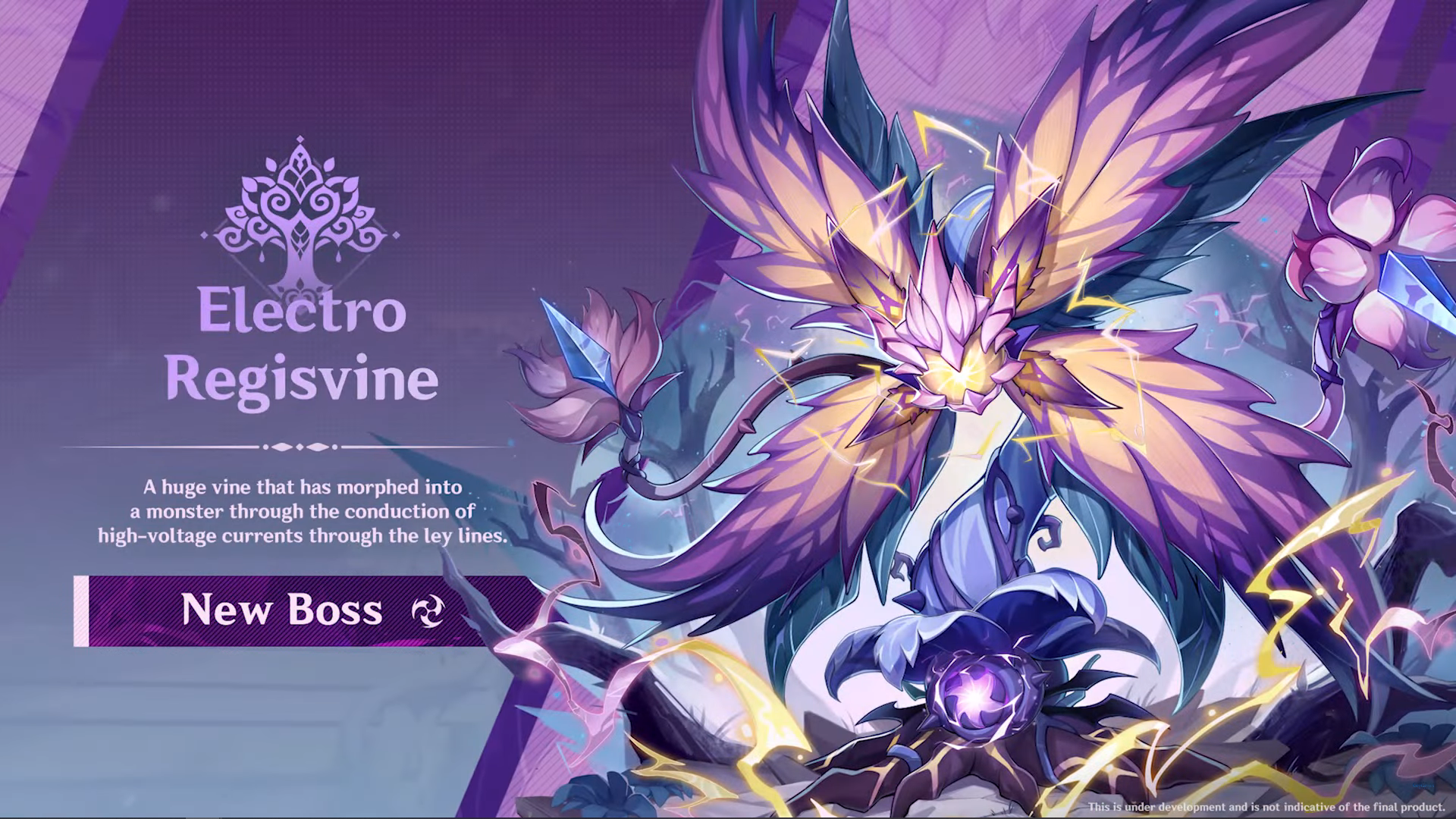 Events
Update 3.0 will also be bringing a lot of new events. This means a lot of free rewards assuming you complete all of the events before time is up.
Graven Innocence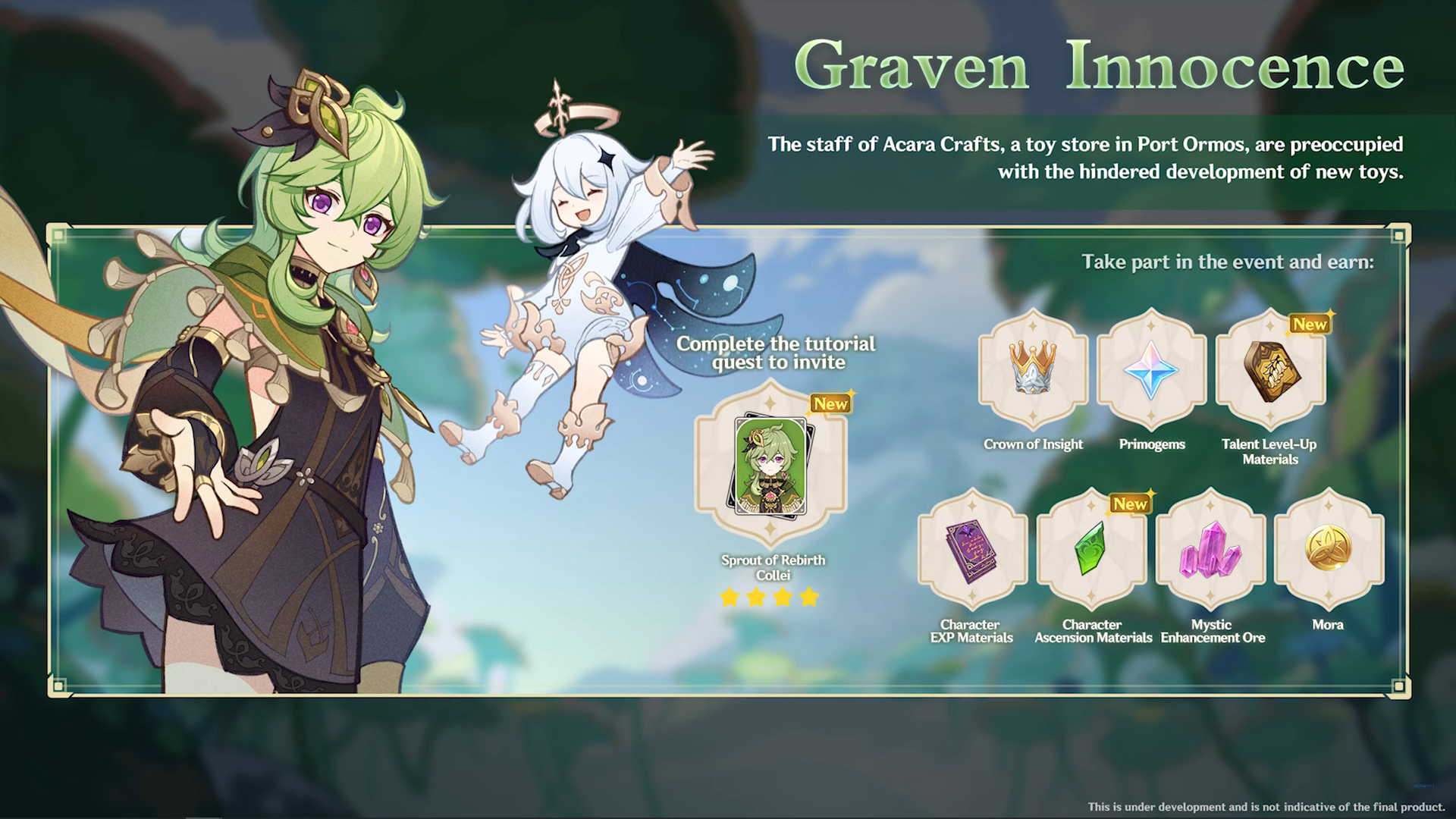 Fayz Trials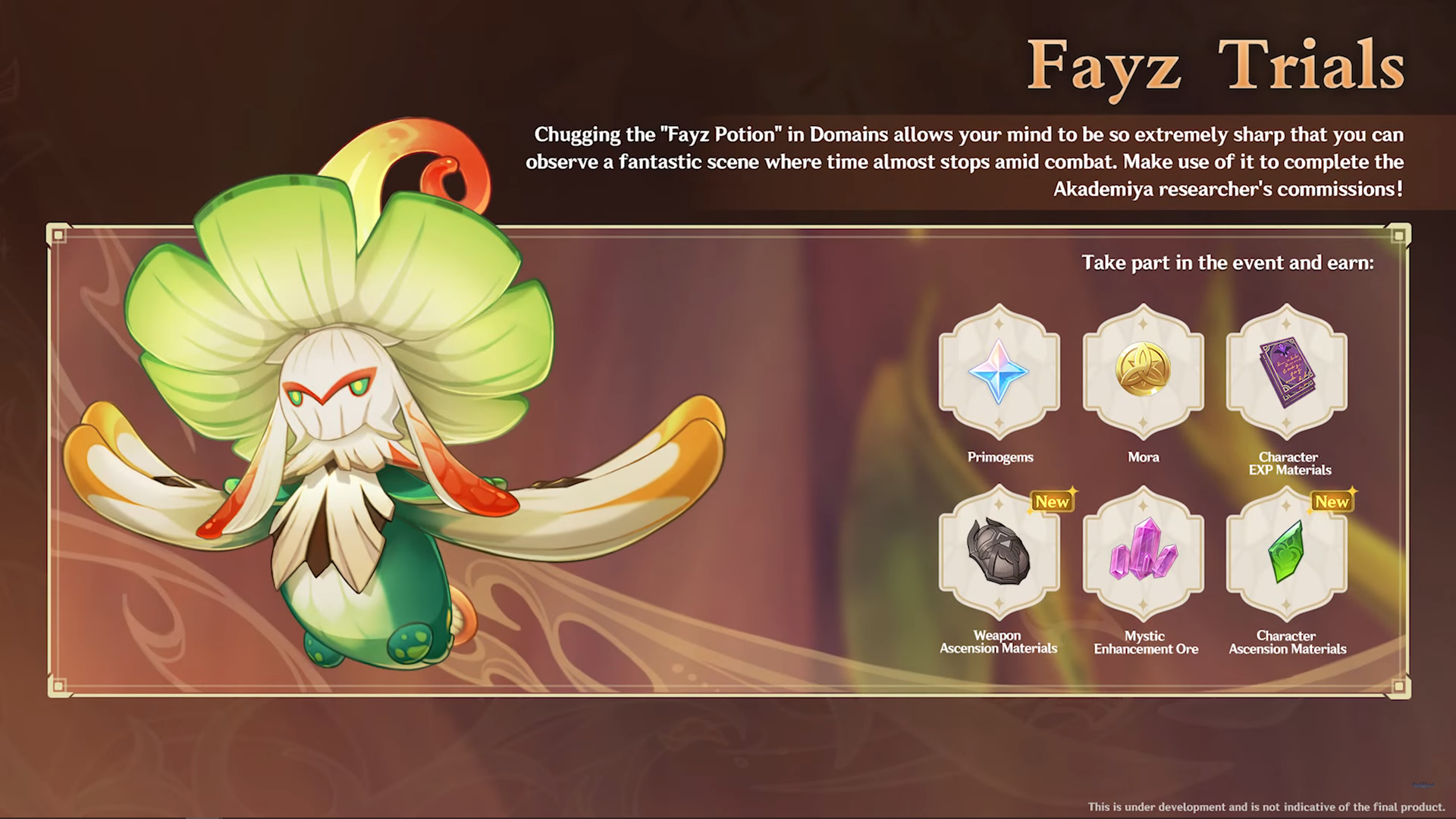 Tablet Analytics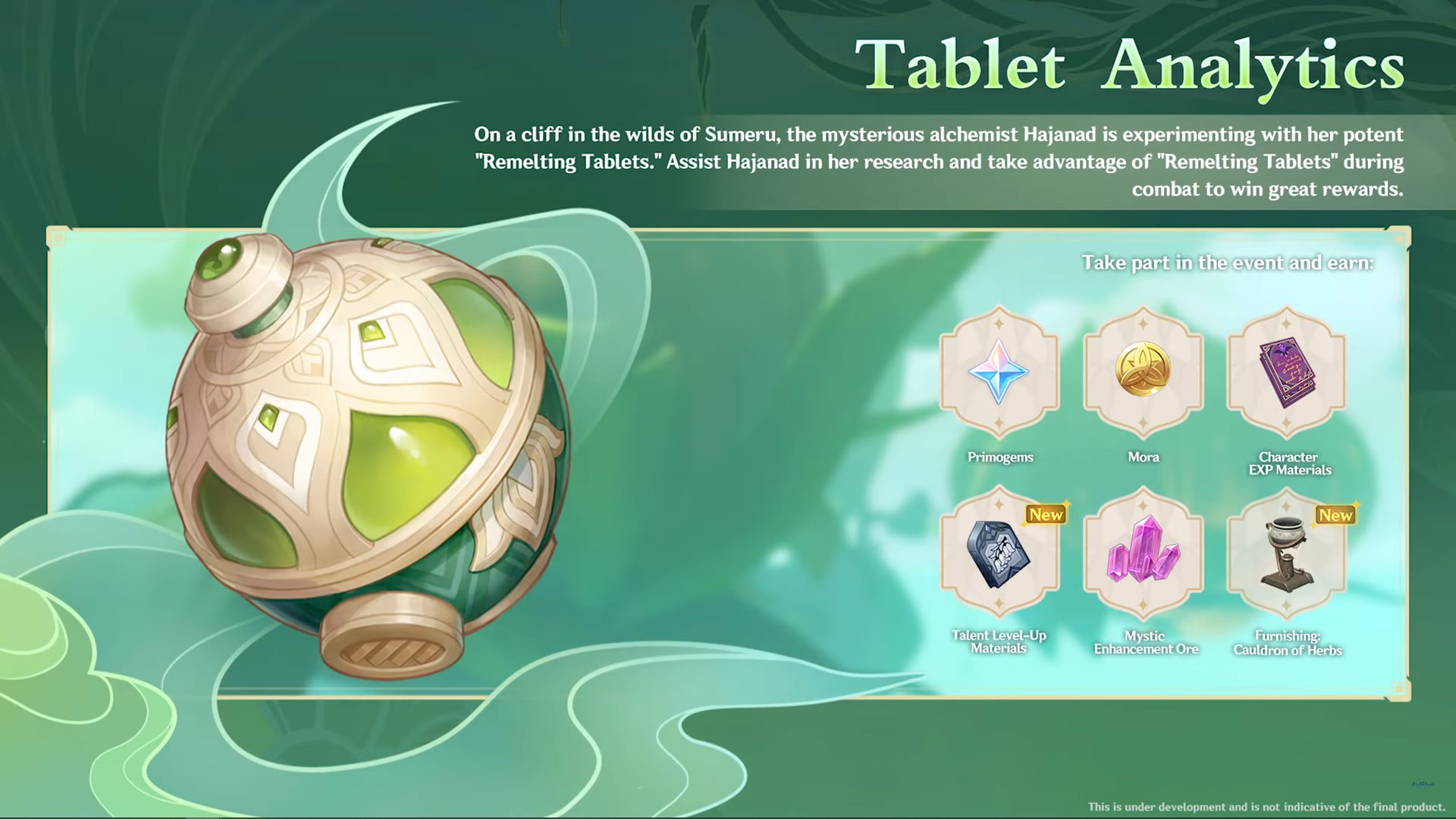 Lost Riches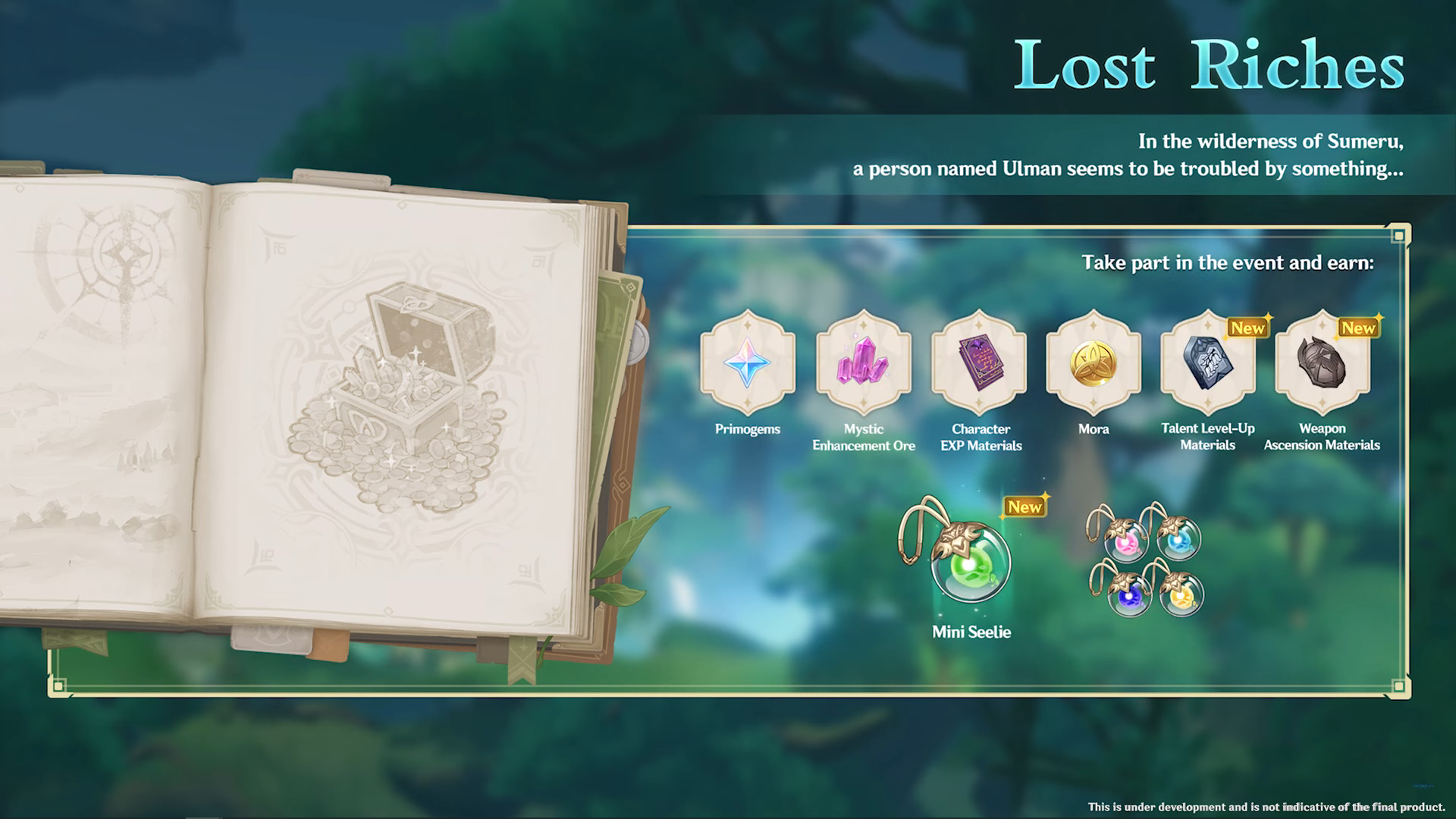 Wrap Up
That concludes all of the new content teased in the 3.0 Special Program. This update will release on August 24th, so make sure to save up your Primogems and get ready for the new content.