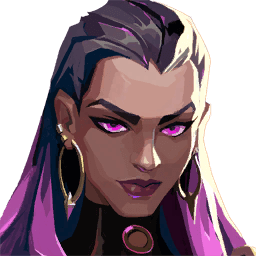 Reyna 
• Valorant
"Give me your heart!"
Class
Duelist
c
q
e
x
EQUIP an ethereal, destructible eye. ACTIVATE to cast the eye a short distance forward. The eye will Nearsight all enemies who look at it.

Since two of her abilities require kills to be used (assists do count), she has a very high risk, high reward playstyle.
If she's consistently getting or participating in kills, she can be nearly unstoppable, especially with her ultimate, xEmpress
. However, if she's having a bad game, she can be near useless compared to other agents.
Advice
c

Leer

is an incredible engage tool since it doesn't affect your allies (we've all been blinded by friendly Phoenix

q

Curveball

). Be sure to communicate and coordinate your pushes to maximize its effect.
Since enemies can destroy it, try to cast

c

Leer

up in the air or away from you. This will help split their gaze as you peek.
Wondering whether to use

q

Devour

or

e

Dismiss

? In general, if you have some room to breathe after a fight, choose

q

Devour

. If you land a kill but you're still in danger, avoid giving the enemy team a trade by using

e

Dismiss

and escaping to cover.