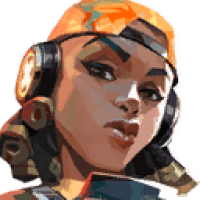 Raze 
• Valorant
"Fire in the hole!"
Class
Duelist
c
q
e
x
EQUIP a Boom Bot. FIRE will deploy the bot, causing it to travel in a straight line on the ground, bouncing off walls. The Boom Bot will lock on to any enemies in its frontal cone and chase them, exploding for heavy damage if it reaches them.

Raze has the most damage abilities of all the Valorant agents, making her an ideal entry fragger.
With an arsenal that includes cluster grenades, detonating packs, and even an exploding robot on wheels, she excels in sieging on offense and making enemies think twice about approaching on defense.
She has a surprising amount of mobility as she can use her qBlast Pack
to jump and maneuver around the map.
Advice
Similar to Jett and Phoenix, Raze's

e

Paint Shells

get refilled after contributing to two kills and/or assists. Keep this in mind since kills come very easy to Raze, you'll often have rounds where you can use two and even more

e

Paint Shells

.

q

Blast Pack

can be used to boost

c

Boom Bot

into the air. Use this to kill enemies hiding behind boxes and other terrain.
Raze's

x

Showstopper

and

q

Blast Pack

pack both have timers as soon you activate them. Something to remember is that you can switch in between your guns and other abilities before the timers expire. For example, you can activate your

x

Showstopper

, switch to

e

Paint Shells

and throw that, jump in the air with a

q

Blast Pack

, and then shoot your

x

Showstopper

as long as its timer hasn't ran out.