Magic Misadventures LoR Spoilers Day 1
Hey guys NicMakesPlays here.
Today I'm going to go over the first card reveals of the new expansion, Magic Misadventures!
We'll be revealing the new card every day at 9 AM Pacific so be sure to check in each day until the set's release.
To see the other past and future reveals for Magic Misadventures, check them out here.
Here are the cards from today's reveal package:
Minion (Bandlewood + Shadow Isles follower)
Yordle Captain (Bandlewood follower)
Grumbleslug (Bandlewood + Bilgewater follower)
Minion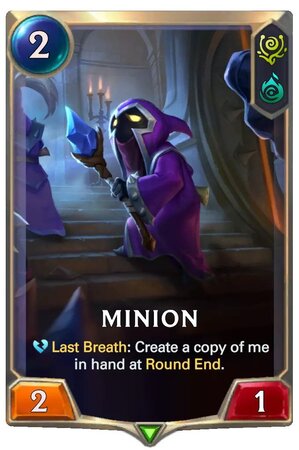 Minion

2 mana 2|1 unit
Text – Last Breath: Create a copy of me in hand at Round End.
Minion is a nice chump blocker that can give recurring value with Last Breath. Shadow Isles gains a lot of value out of Last Breath effects with cards like Ravenous Butcher, Glimpse Beyond, and Spirit Leech.
I think the most competitively viable usage of this card is how it changes Bandle City's multi-region decks like Bandle Tree.
This card gives continuous blockers for Bandle Tree and is also an option to be picked/discounted by Bandle City Mayor.
With Bandle City Mayor up this card is a continuous 1 mana chump blocker which is powerful.
Yordle Captain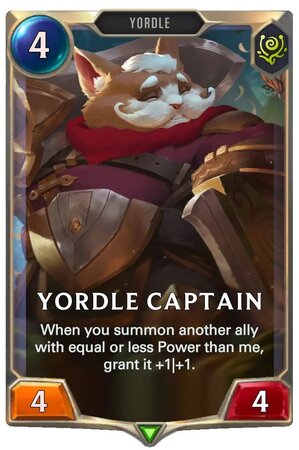 Yordle Captain

4 mana 4|4 unit
Text – When you summon another ally with equal or less Power than me, grant it +1|+1.
Yordle Captain is a huge buff for Poppy Lulu Bandle City decks. As of lately Poppy has been paired with Zed and Elusives to push for huge unblockable damage.
Since Yordle Captain is from Bandle City, this could give life again to Poppy Lulu Yordles in Arms decks with Yordle Smith.
Grumbleslug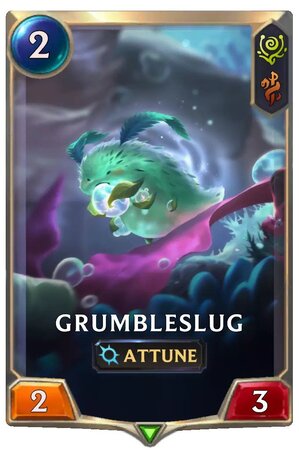 Grumbleslug is an amazing unit boasting a good 2/3 defensive stat line and Attune for 2 mana. This will significantly help Bandle Tree decks by giving them another Bilgewater follower that isn't Fizz.
This is huge because Fizz takes up a Champion slot but Grumbleslug doesn't. On top of this, a 2/3 with Attune is already amazing value, so when discounted by Bandle City Mayor it makes it that much better.
Bonus Deck: Updated Poppy Lulu
This card can see play in Bandle Tree or see play as a generically well-valued card.
Yordle Captain can be a great addition to the Lulu Poppy deck I hit Rank #1 with last season.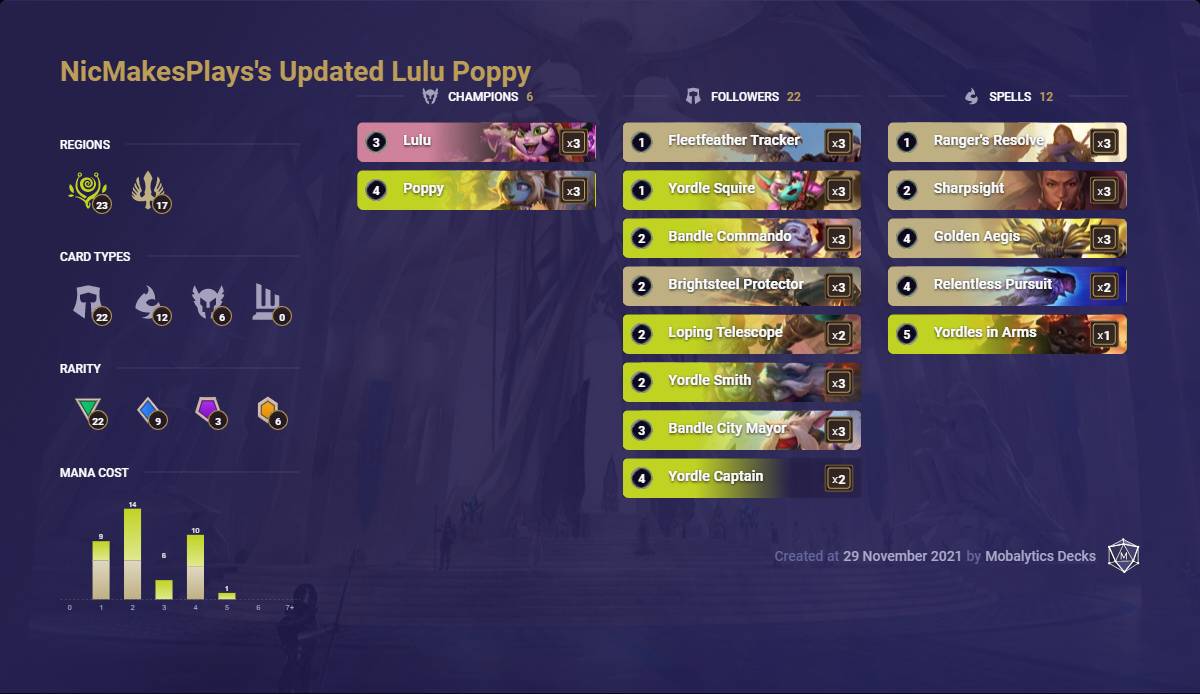 Deck Code: CEDAEAIABEOQCAQAA4CQKCRJOSIQDJYB5MAQCAYABYAQGAQCAECAAAQCAICQU6FPAEAQCAAVAEAQKCTP
[See Updated Lulu Poppy deck details]
Compared to the Poppy Zed Elusive version, this deck is able to make use of powerful cards such as Yordle Smith and Bandle City Mayor.
The only changes I made were taking out 1x Loping Telescope and 1x Relentless Pursuit in favor of 2x Yordle Captain.
There may be more changes on the way as more cards are revealed but give it a shot!
Thanks for reading! For more impressions, check out the rest of our Magic Misadventures reveal articles.