How to Play Draven Jinx
Hey everyone, NicMakesPlays here to give you a deck guide for the Draven Jinx deck I got Rank #1 with this season.
This is an aggressive archetype that can end games quickly, making it a great choice if you want to climb fast.
The archetype has been around for a long time but has gotten some new tools like Survival Skills from the recent expansion.
In this guide, I'll cover the deck's win condition, mulligans, matchups, tips/tricks, and more.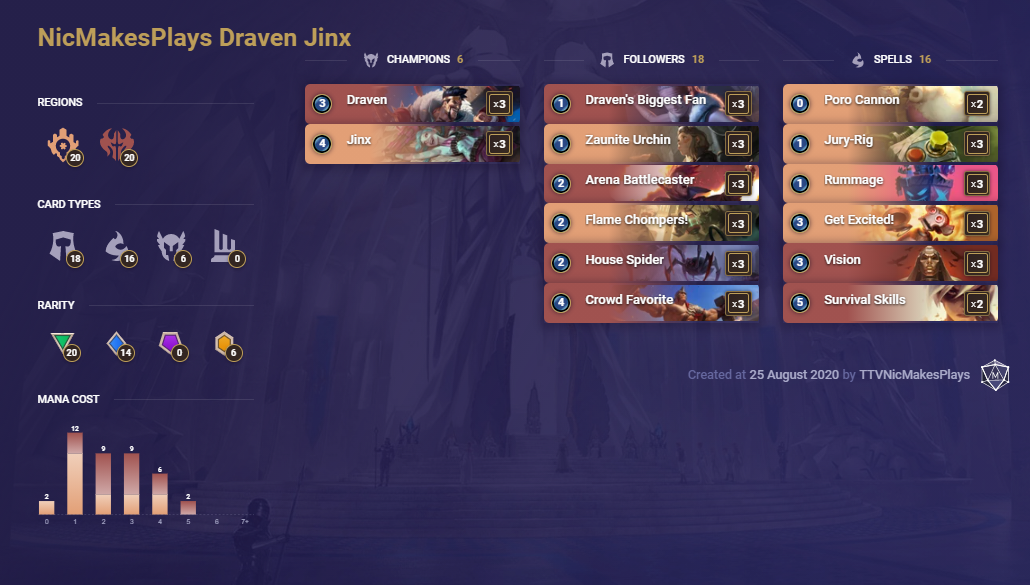 Deck Code: CEBAMAIDA4ERIIZHG4DACBABBQOCOKBNAIAQGBASAEBQGDYA
[See NicMakesPlays Draven Jinx deck details]
Goal of Deck / Win condition
The goal of this deck is to open 1-drop, 2-drop, and Draven to create wide boards that have more attackers than your opponent has blockers.
This puts on huge damage and you can also utilize the discard cards effects with Draven's Axes to make explosive turns.
Jinx is used as your reach in the deck, she gives you huge damage output with her Super Mega Death Rocket each turn while also allowing you to refuel by drawing two cards a turn with her leveled up form.
General Mulligan
In this deck, you always want to mulligan for a 1-drop, 2-drop, and Draven. If you already have all of these, the fourth card can be a discard card (Flame Chomper or Jury Rig), Jinx, or Crowd Favorite.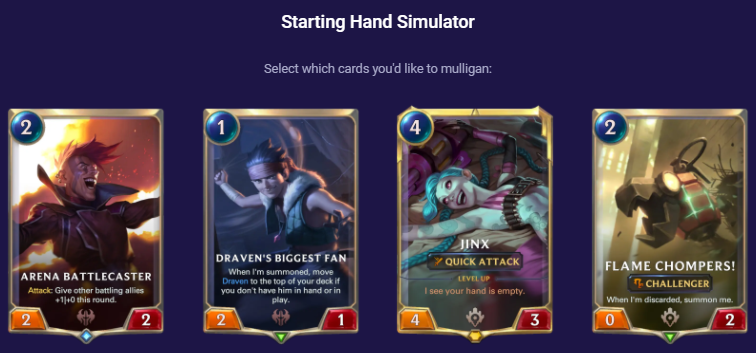 Pick House Spider or Arena Battlecaster for your 2-drop if you have the option between the two, to make a wider board
Draven's Biggest fan gives you Draven so all you need is Draven's Biggest Fan and a 2-drop for 1, 2, 3.
One of this deck's perks is its consistency to open like this which allows a strong early game.
Card Choices & Key Synergies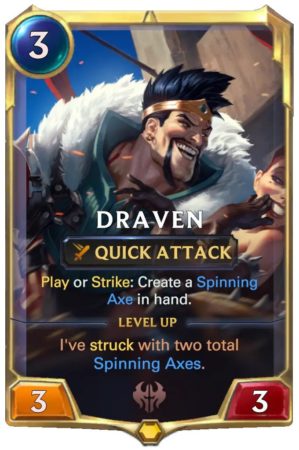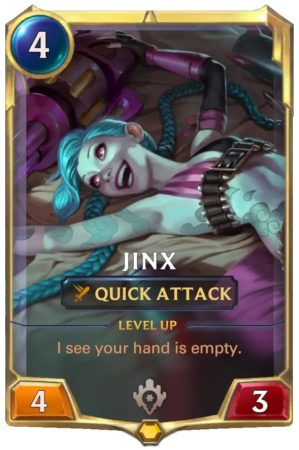 Draven's Axes allow you to empty your hand easily to level up Jinx. You can use their Quick Attack keyword to push damage that is hard to block and then empty your hand to level up Jinx and finish off the enemy Nexus with Super Mega Death Rocket.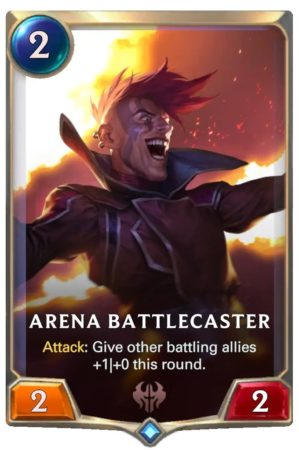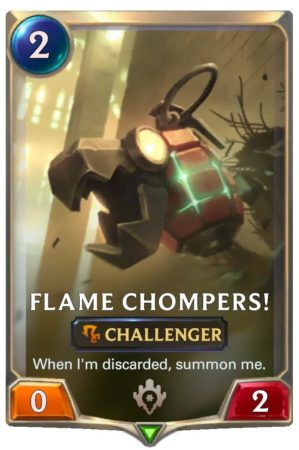 You can use Arena Battlecaster, Vision, and Draven's Axes to buff Flame Chomper's attack to remove units that have 1-3 health.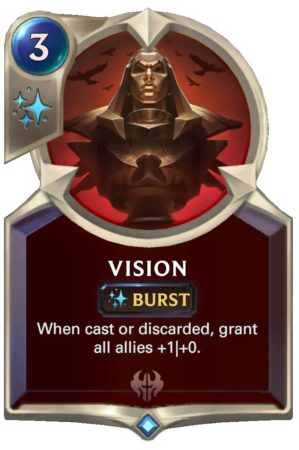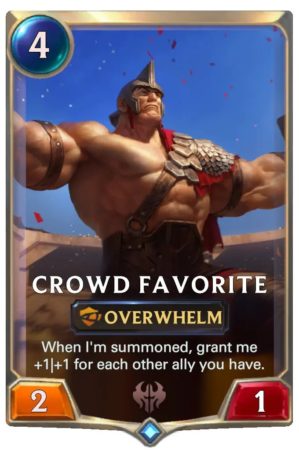 Both of these cards benefit heavily from having wide boards to push huge damage. You want to use these cards when you have 4+ units to maximize their effects and push the most amount of damage possible.
Tips & Tricks
If you summon Draven and use an Axe on him (using Jury Rig, Flame Chomper, or Vision) and attack, he is halfway to his level up.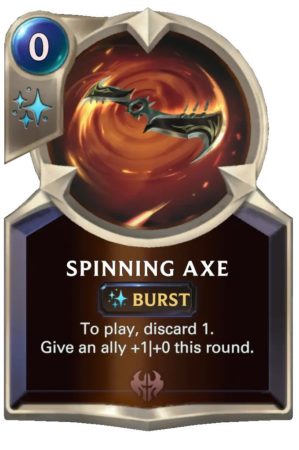 Next turn, if they attack you can use an Axe discarding Survival Skills and block with Draven.
Draven is then leveled up and you can start pushing in more damage with his Overwhelm and generating two Axes a turn.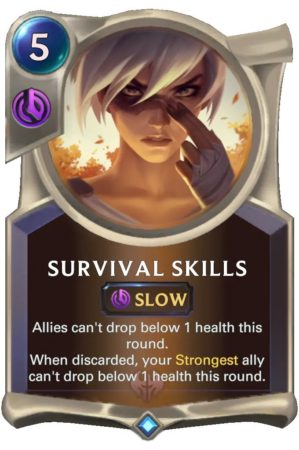 Poro Cannon can be used to activate Jury Rig, Flame Chomper, and Vision for 0 mana, while also easily creating wide boards that can help utilize the effects of Crowd Favorite, Vision, and Arena Battlecaster.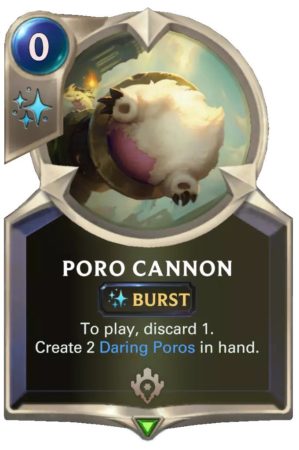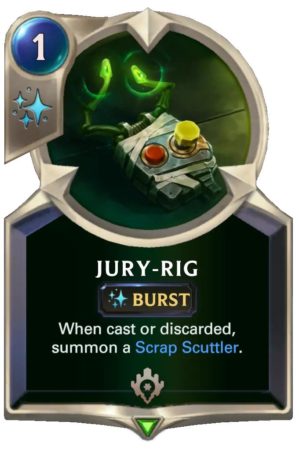 Jinx can create a Super Mega Death Rocket the same turn she levels up with the help of Rummage. If you Summon Jinx and Rummage in your hand to level her up you will draw one to two more cards.
If you empty your hand again that turn with cards like Poro Cannon you can create a Super Mega Death Rocket the turn she is leveled up.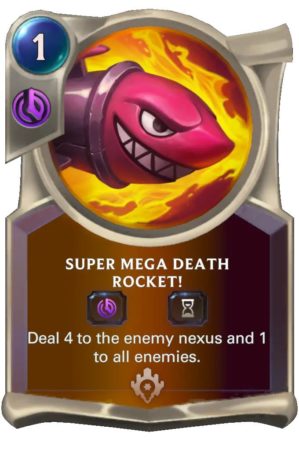 Good Matchups
The Good Matchups of this deck are unit-based decks such as Plaza decks like Scouts, Leona A Sol, and Hecarim Lucian.
You can easily out damage them by making a wider early game board and applying pressure that is hard to recover from.
You can do this by just applying the normal mulligan strategy and pushing huge pressure in the first few turns. This deck should also beat most Tier 2 decks.
Weak Matchups
The hardest matchups for this deck are ones with a lot of removal such as Feel the Rush, Go Hard and Ezreal Draven.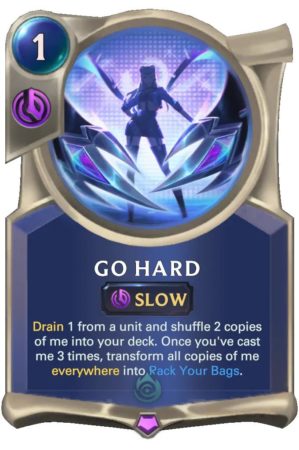 These decks can easily use Withering Wail, Go Hard, Avalanche, and other removal spells to clear your field and stop a lot of damage in the early game so you run out of steam.
The way to beat this is knowing your opponent's options with the mana they have and choosing when to open an attack.
For example, against Go Hard or Ezreal Draven, you can open attack with Draven's Biggest Fan on two to deal 2 damage before your opponent plays Elise or House Spider to block.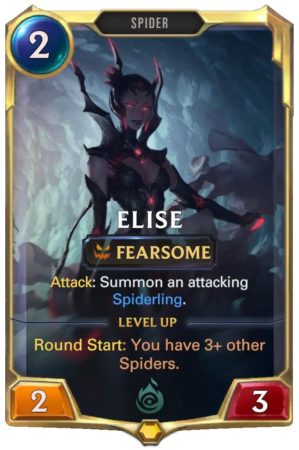 Against Feel the Rush you have to be greedy sometimes and play into Avalanche, hope they don't have it, and go for big damage in the early game.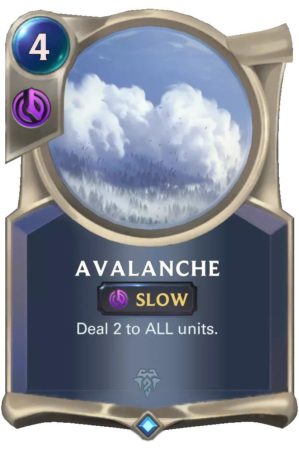 Feel the Rush should usually always beat Draven Jinx, so you have to use risk-reward analysis and make greedier plays in the early game to give yourself a chance in the mid-late game before they can start Withering Wailing your field.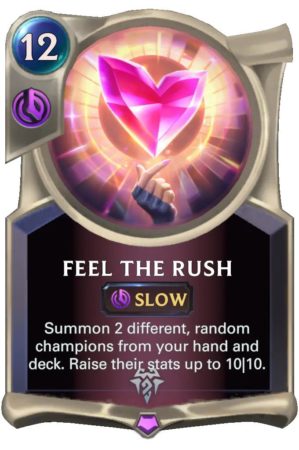 Tech Choices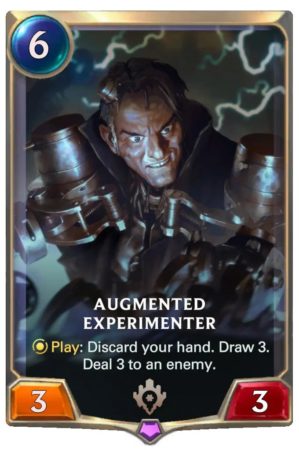 Augmented Experimenter – this card can be used to refuel your hand when you run out of steam or your opponent stops your early game. This card also allows an easy Jinx level up and is an amazing topdeck.
I hit Rank #1 with this deck and had a ton of fun along the way, I hope you guys enjoy the deck and have some crazy turns!
Thanks for reading! If you have any questions, feel free to ask NicMakesPlays during his streams (usually 6PM-1230AM EST).
Catch NicMakesPlays live at twitch.tv/nicmakesplays 6PM-1230AM EST