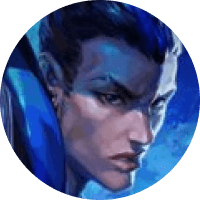 Yoru 
• Valorant
"Who's next?"
Class
Duelist
c
q
e
x
EQUIP an echo that transforms into a mirror image of Yoru when activated. FIRE to instantly activate the mirror image and send it forward. ALT FIRE to place an inactive echo. USE to transform an inactive echo into a mirror image and send it forward. Mirror images explode in a blinding flash when destroyed by enemies.

Use your cFakeout
to trick your opponents. You can place both of them and activate them towards one site, while you and your team sneak towards the other.
If you are in your Ultimate and placed your teleporter before entering it, you can press eGatecrash
-> xDimensional Drift
to cancel the Ultimate exit animation and instantly teleport.
Your eGatecrash
can be heard very easily. Always combine it with your qBlindside
or your team's flash to surpress it's sound.