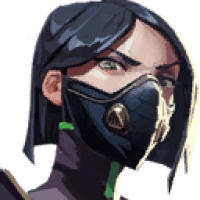 Viper 
• Valorant
"Welcome to my world!"
Class
Controller
c
q
e
x
damage
1 damage every 0.04s (25 dps)
effect
Applies Fragile debuff, 2x damage
EQUIP a chemical launcher. FIRE to launch a canister that shatters upon hitting the floor, creating a lingering chemical zone that damages and slows enemies.

Viper uses poisonous gases and chemicals to control and shape the battlefield to her will.
She uses a unique fuel system that allows her to turn her gases off and on as needed.
When she has her ultimate, xViper's Pit
, available, she's one of the best spike planters in the game.
Tips and Tricks
Viper really rewards players who spend time researching and practicing different ability lineups on different maps. Make sure to add these to your repertoire and become comfortable enough to execute them at the speed of a real match.

e

Toxic Screen

's range is very large and can be safely shot from across the map. Because of this, she's one of the few agents that can help hold multiple sites at once. For example,

e

Toxic Screen

can simultaneously block the entrance to B and C on Haven.
Remember that Viper's toxic gas deals decay damage. Decay damage causes an agent's health to fall to 1 HP but they cannot be killed by the gas alone. This means that once an agent leaves the gas, their health will gradually replenish back to what it was before they entered it.