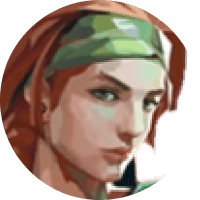 Skye 
• Valorant
"Seek them out!"
Class
Initiator
c
q
e
x
EQUIP a healing trinket. HOLD FIRE to channel, healing allies in range and line of sight. Can be reused until her healing pool is depleted. Skye cannot heal herself.

Skye is a unique agent as an Initiator with supportive abilities. She's sort of like a mix of Breach and Sova.
She provides incredible utility to her team but she'll struggle to operate alone since her abilities require her to be defenseless.
Advice
Her healing pool from

c

Regrowth

depletes at the same rate whether you're healing one or four allies, so try to maximize it by healing multiple at once when possible.
Skye's

e

Guiding Light

hawks can be destroyed so you can not only use them to engage as flashes, but you can also use them to gain general information by forcing enemies in an area to destroy them.
Communication is key in Valorant, even more so with agents like Skye. You'll get much more value out of her engage abilities if you coordinate with your team.