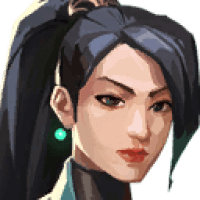 Sage 
• Valorant
"I am both shield and sword!"
Class
Sentinel
c
q
e
x
EQUIP a barrier orb. FIRE places a solid wall. ALT FIRE rotates the targeter.

Sage is currently the only Valorant agent that is able to heal herself and her teammates.
She's among the best agents in terms of the utility she provides and can easy fit into any team composition.
Her resurrection ultimate is one of the best in the game, allowing you to turn a 5v5 round into a 6v5.
Advice
When playing Sage, your allies will often rotate back to you for a

e

Heal Orb

. You can make their lives easier by communicating when your heal is available or on cooldown so they don't waste their time.
Look to use

q

Slow Orb

in combination with the AoE abilities of your allies, such as Brimstone's

x

Resurrection

or Phoenix's

e

Hot Hands

.
Holding down the C button will allow you to rotate the placement of your

c

Barrier Orb

wall. Even if you don't cast it after rotating, it will remain in the same position as you left it the next time you prepare to cast it. If you know where you're going to wall ahead of time, you can use this to your advantage by already having it ready instead of having to rotate it when you get to your location.