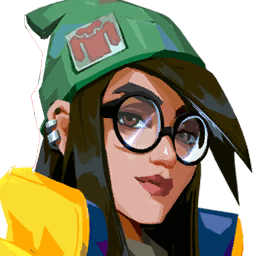 Killjoy 
• Valorant
"You should run!"
Class
Sentinel
c
q
e
x
EQUIP a Nanoswarm grenade. FIRE to throw the grenade. Upon landing, the Nanoswarm goes covert. ACTIVATE the Nanoswarm to deploy a damaging swarm of nanobots.

Killjoy has a very unique skillset being the only Sentinel with abilities that have kill power.
Her playstyle can be compared to a mix of Cypher + Raze since she utilizes a wide array of gadgets placed around the map with explosive potential.
She's extremely powerful in post-plant situations since she can make retakes difficult and deny defusals from across the map.
Advice
Killjoy's

q

Alarmbot

and

e

Turret

both give visual indicators on the minimap when triggered so make sure that you and your team keep an eye on them.
Spend time in custom matches to find different placements for your

x

Lockdown

for different situations on every map.
You can recall your

q

Alarmbot

and

e

Turret

at any time so use that flexibility to adapt to your team's needs. For example, you could set up your turret to protect a flank and then recall it later in the round to protect the spike after your team plants it. They do have a reactivation cooldown so be sure to plan ahead.