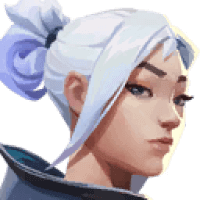 Jett 
• Valorant
"Get out of my way!"
Class
Duelist
c
q
e
x
INSTANTLY throw a projectile that expands into a brief vision-blocking cloud on impact with a surface. HOLD the ability key to curve the smoke in the direction of your crosshair.

Jett has one of the highest skill ceilings in Valorant because her kit focuses more on mobility than utility.
She excels in 1v1 combat, skirmishes, and flanking due to her outplay potential.
Her high risk, high reward playstyle can allow her to take over a match but she can also be a liability in the hands of an inexperienced player.
Advice
Jett has a hidden passive of being able to glide when you hold the jump key. Use this to mix up your movement and avoid taking fall damage.
Spend time to really get comfortable with curving your

c

Cloudburst

smokes to key locations like heaven on maps like Haven and Bind. They have the shortest duration time compared to all the other smoke grenades so precision is key to get the most out of them.
Your

q

Updraft

and

e

Tailwind

can be used simultaneously and in combination with each other. Consider experimenting with different keybinds to find the best setup that let's you abuse this.