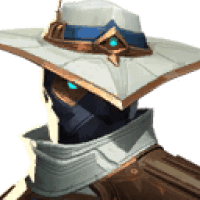 Cypher 
• Valorant
"I know exactly where you are!"
Class
Sentinel
c
q
e
x
コスト
Can be picked up and reused.
tether and reveal duration
EQUIP a trapwire. FIRE to place a destructible and covert tripwire at the targeted location, creating a line that spans between the placed location and the wall opposite. Enemy players who cross a tripwire will be tethered, and dazed after a short period if they do not destroy the device in time. This ability can be picked up to be REDEPLOYED.

Cypher controls the flow of battle by using his arsenal of spy gadgets to gather intel for his team and trap enemies.
Despite not dealing any damage, his abilities can dominate the battlefield with the sheer amount of utility they offer.
Most of his gadgets can be recalled and placed elsewhere so Cypher really rewards players who are able to plan ahead and adapt.
Advice
Similar to Sova's

c

Owl Drone

, your camera can be a useful for peeking tool before pushing an area. You can often bait the eyes of an enemy and have an ally shoot them while they're distracted.
Try to plan ahead and know what you want to do before the buying phase of a round begins. This will give you more time to run around the map and set up your traps.
Cypher's

q

Cyber Cage

can be activated from anywhere as long as you're looking at it. This includes through walls and even through his

e

Spycam

.