5 Pros You Should Be Watching at TFT's Worlds Event (Set 5 Reckoning)
The Set 5 World Championship will span from October 1st to 4th and comes with a $250,000 prize pool.
20 players from across the world will battle it out to see who will reign as the TFT World Champion.
You can watch the tournament on Twitch at 2 AM PDT everyday.
In this article, I'll be going over 5 of the pros you should keep an eye on for this tournament. But before I go into those players, let's look at all the players who qualified.
Qualified Players
Play-in Players
These players will play on Day 1 and the top 4 will continue onto the Group Stage with the other 12 players.
Nukomaru (JP)
Escha (OCE)
TA Smbappe (LATAM)
INC Mplete (BR)
Zenia (KR)
SpencerTFT (NA)
DV1 Shircane (EU)
Luili (CN)
Group Stage Players
These players have already qualified for the Group Stage and will not have to play on Day 1.
TL Robinsongz (NA)
DeliciousMilkGG (NA)
Gluteus Maximus (EU)
Skipaues (EU)
TMS Ackk (EU)
Zixingche (CN)
Huanmie (CN)
qituX (CN)
Woojung (KR)
Ddudu (KR)
Eusouolucas (BR)
GPB El Tomo (LATAM)
5 Players to Keep an Eye on
Of these 20 players, I'll be going over the names I'm most familiar with and who I expect to make it far in the tournament. The major regions usually all do quite well (although this could be a byproduct of having more representatives). I won't necessarily order these players in order of who I expect to win, but more so the players I personally have an eye on for the tournament.
Without further ado, let's get right into the list.
1. Robinsongz NA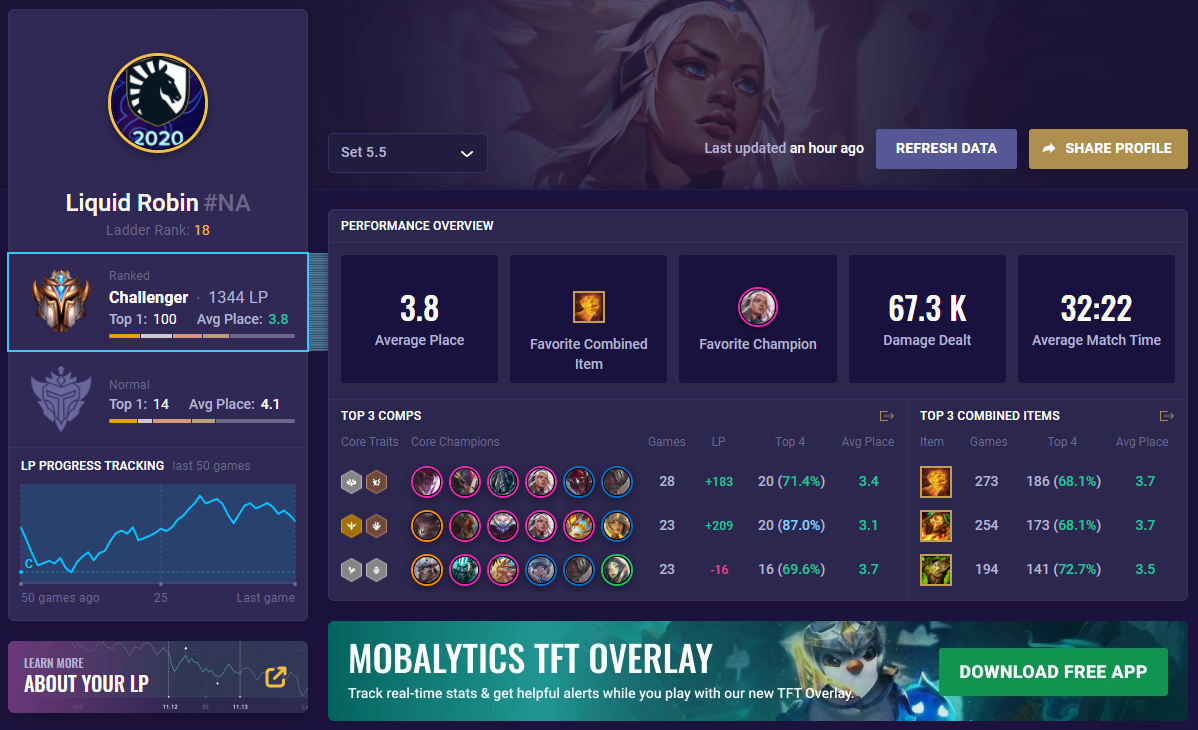 If you haven't been keeping up with the Qualifiers, Robinsongz made history when he finished 1st in 5 out of his 6 games at the NA Regional tournament. That performance was the most dominant out of any player in TFT Esports history.
The meta has shifted since that tournament, but he will definitely be a player to keep an eye out for in the Worlds tournament. Will he continue his streak of dominance, or is the World stage too much for him?
2. DeliciousMilkGG NA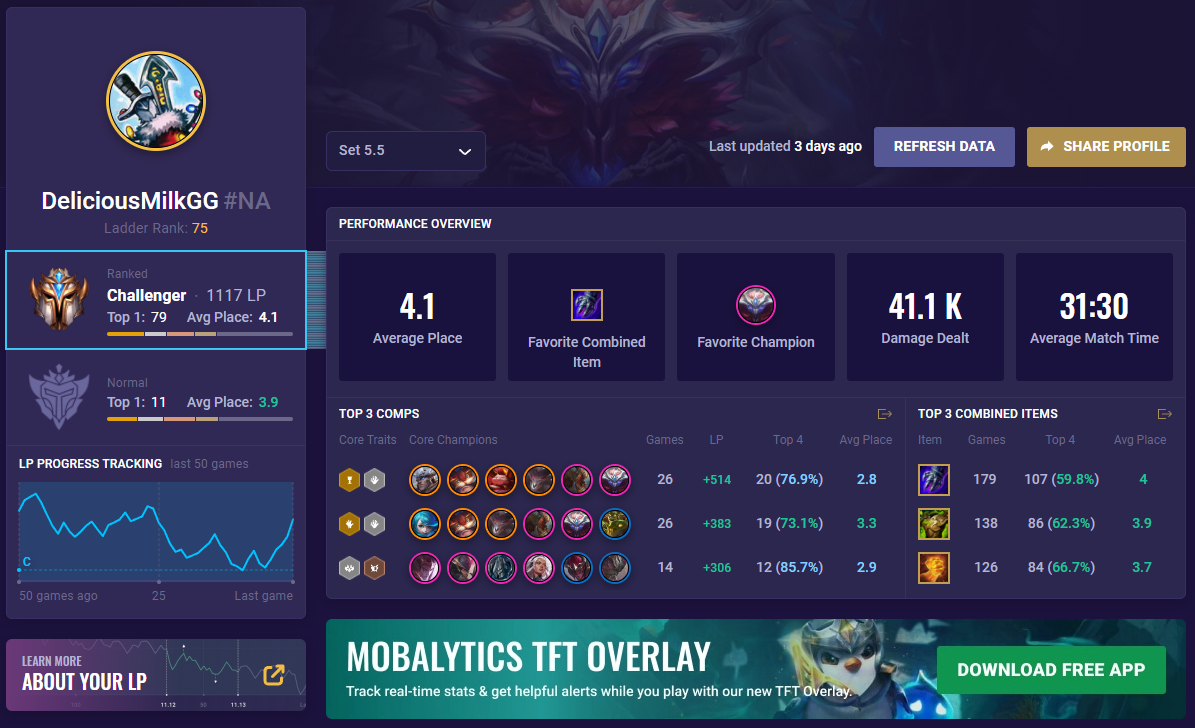 Milk has been a figurehead in the NA community since the beginning of TFT. In the early days, he dominated the ladder, but has yet to find success in the esports scene. This will be Milk's first appearance at Worlds, and I am personally excited to see what he can achieve.
Milk has been known in the TFT community for forcing specific comps and innovating certain playstyles. It will be interesting to see his approach at worlds and how his playstyle changes for tournament play.
3. Gluteus Maximus EU (Germany)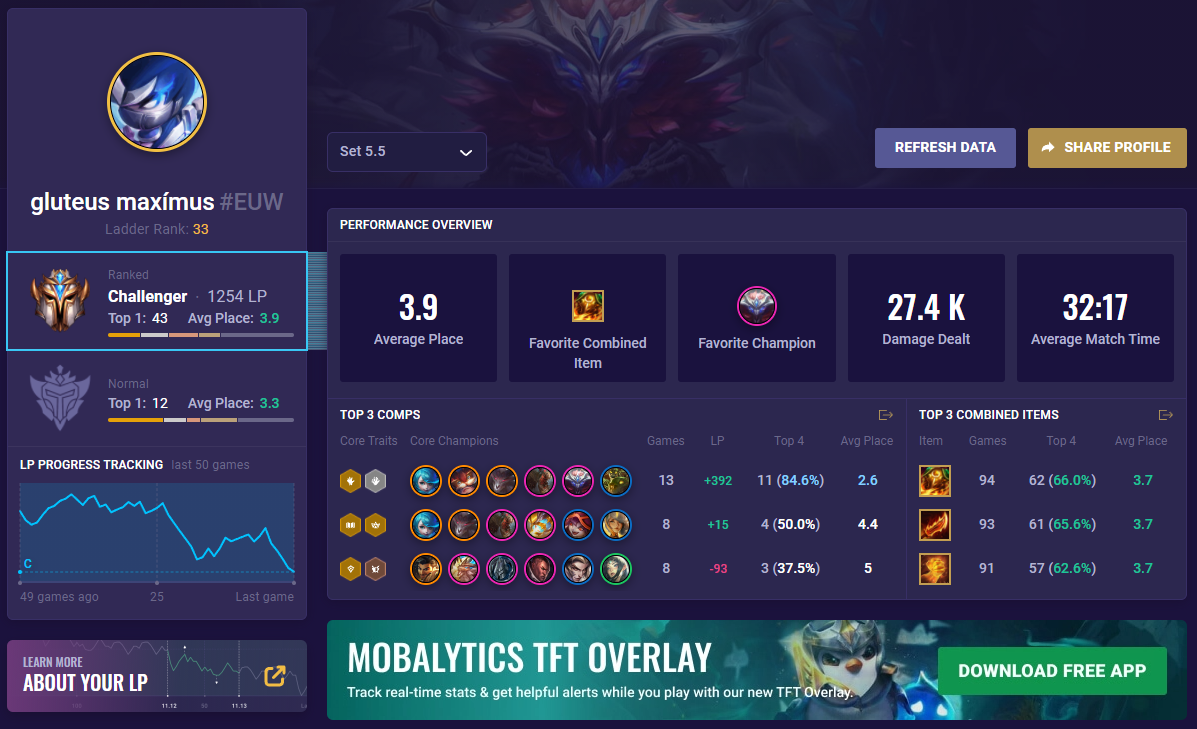 Many of the top EU players that were favorites going into Worlds were unable to secure a spot. Even the players who qualified previous seasons were unable to squeeze into qualification.
Gluteus Maximus was the winner of the TFT Reckoning EMEA Finals, and he is a top ladder player in EU. EU has been touted as one of if not the strongest region of TFT for a while now. Will EU be able to take back the World title from Korea, or will there be a new strongest region in town?
4. ACKK EU (Belgium)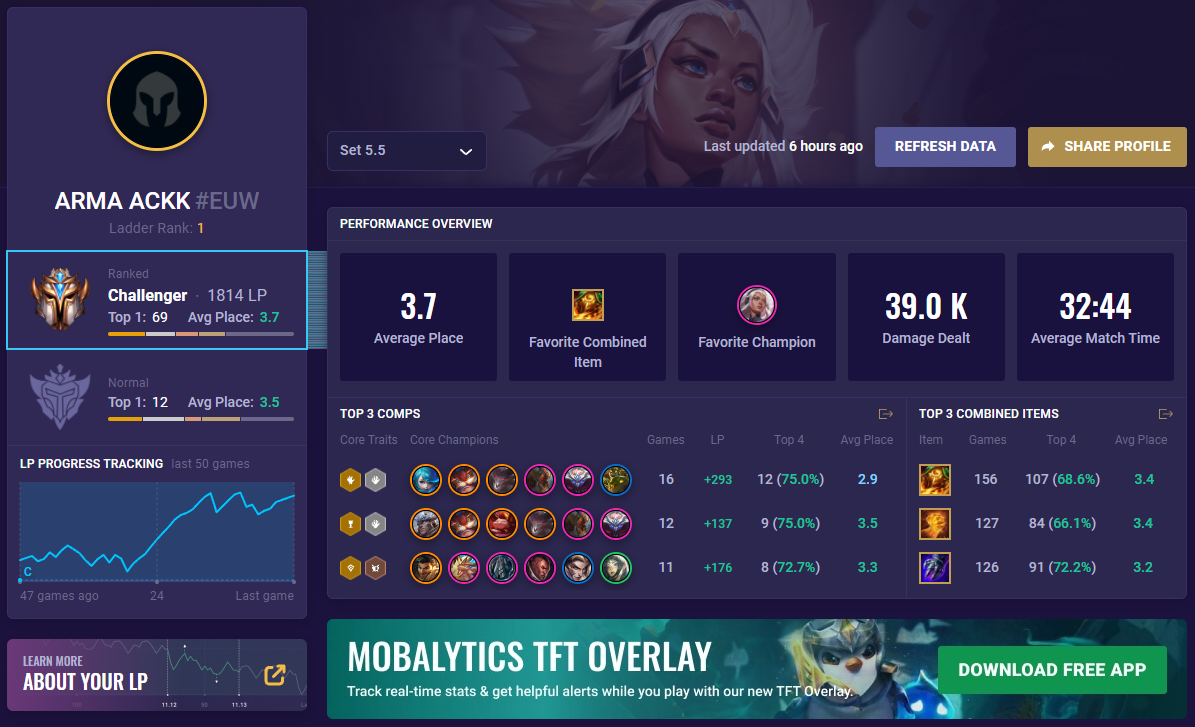 My other pick to watch for EU players would have to be ARMA. Taking a look at his profile, you can see a spike in performance in recent games. Something must've clicked for him recently to be able to climb to the top ladder spot.
However, this does have a caveat. Many players aren't looking to climb the ladder anymore after the Regional Finals, so this may not indicate anything. Even still, I don't think this recent performance can be overlooked. Other players may be testing with private groups or on smurfs, but ACKK has risen right to the top spot in EU in such a short time.
5. Woojung KR (우쭐리우중)
The winner of the Korea Regional Finals was Woojung, and he is Rank 3 on the Korean ladder at the time of writing this. Korea was able to take the Worlds trophy home in Set 4, so it will be interesting to see if Korea can do it again in Set 5.
Like many other regions, the Korean players this year are not returning members from last year. Even still, Korea is still a major region for TFT and they will have many expectations to live up to.
Overall Thoughts
Most of the players I intend to look out for are from the major regions, NA, EU, and KR. China has many great and entertaining players, but unfortunately, we cannot access their ladder data. However, I do expect CN players to make an impact in the Worlds tournament.
The minor regions are also important to take a look at. In the Fates World Championship, Yatsuhashi and Razza made top 8, representing Japan and OCE respectively. It will be very entertaining to see players from the Play-in Stage make it all the way to the finals or even potentially win the event.
With all this in mind, I hope you have a quick primer as to who are some of the favorites to win at Worlds. TFT is a high variance game, so anything can happen, but the best players will be able to use this luck to their advantage and try to win the whole tournament.
To learn about the next TFT Set, head to our all-in-one Teamfight Tactics Set 6 reveal page that covers all champions, synergies, and more!