Magic Misadventures LoR Spoilers Day 3
Our first revealed champion of Magic Misadventures is here! It is Kennen who is a Yordle from Bandle City and Ionia regions.
Now, let's go over some first impressions from Silverfuse of Kennen and some of his followers!
Here are the new Bandle City cards from Magic Misadventures:
Kennen (Bandlewood/Ionia Champion)
Lightning Rush (Bandle City Spell)
Emberwood (Bandle City Follower)
Stormcloud (Bandle City Follower)
Rissu, The Silent Storm (Bandle City Follower)
To see the other past and future reveals for Magic Misadventures, check them out here.
Kennen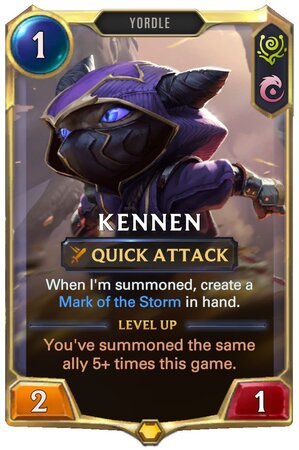 Kennen

1 mana 2|1 champion
Keyword: Quick Attack
Text: When I'm summoned, create a Mark of the Storm in hand.
Level Up: You've summoned the same ally 5+ times this game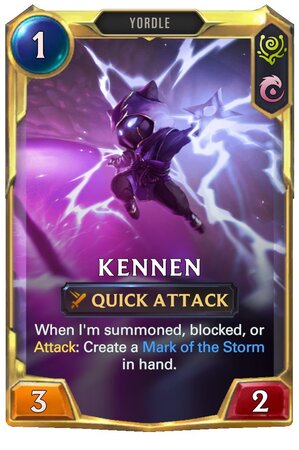 Kennen Level 2

1 mana 3|2
Keyword: Quick Attack
Text: When I'm summoned, blocked, or Attack: Create a Mark of the Storm in hand.
Mark of the Storm

 0 mana Fast spell
Text: Grant an enemy Mark of the Storm. If they already have it, remove the mark to Stun and deal 2 to them instead.
Kennen is a unique champion by the fact that his level-up condition is a new one that requires you to deck build around his level-up. The big question is if the deck that Kennen requires is enough of a payoff. For his level-up condition, you have to summon the same card 4 times.
This will likely be done with Recalls, drawing a card multiple times, as well as other possibilities such as cards that shuffle or summon additional copies of the same card such as Kinkou Wayfinder. I feel like this level-up condition might end up being too steep unless we see more cards that synergize with it.
I expect to see them though as there are plenty of Bandle City cards left to be revealed and Bandle City along with Ionia seems like it will be the future Recall regions.
Mark of the Storm is a great utility spell that doesn't really shine until Kennen is leveled up. Once Kennen is leveled up though, this spell does seem like it is a decent payoff.
Lightning Rush / Kennen's Lightning Rush: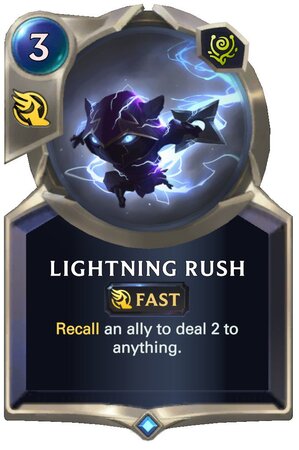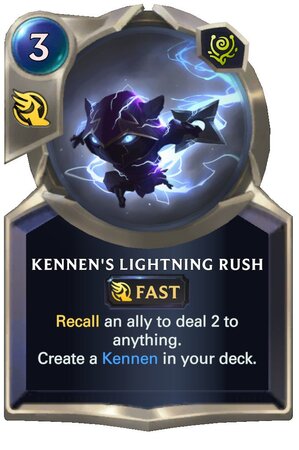 Lightning Rush

3 mana fast spell
Text: Recall an ally to deal 2 to anything
I think the biggest thing about this card is its ability to do 2 damage to anything which includes Nexus. It gives Ionia reach when Kennen is in the deck which wasn't something it had access to before.
Ember Monk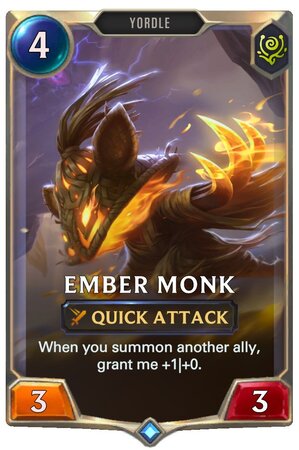 Ember Monk

4 mana 3|3 follower
Keyword: Quick Attack
Text: When you summon another ally, grant me +1|+0.
This is a fun card where you can make it have a huge number and could be pretty silly with some of the summon cards such as Blade Dance.
However, I think the card is okay but I am not sure if it makes the cut with the current card pool that we have. It does have the Yordle tag, so with more Yordle support, there might be a home for this card.
Rissu, The Silent Storm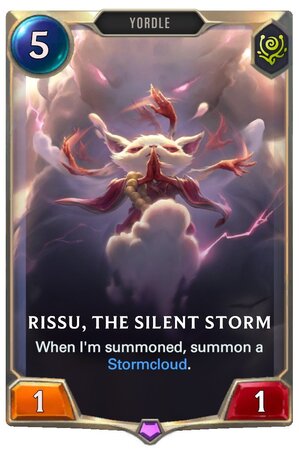 Rissu, The Silent Storm

5 mana 1|1 follower
Text: When I'm summoned, summon a Stormcloud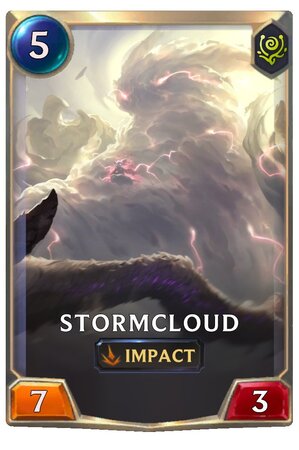 Stormcloud

5 mana 7|3
Keyword: Impact
I am very excited about this card as Legends of Runeterra finally has a pay-off card for Recalling and replaying a card. It also means that you can play Dawn and Dusk on it and create two Stormclouds that aren't Ephemeral which is pretty sweet!
This is my favorite card of the cards revealed today just because it allows for interesting deckbuilding!
Ionian Ninjas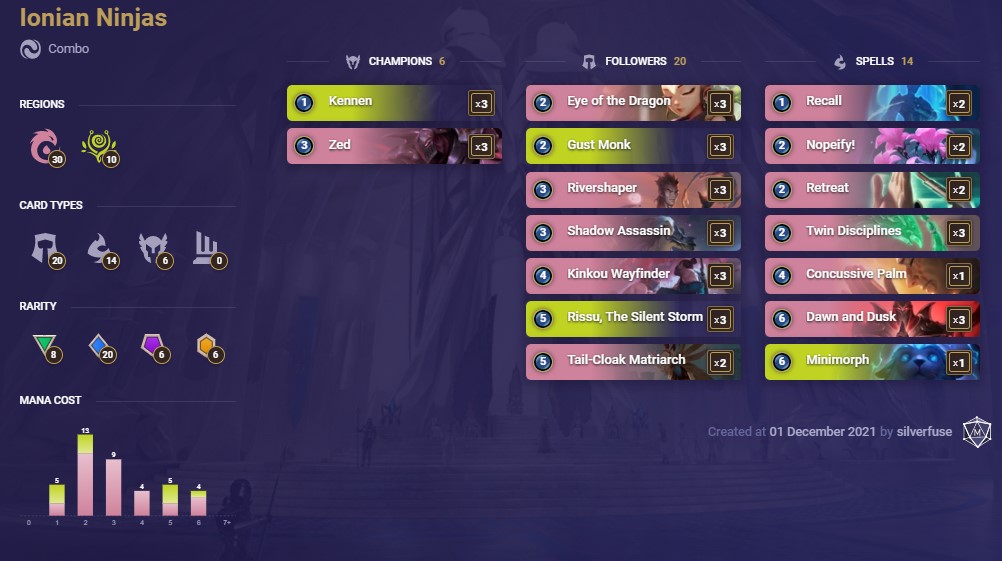 Deck Code: CEBQGBIKHA5H6AICAIBQMAICBEGBQKZSHECACAICBMAQGAQUAEBAECQBAUBBSAQBAIBAKAIFBIAQ
[See Ionian Ninjas deck details]
This deck looks to combine the efforts of Ionia and Bandle City to make a Ninja Recall Deck! It uses the stall tactics of Eye of the Dragon alongside value from the other followers who can gain more value with Recall.
It is a slower deck and will have to outvalue opponents. This is more of a roleplay deck that I don't expect to see high-level play, but the concept looks like a lot of fun!
Thanks for reading! For more impressions, check out the rest of our Magic Misadventures reveal articles.
Catch Silverfuse live at www.twitch.tv/silverfuse