Genshin Impact 2.6 Zephyr of the Violet Garden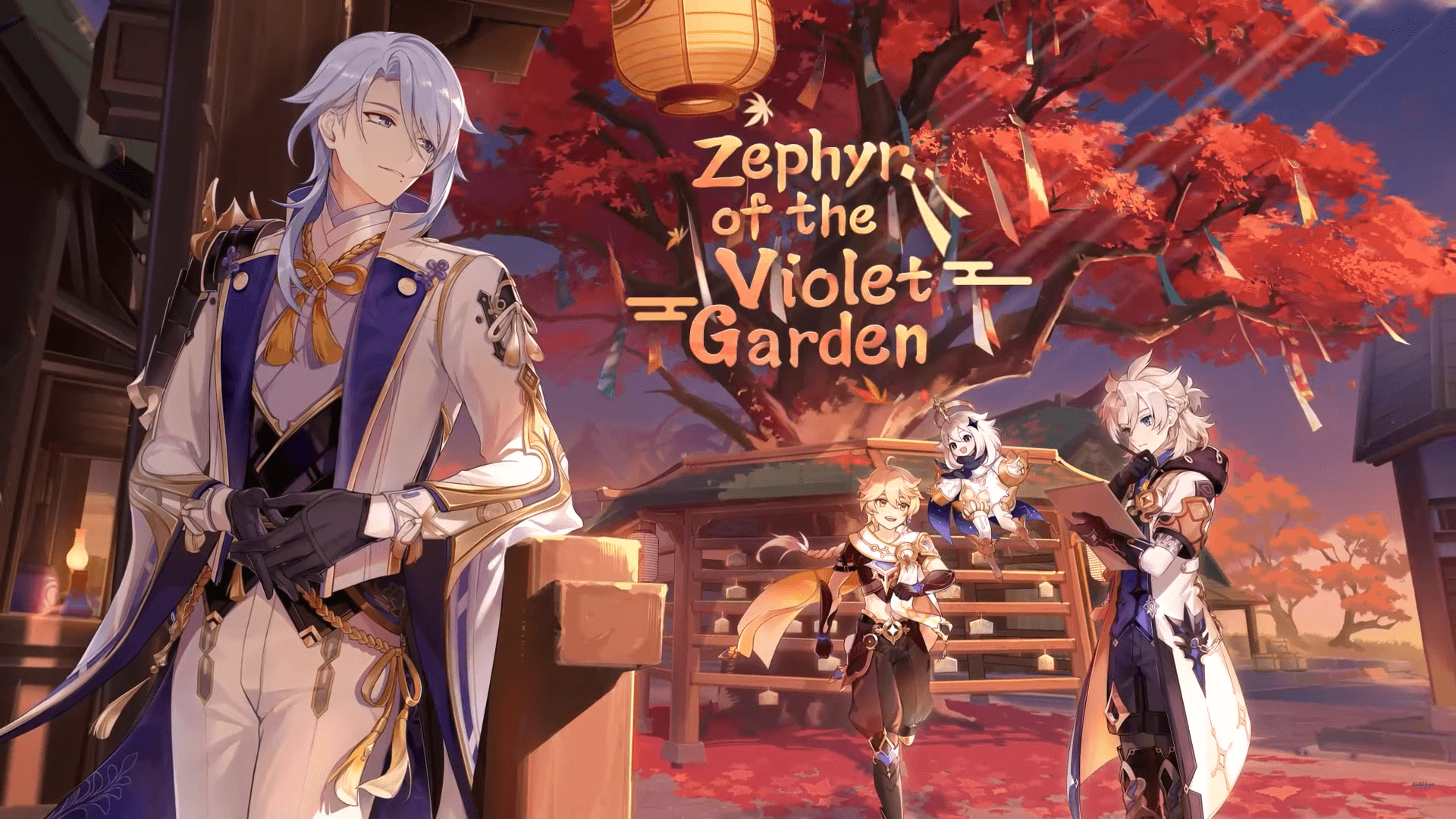 Update 2.6 is coming out very soon on March 30th, and the Special Program recently gave us insight on all of the new content coming to the game.
This article will be covering everything we know about the upcoming 2.6 update, including events, characters, banners, new artifacts, and more.
2.6 Redemption Codes
Before we get into the news, be sure to redeem these redemption codes. They expire very soon, so make sure to get them in before it's too late.
Here's a quick list to get them easily.
AB7CKBVQULE5
3TPUKSV8C5X9
UT7C2TD8C5ZD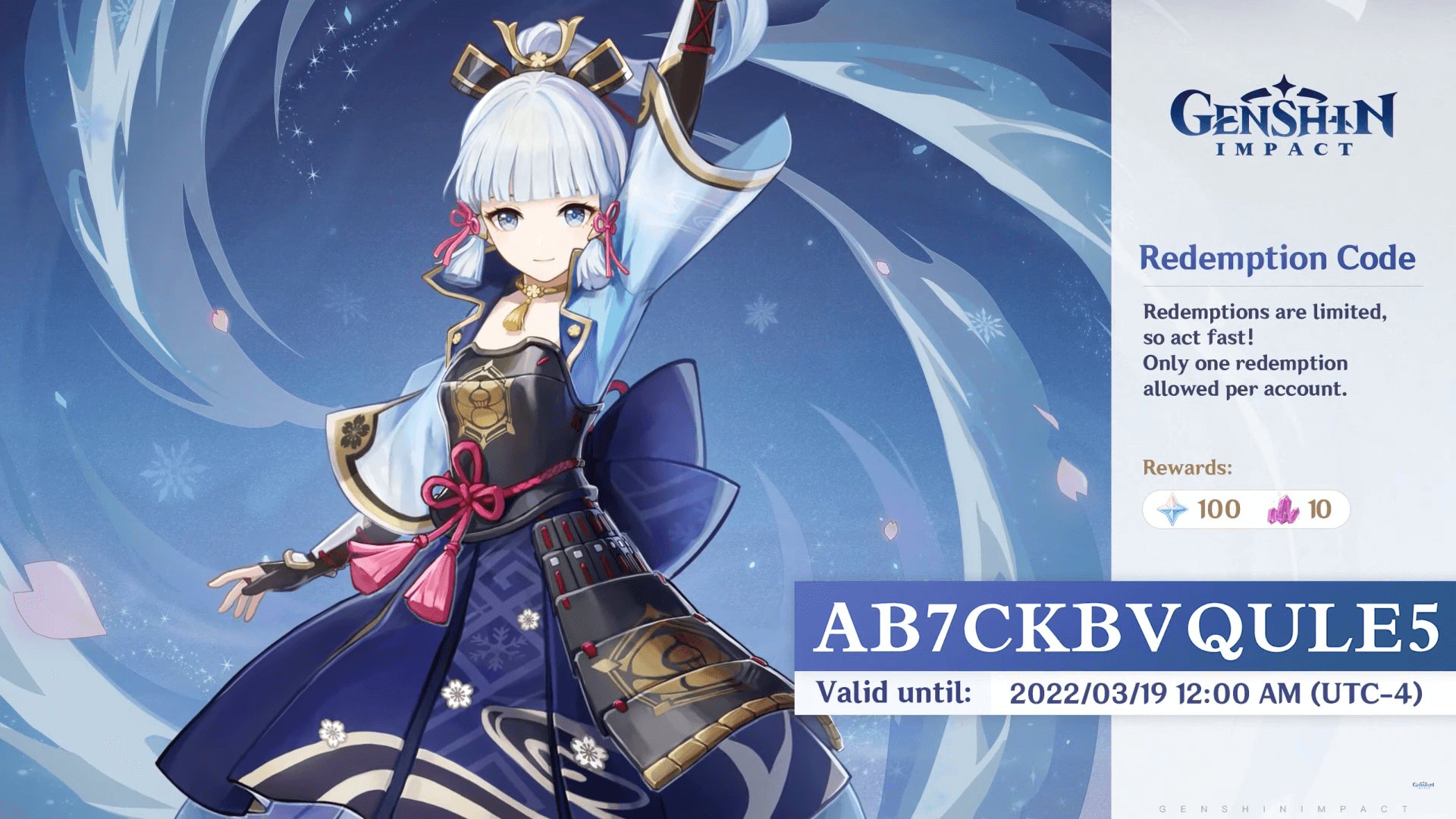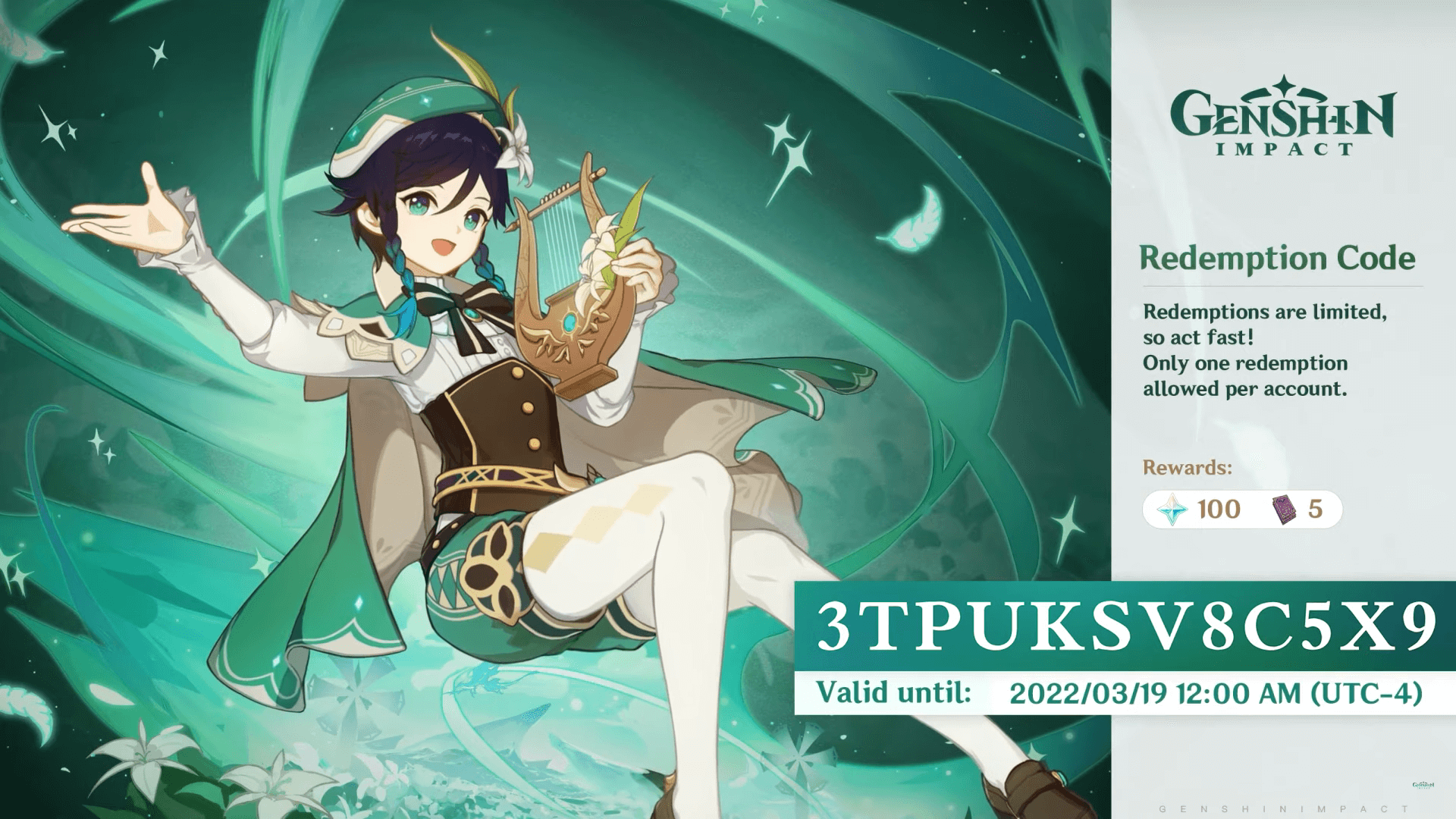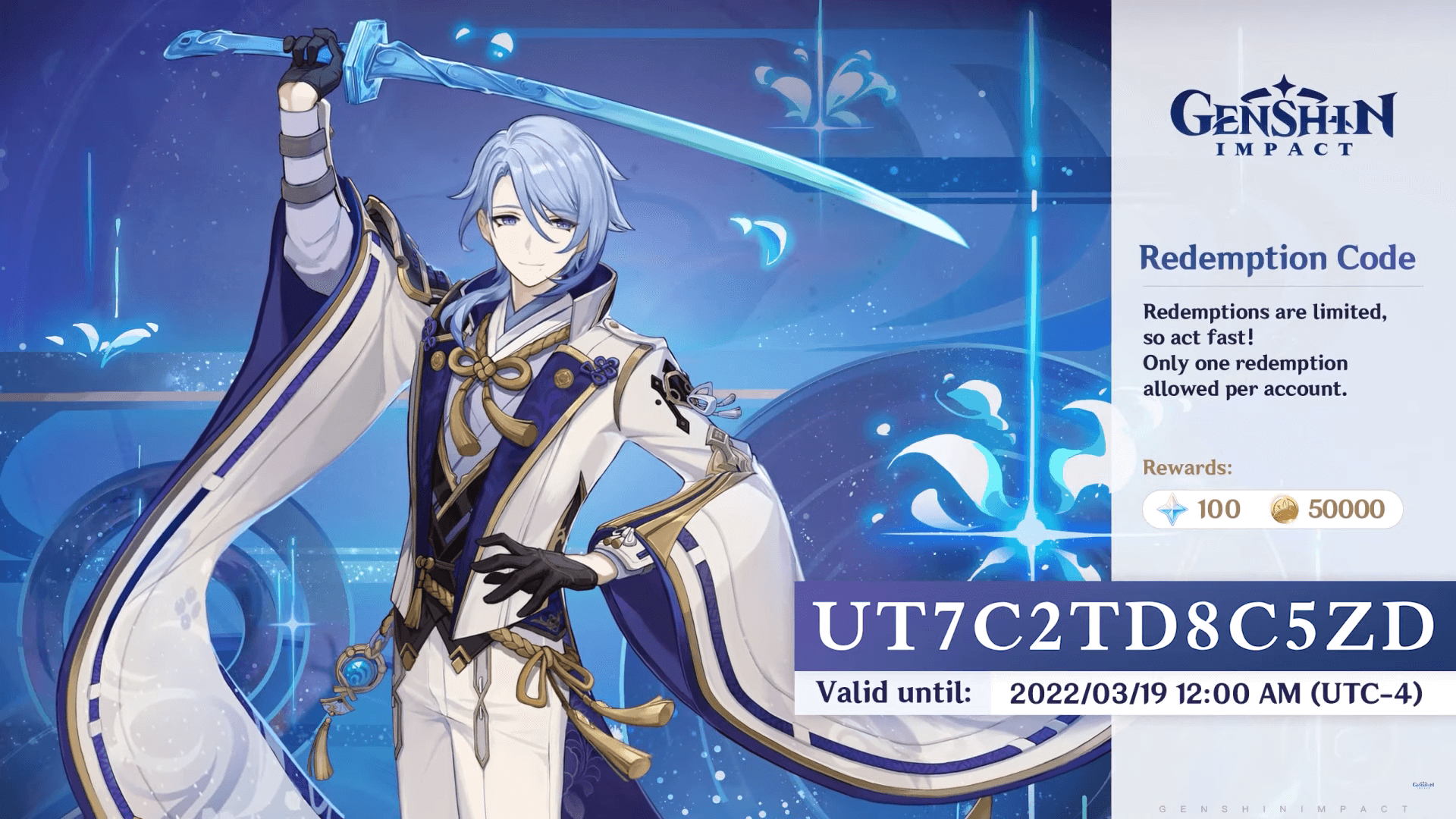 Kamisato Ayato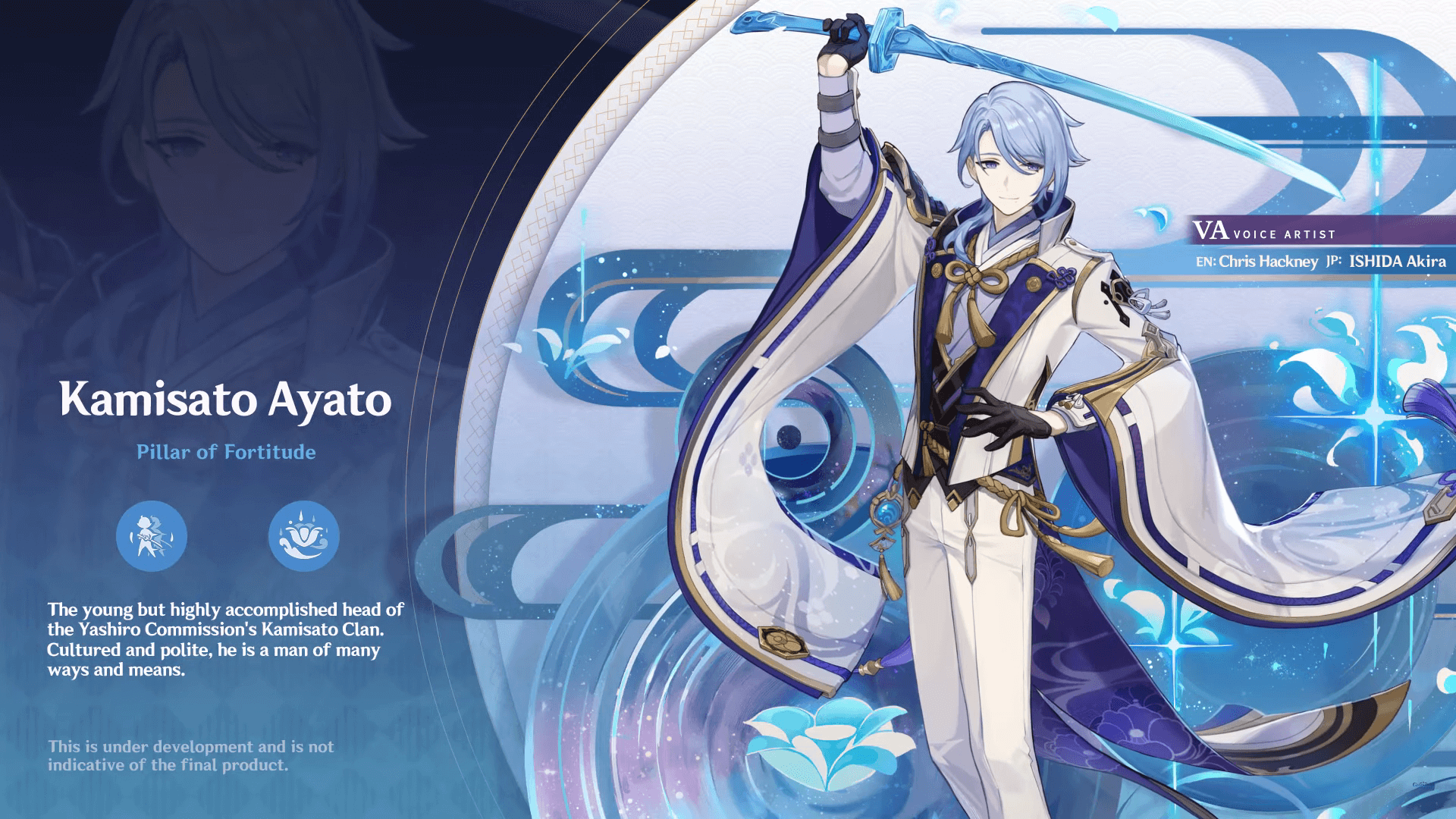 Version 2.6 will be releasing Kamisato Ayato, Ayaka's brother. He will be a Hydro, Sword user, and everyone is excited to see his potential.
2.6 Banners and Reruns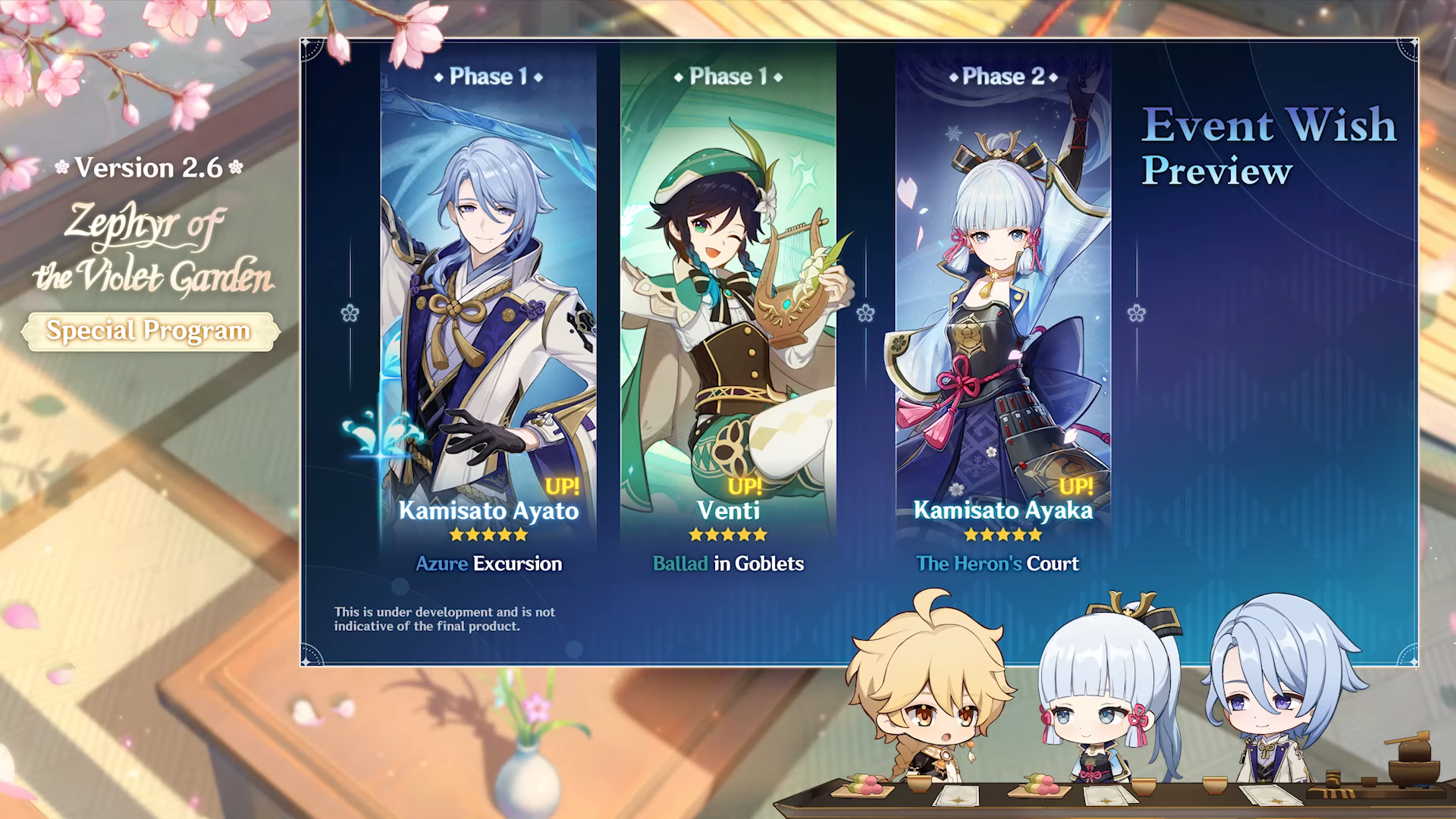 Kamisato Ayato will be releasing on part 1 of Version 2.6 alongside a rerun of Venti.
In the second half of 2.6, we will be getting a rerun of Kamisato Ayaka.
The surprising thing is that we are getting the rerun alongside the new character, and a solo rerun in the second half. This is opposite to what they've done in the past.
For everyone that was hoping for a rerun of Kazuha or Yoimiya, looks like we will have to wait for 2.7 or even 2.8 until that may happen.
2.6 Weapon Banner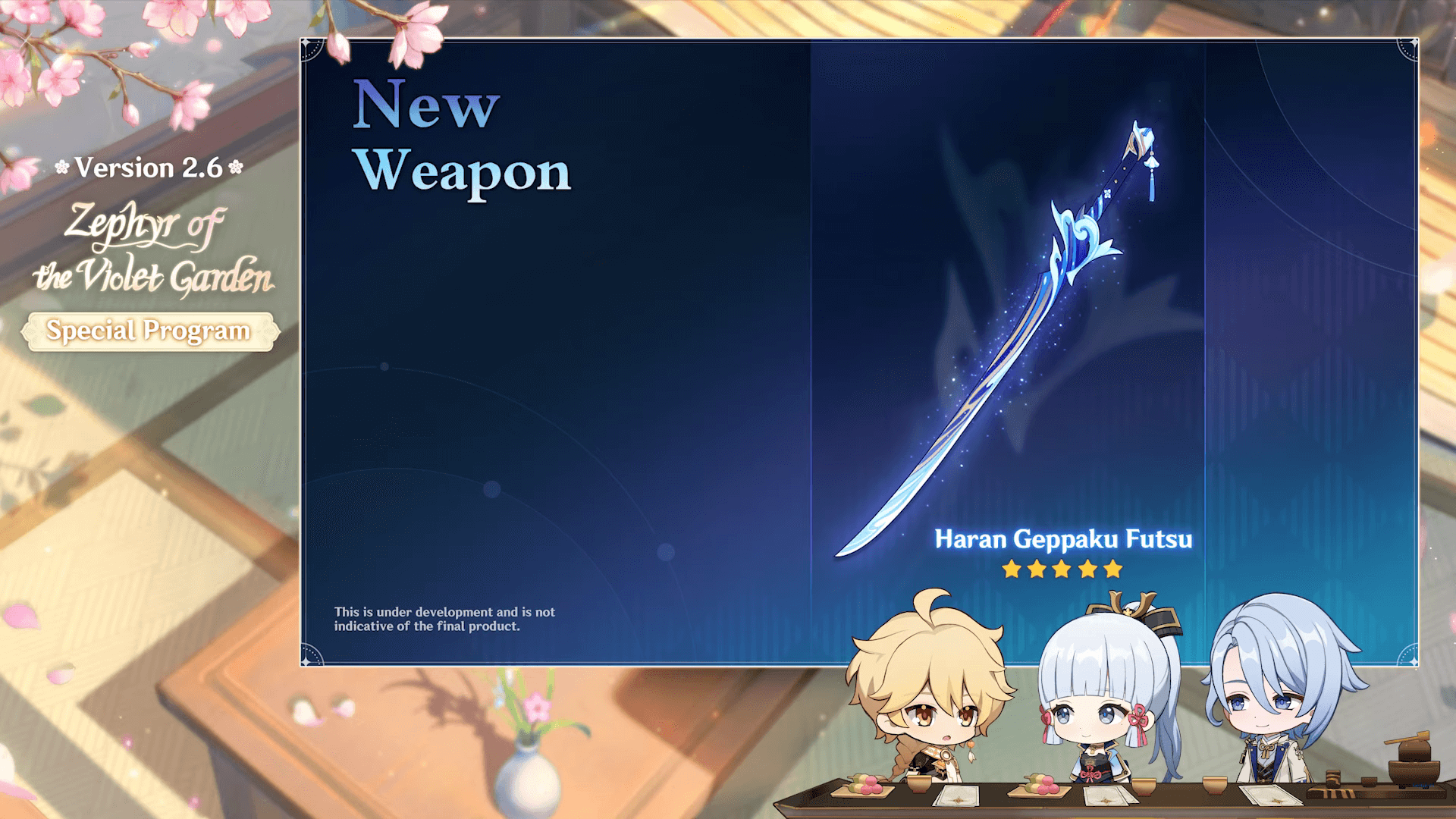 With a new limited character comes a new limited weapon as well. We don't know the exact details of this weapon yet, but hopefully it's a good one.
Since we know that Venti is getting a rerun the same time as Ayato's banner, we can safely assume that the weapon banner will include Elegy for the End alongside Haran Geppaku Futsu.
For the second half of 2.6, the weapon banner will definitely include Ayaka's weapon: Mistsplitter Reforged. We don't know what weapon will be alongside it, but it'll probably be a standard weapon.
Kamisato Ayato Story Quest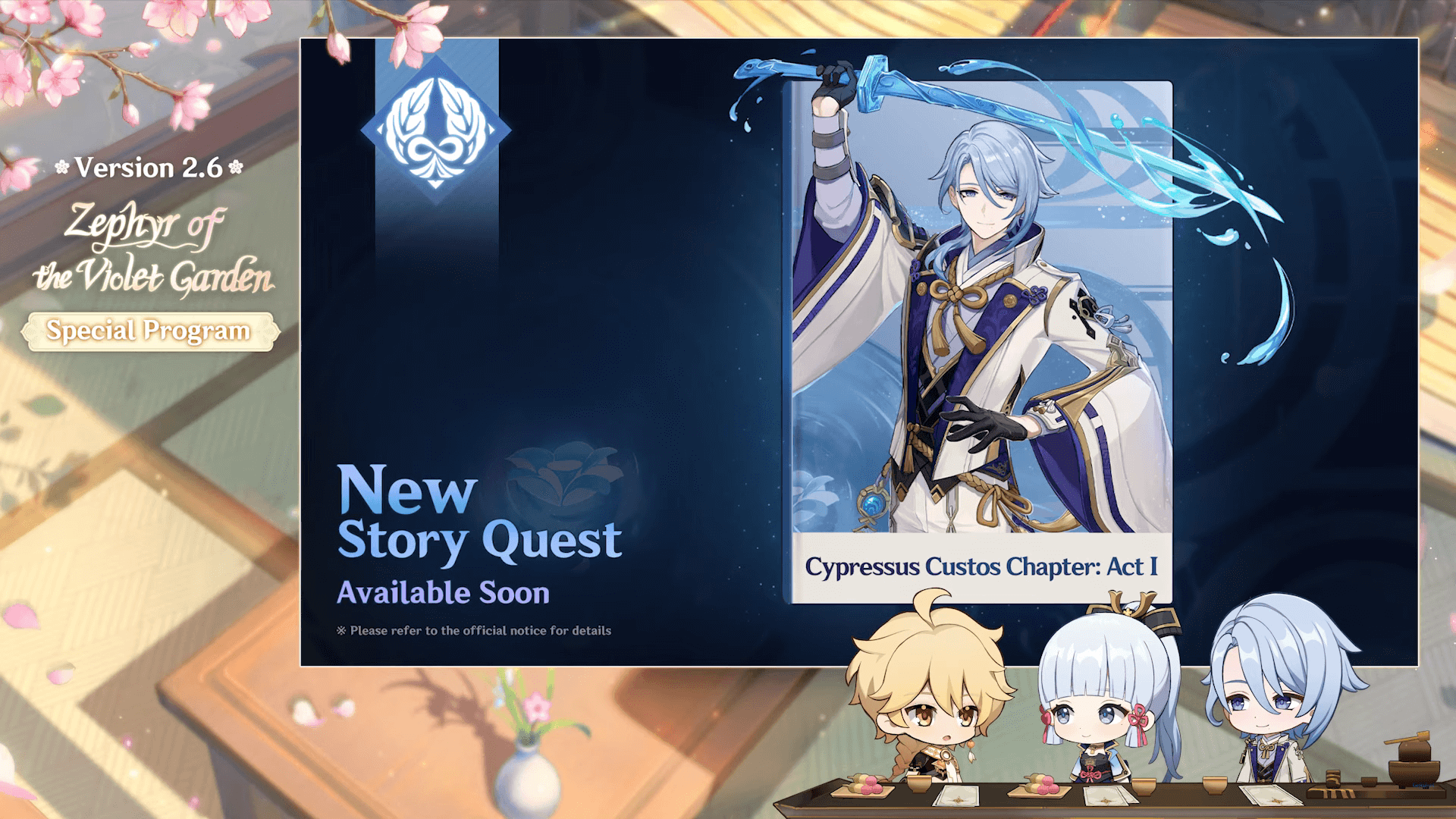 Of course, along with a new character will come a Story Quest to accompany them. Make sure to have a Story Key ready for this new quest.
The Chasm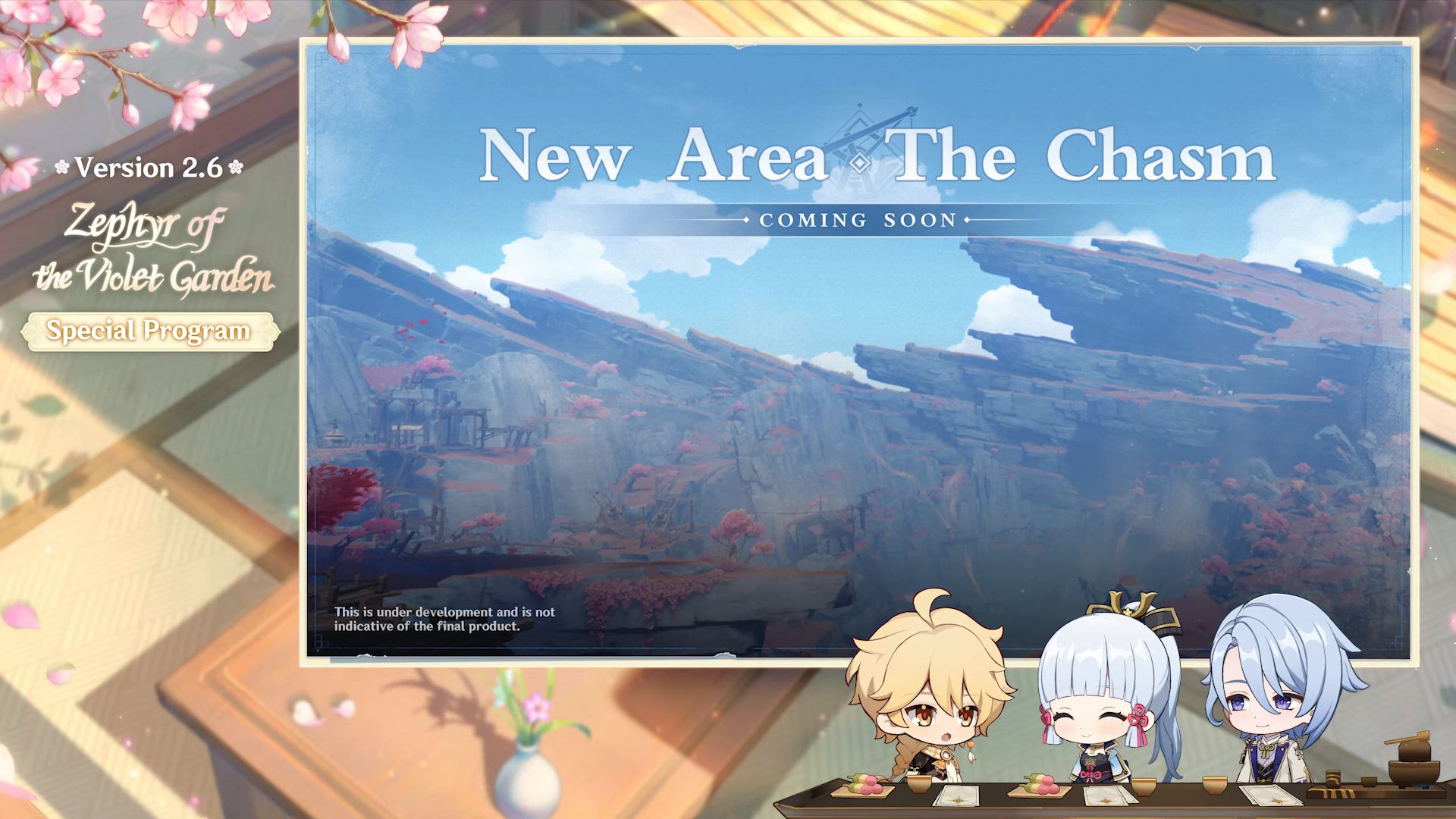 Version 2.6 will also be introducing a smaller region to the game: The Chasm. The Abyss Order seems to be up to something in the depths of this area. Embark and explore this new area for rewards and progression into the story. Here are some teaser images for the new area.
Lumenstone Adjuvant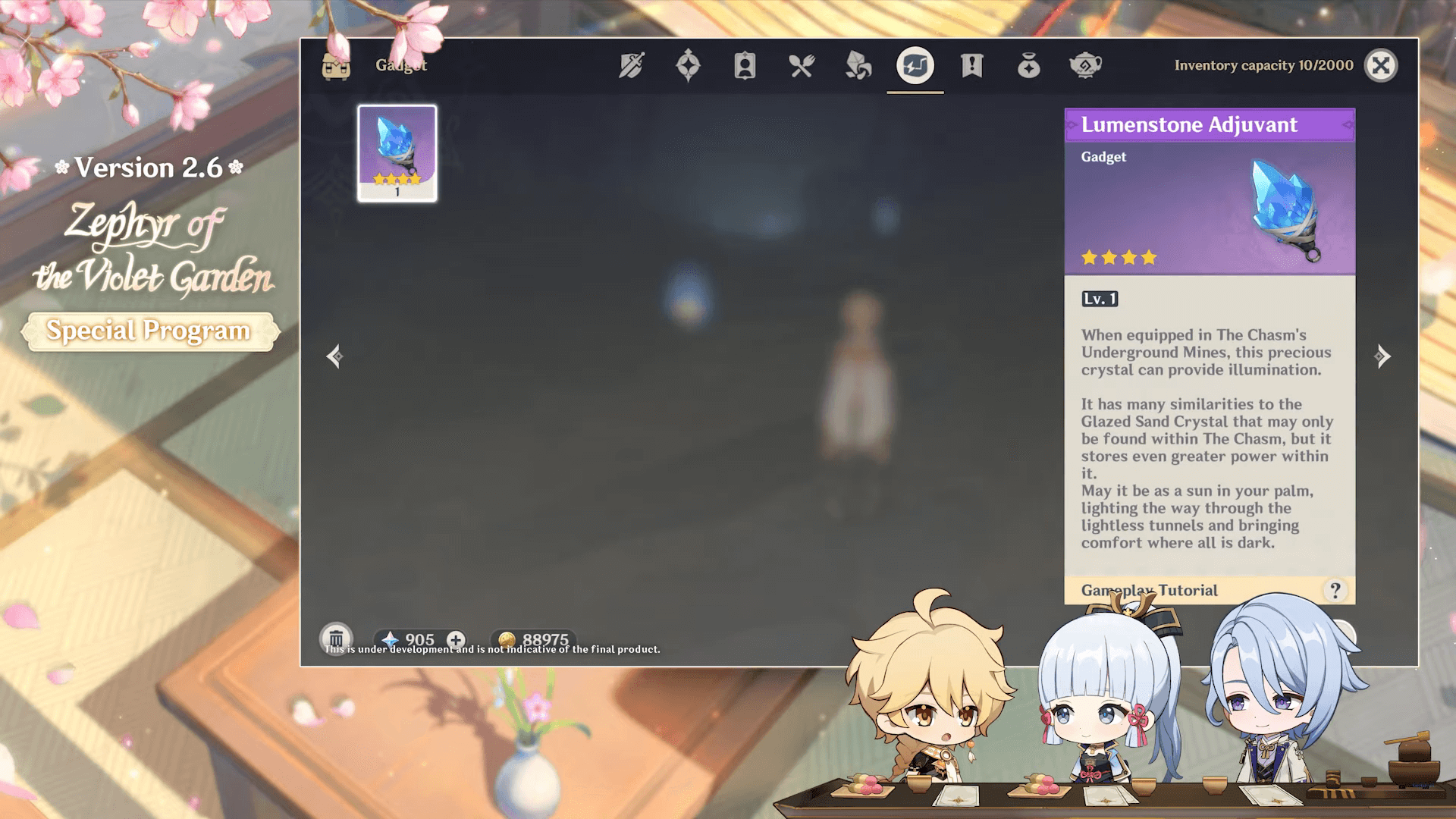 When exploring The Chasm, travelers will use the Lumenstone Adjuvant to light up the dark areas and explore. As you explore, you will be able to upgrade this item in order to increase it's effectiveness and also receive rewards.
Think of this like the Bokuso Box for the Three Realms Event we just had.
New Artifacts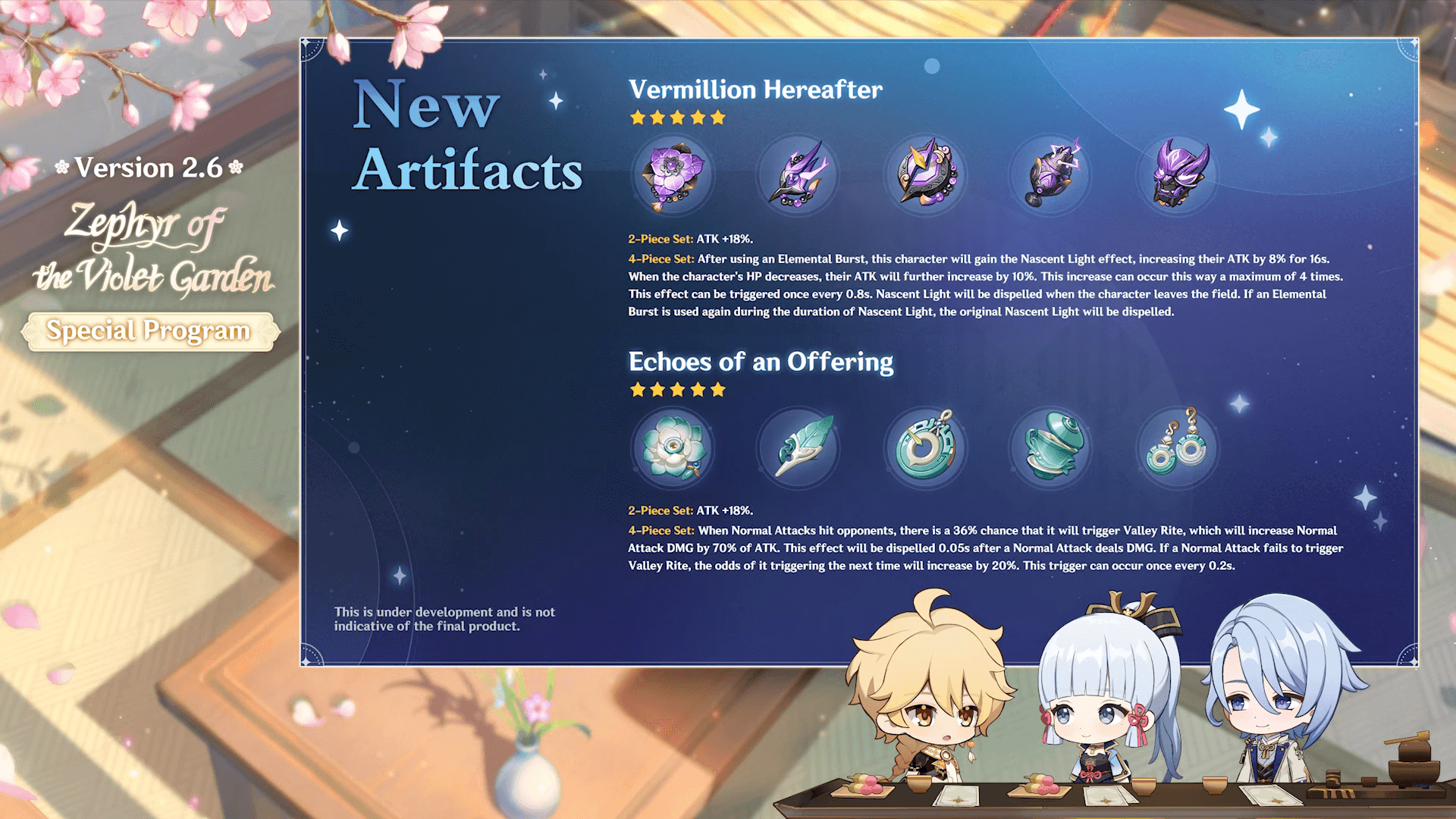 The Chasm will also introduce a new Domain for us to farm artifacts. These two new sets are very intriguing, and it'll be interesting to see how good they are on characters.
Vermillion Hereafter
2-Piece Set: ATK +18%
4-Piece Set: After using an Elemental Burst, this character will gain the Nascent Light effect, increasing their ATK by 8% for 16s. When the character's HP decreases, their ATK will further increase by 10%. This increase can occur this way a maximum of 4 times. This effect can be triggered once every 0.8s. Nascent Light will be dispelled when the character leaves the field. If an Elemental Burst is used again during the duration of Nascent Light, the original Nascent Light will be dispelled.
Echoes of an Offering
2-Piece Set: ATK +18%
4-Piece Set: When Normal Attacks hit opponents, there is a 36% chance that it will trigger Valley Rite, which will increase Normal Attack DMG by 70% of ATK. This effect will be dispelled 0.05s after a Normal Attack deals DMG. If a Normal Attack fails to trigger Valley Rite, the odds of triggering the next time will increase by 20%. This trigger can occur once every 0.2s.
New Archon Quest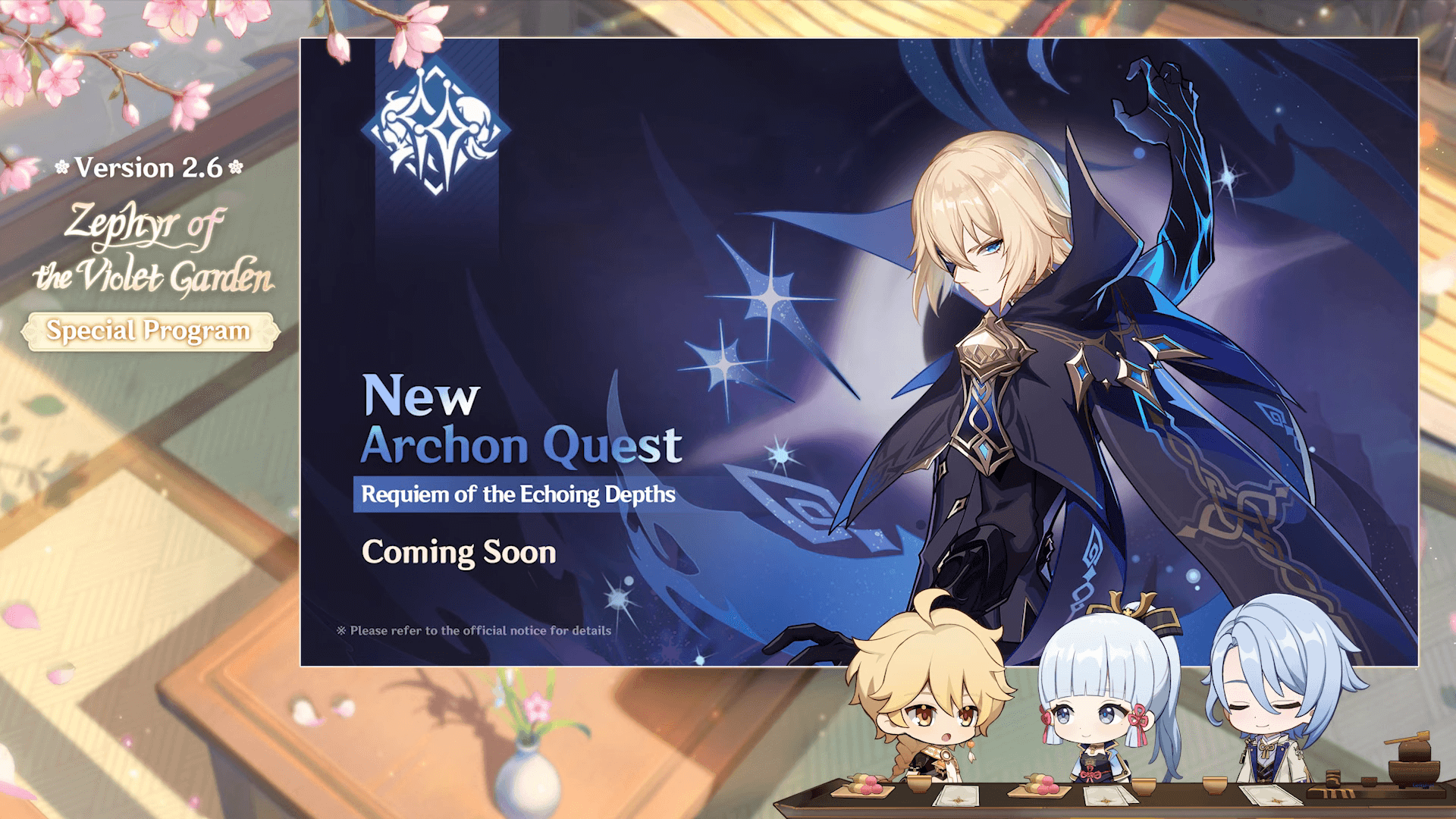 Lastly, the Chasm will be coming alongside a new Archon Quest. This will progress the main story of Genshin Impact, and we will see the return of Dainsleif. This quest is bound to be interesting as we potentially discover more about the past and about Dainsleif.
Events
Update 2.6 will also be bringing a lot of new events. This means a lot of free rewards assuming you complete all of the events before time is up.
Hues of the Violet Garden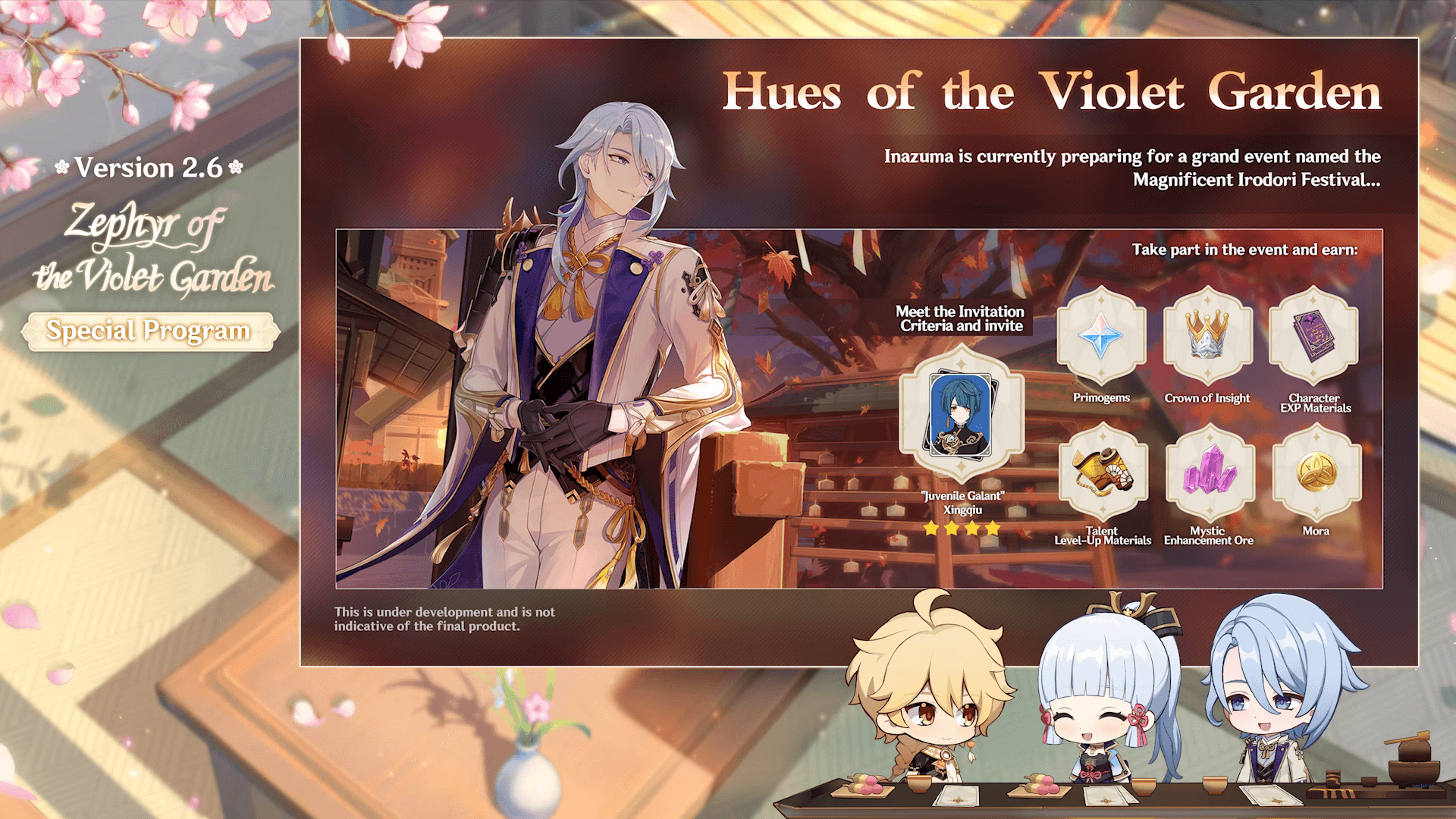 This event will be the major event of Update 2.6. It will have multiple parts and systems to it, but the rewards are the greatest. We will be getting another Crown as well as a copy of Xingqiu upon completing the event.
Spices of the West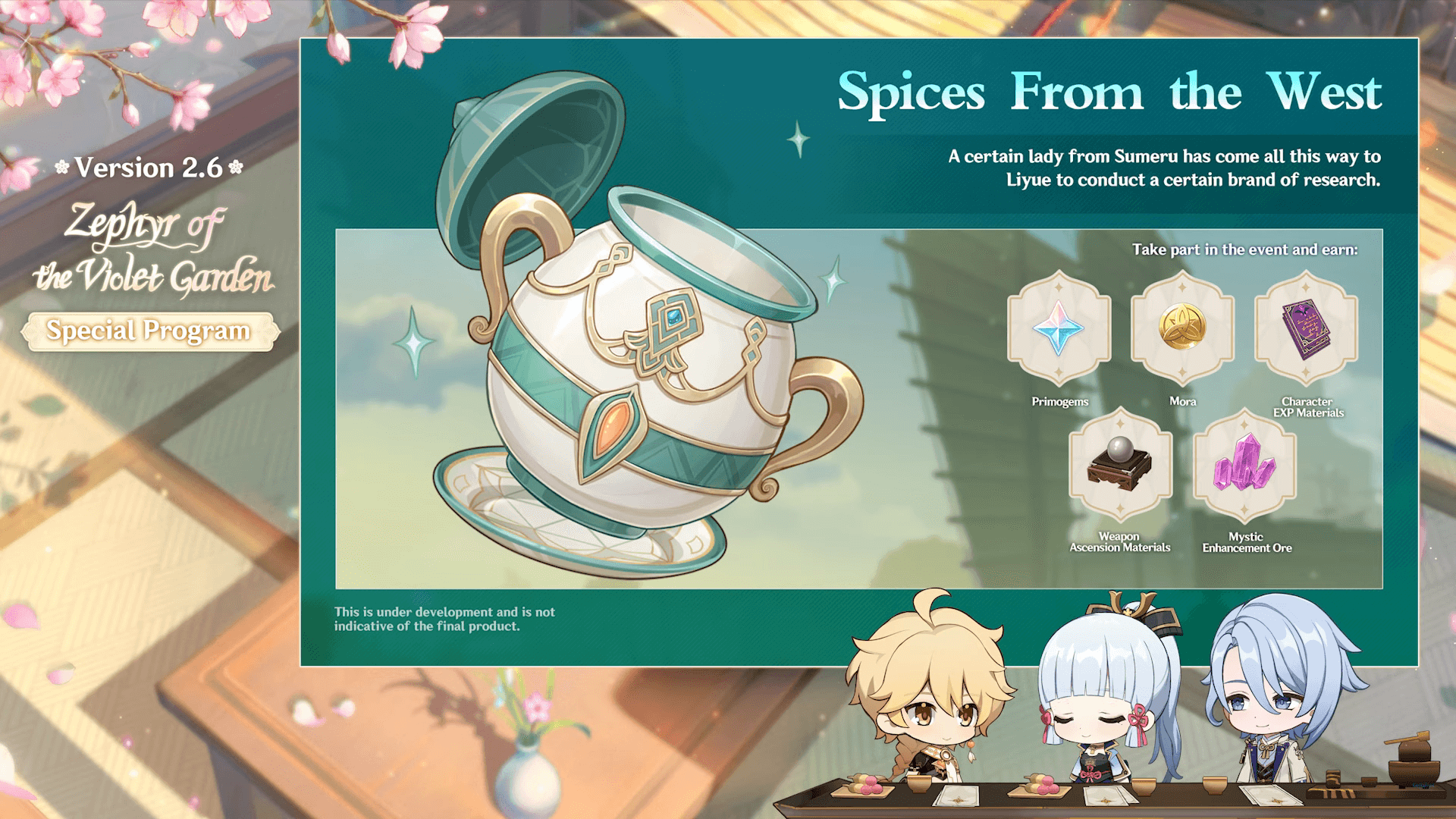 This event will star a character from the upcoming major region: Sumeru. It will be exciting to see what character they have in store for us. (Although it may just be a future 4-star character).
Vibro-Crystal Research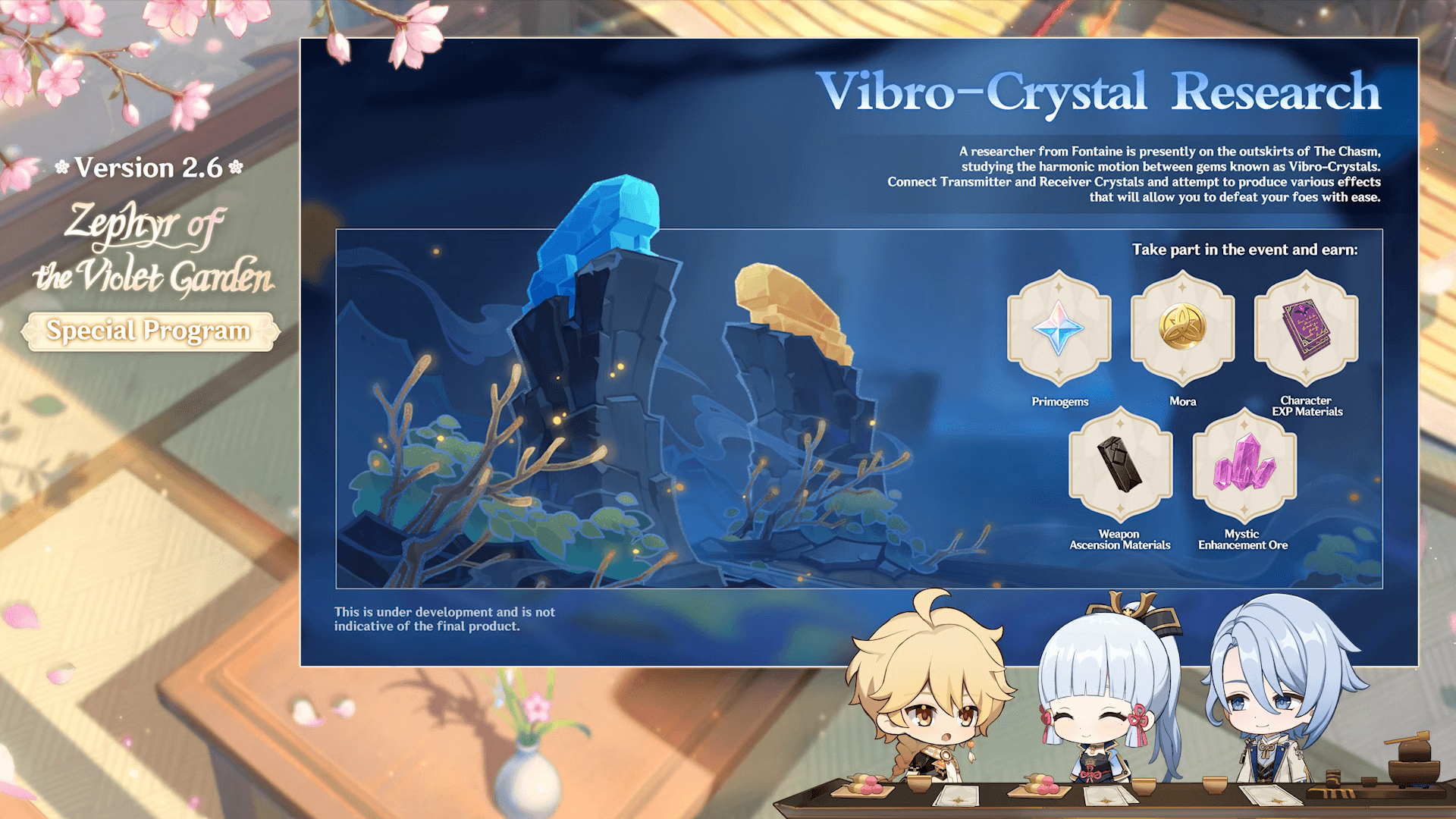 This event will feature the Chasm and will be a combat event for players to participate in. Get in on this event for the free rewards.
Outside the Canvas, Inside the Lens

Lastly, we have a non-combat event where players will need to take images in order to assist Asagiri.
Wrap Up
That concludes all of the new content teased in the 2.6 Special Program. This update will release on March 30th, so make sure to save up your Primogems and get ready for the new content.