How to get No Reprieve in Destiny 2 – No Reprieve God Rolls for PvE and PvP
Ahoy, welcome to Season 18! With the new season, there are 6 new seasonal weapons, known as Plunder Weapons, to chase after. All Plunder Weapons are craftable and come with new perks and solid stats.
This article will focus on No Reprieve, the Pinpoint Slug Frame Stasis Shotgun.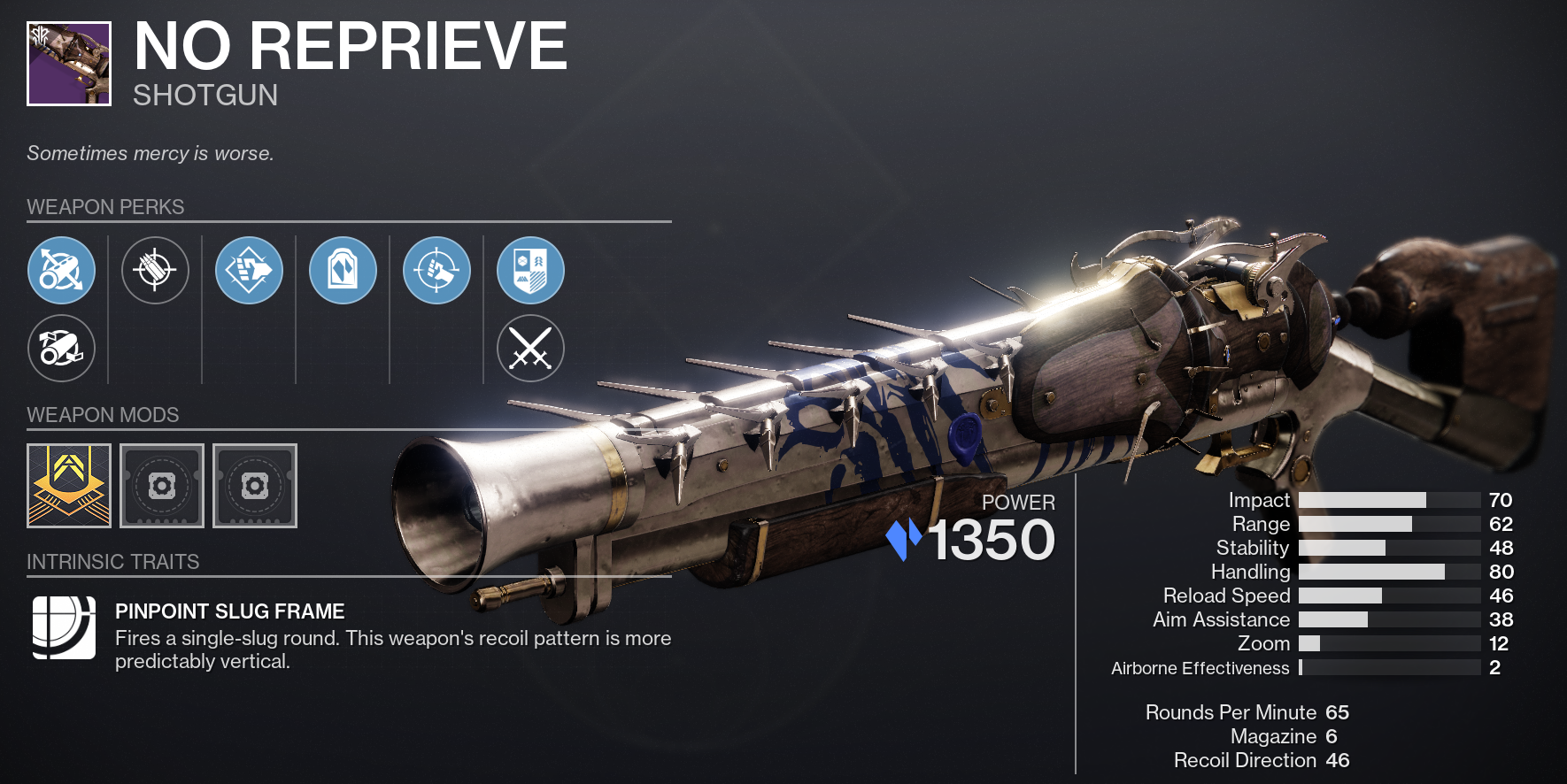 With pellet shotgun nerfs in PvP, slug shotguns are in a better spot and these weapons have always been a solid option in PvE for close up damage.
This weapon also fits the Season 18 pirate theme wonderfully due to its blunderbuss aesthetic.
Check out our other guides on how to get Blood Feud, Tarnished Mettle, and Planck's Stride.
How to Get No Reprieve in Season 18
Like seasons prior, seasonal weapons are obtainable through random drops and via focusing umbral engrams. Acquiring the weapon is one thing, but collecting red frame weapons for crafting is another. You will need 5 red frame weapons in order to craft a Plunder Weapon.
To increase your chances and even guarantee red frame weapon drops, you will need to use the Star Chart in the HELM. This is the seasonal upgrade path which will give bonuses to the seasonal activity and allow you to curate your loot. Plunder Weapons can be purchased from the Star Chart using 12 Plundered Umbral Energy, Legendary Shards, and an Umbral Engram.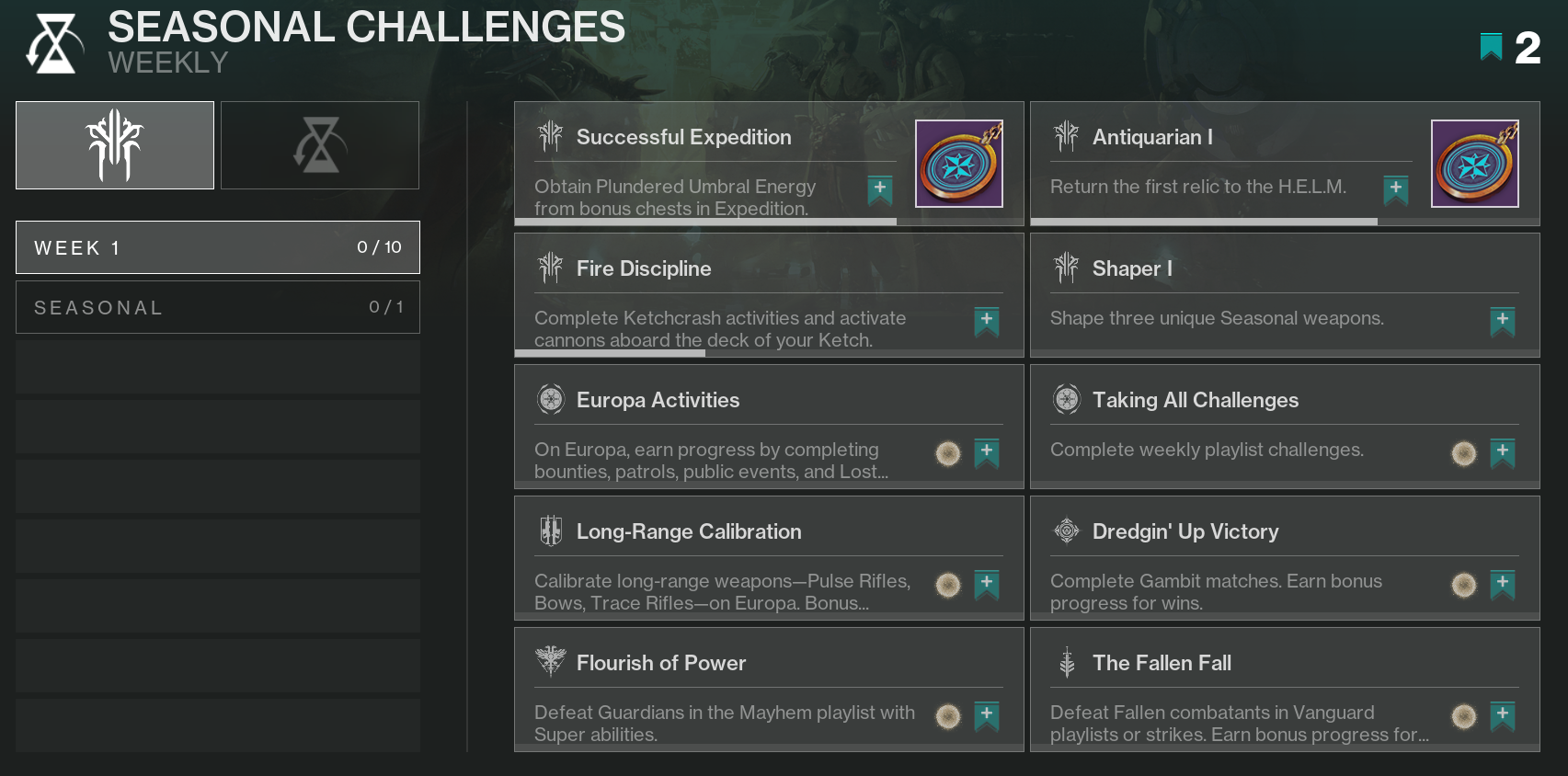 The Star Chart is upgraded using Repute, which is acquired via Seasonal Challenges and through steps of the seasonal quests, Sails of the Shipstealer. Unlike prior seasons, the Star Chart has more freedom in its upgrade path, and an upgrade does not require all of the prior upgrades in the same row.
For instance, if you upgrade the 1st level of the Swashbuckler row, you can use your next Repute for the second upgrade on the Quartermaster row even if you do not have level one. The upgrade path is divided into 3 rows: Quartermaster, Navigation, and Swashbuckler.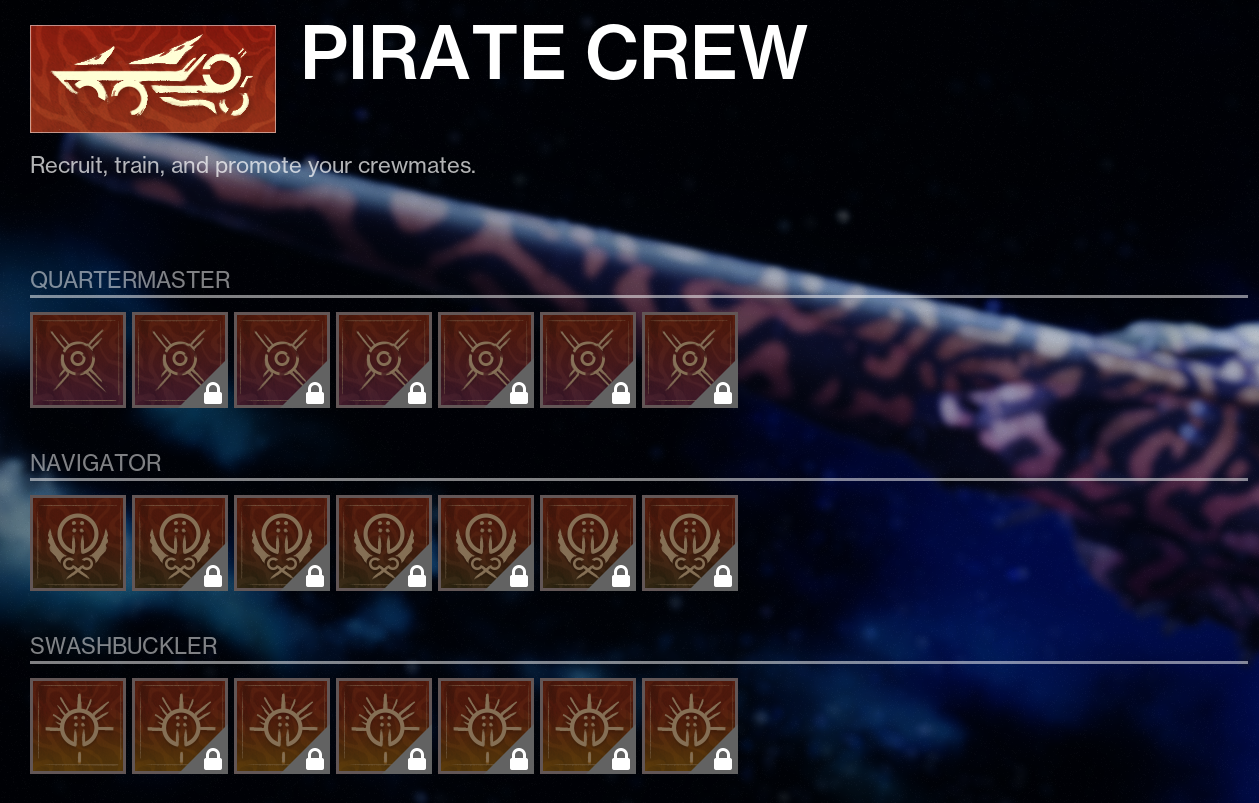 It is recommended to unlock in this order:
Level 1 of the Navigator row.
Level 2 of the Swashbuckler row.
Level 3 of the Navigator row for the Weapon Treasure Map upgrade, allowing you to create a treasure map specifically for Plunder Weapons in the expedition activity.
Level 3 of the Quartermaster row to unlock Focused Weapon Spoils in order to be able to use your Plundered Umbral Energy for a chance at red frame weapons. This bit is recommended second, as waiting is beneficial because you can save up your umbral energy and this will give you time to unlock the weapon you desire to directly purchase it for a chance at a red frame drop.
Any upgrade in Level 4 that you prefer so you can unlock the Level 5 upgrades.
Level 5 of the Swashbuckler row Hidden Compartment upgrade gives a guaranteed red frame drop once per week from the Ketcrash activity as well as upgrades that increase the odds for a Plunder Weapon drop from Ketcrash.
The last source of red frame weapons is from the Treasure Beacons, obtained through reputation gains at the Star Chart. These beacons will give an easy-to-follow quest that will ultimately end in you getting a red frame weapon. Earn these quickly by upgrading your star chart with bounties acquired from the Star Chart.
How to Unlock No Reprieve Pattern and Craft It
As mentioned before, 5 red frame weapon drops are needed to be completed in order to craft this weapon. Once that is complete you need to level up a crafted version of the weapon to unlock all of the perks that it can roll with, including enhanced perks.
Next, we will go over the best perks for No Reprieve in both PvE and PvP; here are the available perks for No Reprieve:

No Reprieve PvE God Roll
Barrel Option
Arrowhead Brake – Grants +30 to Recoil Direction and +10 to Handling
Corkscrew Rifling – Grants +5 to Stability, Handling, and Range
Magazine Option
Assault Mag – Increases fire rate by 5 and gives +15 Stability
Tactical Mag – Gives +1 to Magazine Size, +10 to Reload Speed, and +5 to Stability
Perk Column 1
Pugilist – Kills with the weapon give melee energy
Outlaw – Precision kills increase Reload Speed by +70 and a 0.9x duration multiplier
Perk Column 2
Swashbuckler – Increases damage from kills with the weapon or melees. Stacks up to 5, and a melee kill automatically gives 5 stacks
The barrel and magazine options are based on Magazine Size and Handling. Handling is an important stat as these weapons when used are swapped constantly, and Handling contributes to that.
The first column perks are between Pugilist for melee energy and Outlaw for faster reload speed. If building around melee go with the former, if using this weapon for ad clear the latter is the better option for the reload speed.
As for the second column, Swashbuckler is essentially a must-have. Playing with a shotgun you'll be up close and getting melee kills often. This will keep the perk active and also gives the option to melee kill an enemy before boss damage.
No Reprieve PvP God Roll
Barrel Option
Corkscrew Rifling – Gives +5 to Stability, Handling, and Range
Hammer-Forged Rifling – Gives +10 to Range
Magazine Option
Accurized Rounds – Gives +10 to Range
Assault Mag – Increases fire rate by 5 and gives +15 Stability
Perk Column 1
Pugilist – Kills with the weapon give melee energy
Perk Column 2
Swashbuckler – Increases damage from kills with the weapon or melees. Stacks up to 5, and a melee kill automatically gives 5 stacks
Snapshot – Aim down sights 25% faster
Headstone – Spawn a Stasis Crystal on precision kills
We are dealing with a shotgun here, so no surprise Range and Handling are the two stats we are looking to boost with Barrel and Magazine Options. The first column of perks does not offer a good variety of PvP options, and Pugilist is the most impactful option.
The second column has a lot of strong options with Swashbuckler for damage which is great for chaining kills if you get a shotgun shot to damage into a melee to kill as you will have a 33% damage boost for 4.5 seconds.
Take note of the origin trait on the Plunder Weapons which is Right Hook and gives a Target Acquisition and Range boost when dealing melee damage.
This makes chaining kills after a melee even easier and will allow you to get some long-range one-shots in the crucible. Snapshot is a neutral game option that will allow you to ADS faster which is important for precision-based slug shotguns. And the last option of this column is Headstone which pairs very well with Stasis subclasses and especially a shotgun as the Stasis Crystal can be used as cover after a kill.
Warp Up
Unfortunately, there are no direct means of getting red-framed weapons like there was last season, but there are more ways to get weapon drops in general.
Getting a crafted weapon is great, but keep an eye on the perks you get from random drops as you might get lucky with the perks and be on the same level as a fully crafted weapon with much less of a grind.
Good luck on your grind and chasing your plunder now that you know how to get No Reprieve!
Thanks for reading! Don't miss our other Destiny 2 weapon guides.